Lent is here! What are you doing for Lent?

This is our 25th edition of our eNews, which shares information of rural ministry initiatives across Canada, mostly in the United Church of Canada.If you are missing any past ENews, please see them at www.UCRMN.ca

Lots of events and news of what is happening in the Rural Church across Canada.

Past eNewsletters are archived at www.UCRMN.ca
If you have a rural story you would like to share, please submit your story to editor@UCRMN.ca.
We welcome articles 300 to 500 words.
Zoom Workshops are held every quarter (3 months).


We are hosting a Zoom Workshop on "Collaborative Ministry" on April 27, 2023 at 1 pm (EST).
The cost is $10.

Register here!

We have invited folks, who are or have already worked,
or were involved in Collaborative Ministry.

Check out our "Collaborative Ministry" Resource Page.

As you register for workshops, we are asking for your "Regional Council", "Province", and Ministry (Lay, Clergy, Other). These are all from dropdown menus. This information helps us to know who we are serving.
If you have a topic you would like us to consider and know of a facilitator to lead your topic, let us know at editor@ucrmn.ca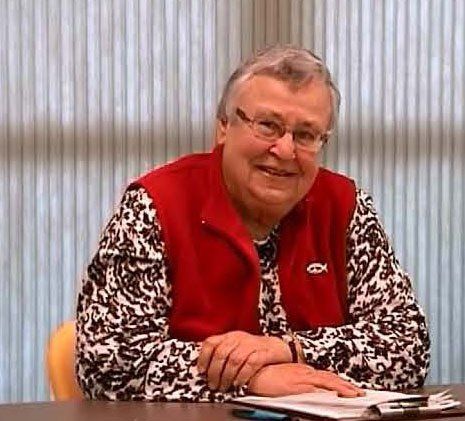 1940 - 2023
Reflections on the deep spiritual hunger and rich spiritual heritage
that surrounds us in our rural communities – with Joyce Sasse ______________________________________________________________________________________________________________________

News from Catherine Christie:
Hi friends,
This is to share with you the news that Joyce Sasse, the midwife of rural ministry in the Canadian context, has joined the Community of Saints. Her death was on Feb. 28.
Joyce wrote, inspired and encouraged us, as rural folks. Joyce advocated for rural ministry. Joyce was keenly aware that "Rural is a Culture". Joyce was very excited about plans and birth of the United Church Rural Ministry Network.
Check out her obituary.

Words of Remembrance:

Joyce was an amazing woman and such a staunch advocate for rural ministry from the beginning of her career. She helped Nettie and I start the Canadian Rural Church Network and she managed its newsletter for about 15 years, was a founding member of CiRCLe M, a strong financial supporter of it too, a compassionate and innovative rural United church minister, a Pincher Creek community crisis team organizer, a insightful, diligent rural historian, a captivating writer and story-teller, and just an all-round wonderful woman. She has left a real impact on our rural scene in western Canada! I'm so thankful to have known her. I'll miss her greatly.
Words from Reverend Dr. Cameron Harder: Saskatoon

Greetings Good Friends,
Joyce was a great mentor, encourager, and advocate. A wahine toa/ strong woman who came from small places, and left her mark on rural ministry across cultures and across the globe. Thank you, Catherine, for bringing Joyce into our "down under world", and for bringing our "down under world" into Joyce's life. Kia ora tatou – we enrich each other's life.
Words from Garth Cant (in Canterbury, New Zealand)

"I just received notice of Joyce Sasse's death. She was a compassionate and inspiring minister, a person of multi talents, interests and commitments. Her adventures in ministry enriched the lives of so many who knew her or ever had the opportunity to work with her."
Words from the Very Reverend Walter Farquharson (33rd Moderator; 1990 - 1992)
"Faithful Choices"...
...is an accumulation of stories and material gathered from interested people in the pew through surveys, letters, comments, and encouragement from church leadership. It invites small membership and rural churches to reach out, ask questions, provide care and choose missions through changing times. These words placed on the bottom of the front cover: "Initiative for rural and small churches - For congregational, Individual Or Small Group Discussion". More to come, next month...
by Reverend Donna Mann
The United Community Ministry
– a Collaborative Ministry in East Central Ontario Region (ECORC) – by Rev. Dr. Elizabeth Cunningham
I am the minister to the collaborative ministry of five rural United Church congregations in Eastern Ontario called the United Community Ministry (UCM). There were six churches initially, with two churches recently amalgamating. Officially sanctioned by the East Central Ontario Region (ECORC) in the summer of 2018, the UCM held its inaugural worship service on Sept 9, 2018.
At this first worship service, in a symbolic action, each church brought a jar of water from their local streams to be blended as one. Each church returned to their sanctuaries and those jars of water are found there today, reminding them of the 'tie that binds', where once they were six separate entities, but now, in spirit and ministry, they are one. Click here!
The Star City Community Pantry

No one came for food on the last Thursday of February 2021, the first time the Star City Community Pantry opened for the designated one hour per week. The two volunteers did not consider feeling discouraged, they knew there were people in this small town of 460 people who would benefit. The table in the church foyer was stocked with food items. Hand sanitization and masks were available to protect against covid, and distancing was required. Besides posters all over Town, and notices in the Town monthly newsletter, a large and noticeable sign was placed on the lawn letting people know the Pantry was open. Continue Reading
"Tech Corner"

Martin Dawson (PEI) and Peter Chynoweth (Alberta) are retired United Church Rural Ministers who "love" working with "Open Software" and used computers. They help the UCRMN Executive stay online.
The biggest expense for most churches is updating their computers, and just as expensive, Software.
In this column they will give you stories, suggestions and links including YouTube, that show you how to DIY, at a fraction of the cost. All this information is stored at UCRMN.ca on the Tech Resource Page.
_________________
Open Source Software:
By Reverend Peter Chynoweth (Alberta)
In the past couple of editions of the United Church Rural Ministry Enews, we have included articles from the Rev. Martin Dawson describing how you don't need to break church budgets by buying the latest and greatest computer hardware, nor do you have to lay down large amounts of money to license the software you install on the hardware.
Click to read more.
Getting LibreOffice to look like MS Office:
By Reverend Martin Dawson (PEI)
Now that some of you have made the more environmentally correct decision to switch to a used computer and moving over to a Linux operating system like Linux Mint, as explained in an earlier newsletter, the next step is to help you switch the office program (LibreOffice) to look similar to Windows Office software.
Click to read more.
Upcoming Rural Events at "EDGE"
Curiosity is the mindset change that we, as people of faith, are craving to begin to reimagine what church can be outside of Sunday morning. It is the mindset shift that:
Allows us to ask questions and keep asking questions.

Helps us in letting go of needing "the" answers and to relinquish control.

Teaches us to follow the Spirit and to keep listening and discerning.

Enables us to take leaps of faith and be courageous in experimenting.
EDGE's Rev. Bronwyn Corlett and the Rev. Courtney Armento run this Zoom course for innovative leaders, curious communities of faith, and those willing to explore what might be possible.
The next Curiosity Cohort runs on Thursdays from 12-1pm EST, Mar 23 -​ Apr 20, 2023
If the dates/times above do not work this cohort will run again in the fall.
Niagara School for Missional Leadership


About the Niagara School for Missional Leadership
The Niagara School for Missional Leadership, an ecumenical gospel-focused learning community rooted in the Anglican Diocese of Niagara, is dedicated to training effective missional leaders to respond to the needs of God's world. Courses are designed for both ordained clergy and ministers, as well as congregation members and laypeople. Our courses are for anyone who is excited about God's mission in the world! For more information about the Niagara School for Missional Leadership, or to explore other course offerings, visit nsml.ca or contact Carrie McFarland at hello@nsml.ca
Courses of Interest: Happening this spring:

In March: Decline in Parishes - led by Rev. Leanne Friesen (Baptist). Leanne played a key role in turning around a declining congregation and shares her learnings.
Also starting in March: Introductory course on the role of churches in the climate crisis. Rev. Jon Swales, an Anglican Priest from the UK.
Designated Lay Ministers:
Stay tuned for information about
the General Council Office consulting with DLMs,

February or March 2023 - (no date yet).

We have not heard any more from the General Council Office about
the consulting process with Designated Lay Ministers.

We will check with Michael Blair and report back next month.
International Rural Churches Association

Conference 2023:
13-19 April 2023 - in Dubuque, Iowa
Flourishing: Land, People, Community
The Bible tells us that God is a God of abundance, yet many of us live in settings/contexts that emphasize scarcity. Can we get beyond the numbers to share the stories of God's abundance among us?

Registration Page: for information and to register.
This event gathers rural folks from around the world. The Conference is offered every four years and is in USA in April 2023. We have 15 folks coming from Africa, 5 from India, several from New Zealand.

We are recording the "Keynotes" to provide Zoom coverage and YouTube videos to share the Conference with the world. If you are interested in the Zoom or video option, email secretary@irca.online to receive the schedule. The links will be sent out as they happen.

Conference Registration closes March 13, 2023.

Catherine and Eric have found these Conferences life changing!



Click on picture to receive the quarterly IRCA ENews
or on Face Book logo to join the chat.


"Churches Working Together" :
The nine United Churches in South Kent (Southwestern Ontario), hosted their third meeting on March 1st, 2023, in person and by Zoom.
The process is moving ahead based on the depths of the questions being asked, and some of the talking shared.
We are meeting again to look at next steps at the end of March - we will keep you posted.

--------------------------------------------
We know Rural Churches are struggling, financially and what options are available. We are looking at an April 27, Zoom Workshop to address these concerns. (The IRCA Conference is the week before in Dubuque Iowa - See above).


Some additional information:
1. The Book: "An Effective Approach to Cooperative Parishes: A Congregational Guide". (Available from Amazon.ca).


2. A video called "Deficit Dilemma Workshop" - by the Southwestern Ontario Tri-Regional Councils.
3. An Collaborative Ministry story from the "Oxford Connections" ENews
4. A video article from Faith Lead: "Cultivating Rural Ministry".
Submitted by Eric Skillings
National Affirming/PIE Day
March 14, 2023

Theme: The Year of Intention.
What would a year of intention look like for your community?
Click on the above posters for links to the event.
Why PIE?
PIE = Public. Intentional. Explicit. Those are the standards we hold ourselves and our welcome to when we seek to live into being Affirming, Welcoming, or Inclusive people and communities.
National Affirming/PIE Day was co-founded by Affirm United/S'affirmer Ensemble and Affirming Connections to set aside a special day every year to celebrate the full inclusion of Two Spirit and LGBTQIA+ people in faith communities and beyond!
This day also reminds and challenges us to continue widening our welcome and using the concepts of PIE Day to embody love and celebrate gender and sexual diversity in all its forms.
Brand new resources and service templates are coming soon. Check out the PIE Day website!
We hope that by now Rural Routes Through the Holy is on your calendar or on the calendar of someone you know. Though this gathering is rooted in the United Church of Canada it's ecumenical in welcome and participation.
We're so much looking forward to welcoming you to the 3rd Annual gathering. We received great feedback on last years' time together and this year we're stirring up the same mixture of worship, education, tasters (30 minute presentations on things so good that we may want to go home and cook them up in our own congregations). We're still finalizing our tasters but here are some of those in the works: Faithful Footprints, Worshipful Weaving, A Community Labyrinth, Old Barns Food Bank Garden, Table Church and more. Dr. Marvin Lee Anderson will again be with us. With great food, a prayer practices room, a resource table, and lots of music and conversation in a beautiful setting we'll feed our rural spirits and head back home to refresh our local communities.
Registration is $50/person which includes meals and presentations. Accommodations are the responsibility of the participants, but we'll have a list of accommodations ready soon to make your search easier. Registration forms and lots more information will be posted by February 16th at http://hemofthelight.com/ Just hover over the Rural Ministries heading to activate the drop-down menu.
Catherine Smith For the Rural Routes cohort
Thank You to Felicia:
Retiring UCRMN Board Member:

When I first found out about the United Church Rural Ministry, I was thrilled! It seems that so much that we hear about in the United Church of Canada is primarily geared towards the culture found in urban settings. However, statistics show that the most numerous UC congregations are rural.
My own personal experiences as an ordained Minister has been in both types of settings. I chose to be called to rural churches not only because they represent what most of Canada once was, but also because it is possible to get to know everybody in a smaller membership congregation. There still can be church growth, people who move into the community and those who move away, and some important decisions that the congregation makes together.
Before my retirement, I was blessed to witness an amalgamation between two rural congregations, both of whom I was serving simultaneously. The courage and resilience of the leaders from both, even during the worse times of the pandemic, was exemplary. That kind of courage and resilience is something that I learned has been a part of the rural church from the very beginnings: people who were farmers were known to have the ability to weather all kinds of storms (both literal and figurative). So what I witnessed was a great determination and willingness to try. And their success speaks volumes!
The UCRMN is a bold attempt to re-ignite the flame of this rural spirit. It is good to get to know others in this United faith of ours who are experiencing some of the same circumstances, and learning what they are doing. It is good to read words of inspiration in the UCRMN newsletter, and to participate in various gatherings via Zoom. I applaud the Executive who has faithfully and consistently taken the helm to connect far-flung individuals and congregations.
Although I am personally no longer able to serve on the Executive at this time, I wanted to share with this readership the incredible value of this organization. I hope that more people will be willing to step forward to volunteer their time and resources to help keep the rural church alive!

Blessings, Rev. Felicia Urbanski
On behalf of everyone involved with UCRMN - Thank You Felicia for helping get UCRMN off the ground!
Book Review

"It's Real Ministry: How Part-Time and Bi-Vocational Clergy are Challenging and Empowering the Church"

Author: I. Ross Bartlett (Friesen Press, Altona MB, 2022).
reviewed by Connie Sykes (Frontier (SK) United Church)
You might remember seeing an email about a survey of ministers who work in more than one job. That's how I became involved in this study initiated by Rev. Dr. I. Ross Bartlett. Its Real Ministry… holds the results of that study.
This book provides a starting place for constructing a framework and developing a vocabulary for something that's been happening for some time across the United Church, and other denominations. There are increasing numbers of ministry positions that are part-time, and that means that the people who do those jobs need to have alternate ways of finding an adequate income. Rural churches and pastoral charges are places where this is happening a lot. Continue Reading
Reaching Out to Regional Staff
This is an important part of our ministry - please help us out! Thank - you!
The leadership team of the United Church Rural Ministry Network is reaching out to Regional Council offices to introduce themselves and share what they do for our Church - specifically Rural Churches. We want to make clear our desire to intentionally partner with the Regional Councils as a valuable network to connect, support and promote healthy rural ministries throughout the country.
Feel free to mention UCRMN to your Regional Staff, when you are talking to them.
UCRMN is looking for Volunteers:
Requirements:
Work from home (using your computer and online apps).

Eligible expenses are covered by UCRMN.

One to four hours per month (depends on your skill and creativity).

Directions and approval will be from the UCRMN Board.

All meetings will be by Zoom.
Responsibilities and Skills:
Email your interest to:

office@UCRMN.ca
You do not need to be an UCRMN Board Member to volunteer - although you will report to the Board on our monthly Zoom meetings.
If you have an interest in any of the above positions, and do not yet have the skills (yet feel you can learn them) - we will help train you for the program and the position.
We will draft Volunteer Job Descriptions for each position.
So Long For Now!
We hope you enjoyed this Edition of ENews.
Any suggestions are most welcomed.
Email

editor@UCRMN.ca



Please forward this email to your Rural Ministry Colleagues and encourage them to subscribe from our webpage at
www.UCRMN.ca
_
Who is UCRMN?
We are a Volunteer Charitable Network that is collecting and posting Rural Ministries initiatives in the United Church - across Canada - in one place;
www.UCRMN.ca
If you have an interest in finding out more, or to volunteer as a Board Member or in some other way, please email us at office@UCRMN.ca
Blessings on your ministry!
Catherine, Eric, Donna and Shelley