Hi <<First Name>>
Greetings, from Thailand.
Lots happened over the past weeks with Thai referendum concluded and small bombings in Hua Hin, Trang, Surat Thani and Phuket.
In the referendum a clear majority of voters have backed a draft constitution written by an army-appointed committee which will lead to elections next year, although the military will still have a proportion of control.
Thailand has moved on quickly since the attacks and within 24 hours' things were back to normal.
HUA HIN Property:
We have taken on a lot of listings in Hua Hin (Where the City meets the Sea) recently, which is in Prachuap Khiri Khan province. Hua Hin is accessible by car or domestic flights, and is only 2.5 hours' drive from Bangkok.
The bombings in Hua Hin are thought to be isolated incidences (Police to seek arrest warrants for 17 in arson, bombings), Hua Hin is generally extremely safe with the revered King's primary residence there, as well as the main Army and Navy barracks calling the area their home.
"Hua Hin is a seaside resort on the Gulf of Thailand. Once a quiet fishing village, it grew into a fashionable escape for residents of Bangkok after the 1920s, when the Thai royal family built summer palaces here. Hua Hin Beach, popular for kite surfing and other water sports, is the main stretch of sand, lined with high-end hotels and seafood shacks."
"The oldest and most traditional Thai holiday resort combines the attractions of a modern travel destination with the charm and fascination of a still active fishing port. And while most other Thai holiday destinations cater mainly to foreign tourists, Hua Hin is a holiday resort for both foreigners and Thais. Besides its great 5 mile (8 kilometer) long beach Hua Hin provides accommodation options of all levels, great restaurants of all cuisines and price levels, and last but not lest the highest density of world class golf courses anywhere in Thailand."
Hua Hin Most Recent Property-
Phuket Most Recent Property-
Chiang Mai:
Please like our new Chiang Mai Facebook page which includes latest listings and news:
Top Property Selections for this Month:
Phuket: 2 Bed Town Houses in Small Estate at Rawai Bay. Price from THB 6,500,000

(USD 188K, Euro 166K, GBP 144K, HKD 1.4M)
2 beds, 3 baths, 109m2 internal area, 288m2 of land, fully furnished and equipped to a quality standard, secure estate with communal pool, short distance to shops. 500,000 baht discount available this month! [ref:HSILD8024]
Pattaya: Most Sought-After Condos in South Pattaya. Price from only THB 3,900,000

(USD 111K, Euro 99K, GBP 83K, HKD 863K)
Located in most peaceful area of Pattaya but short distance to amenities, infinity lap pool, sky deck and garden are just some of the amazing facilities, 30% deposit, 70% on completion, 7% rental guarantee for 10 years, FREE Thailand Elite card with 20 year visa! [ref: PTCO8566]
Phuket: 3 Bed Modern Thai Style House in the Centre of Patong. Price THB 5,500,000

(USD 159K, Euro 140K, GBP 122K, HKD 1.2M)
3 beds, 3 baths, 180m2 internal area, 200m2 of land, fully furnished and equipped, large western kitchen, balconies, 5 year vendor finance for 5 years with 10% down payment, 5% interest. Currently renting out at 7% return per annum. [ref:HSIL6812X]
Chaing Mai: Luxury Contemporary Modern Condos in Prime Central Location. Prices from THB

2,800,000

(USD 80K, Euro 71K, GBP 62K, HKD 626K)
Studio, 1 bed, 2 bed & 3 bed condos, excellent facilities, walking distance to all amenities, tallest condo in Chiang Mai, excellent rental investment opportunity, apply for details. [ref:CM0005]
Bangkok: Exclusive New 41 Storey Condo in Prime Location next to On Nut BTS. Price from THB

4,839,918

(USD 138K, Euro 124K, GBP 104K, HKD 1.01M)
1 bed, 2 bed & and penthouse loft style units spread over 2 floors, excellent value units, highest new condo in area, full facilities, green areas, right next to BTS, MRT and Tesco, great for investment or living. [ref:BKCO9190]
Phuket: Great Value Pool Villa in Central Location, Kathu. Price THB 8,300,000 (USD 239K, EURO 212K, GBP 183K, HKD 1.8M)
3 beds, 2 baths, 160m2 internal area, 340m2 of land, 32m2 private pool, fully furnished and equipped to a high standard, large western kitchen, great central location close to schools, hospitals and golf courses. [ref:HSIL8011X]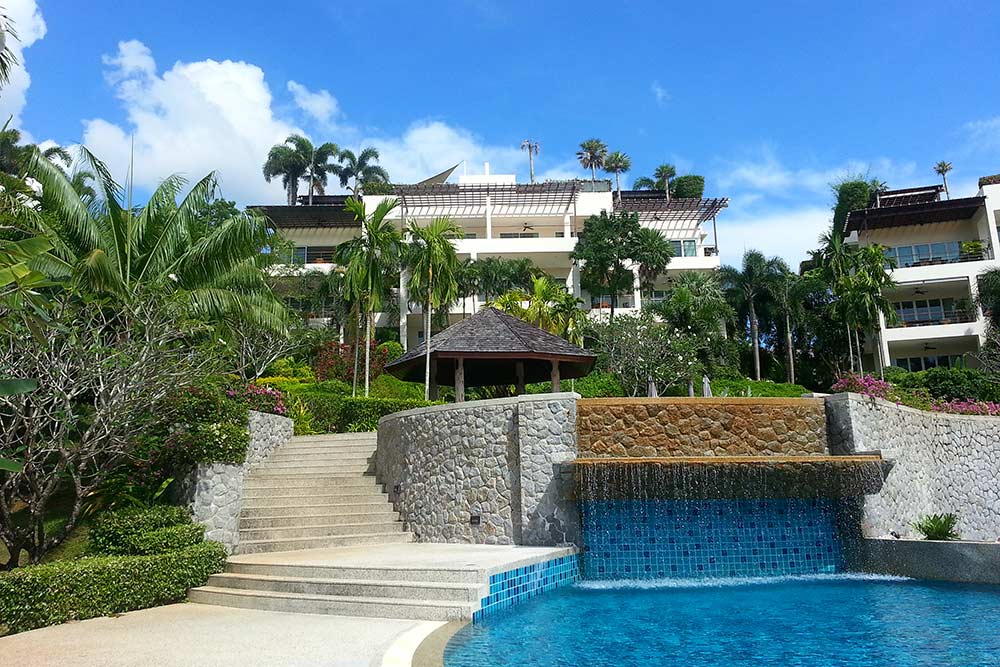 Phuket: Exclusive Large 3 Bed Condo at Layan. Price THB 16,800,000 (USD 479K, EURO 430K, GBP 361K, HKD 3.7M)
3 beds, 3 baths, 212m2 internal area, 256m2 total area, secure estate, communal pools, tennis courts, fully furnished and equipped to a high standard, close to beach. [ref:CSIL7938]
Phuket: Private Thai Style Villa in the Hills of Kalim overlooking Patong Bay. Price THB 85,000,000 (USD 2.4M, EURO 2.1M, GBP 1.8M, HKD 18.9M)
4 beds, 4 baths, 850m2 internal area, 1,000m2 of land, fully furnished and equipped to a extremely high standard, 180 degree sea views, high vaulted teak wood ceilings, modern Thai indoor/outdoor living. [ref:HSSV8022]
Bangkok: Completed High Rise Condo at Sukhumvit. Price from THB 5,917,651

(USD 168K, Euro 147K, GBP 115K, HKD 1.3M)
8 unit types from studio, 1 bed and 2 bed, fully furnished, high ceilings, excellent facilities, sky bar, rental history, ready for investment, short distance to BTS. [ref:BKCSD9201]
News:
Thai Economy Expanded More Than Expected in Q2: http://www.siamrealestate.com/news/?id=363
Pricing your Property to Sell: http://www.siamrealestate.com/news/?id=357
Two Thai cities voted into world's top 15: http://www.siamrealestate.com/news/?id=358
Brexit boosts capital flows to Thailand: http://www.siamrealestate.com/news/?id=359
Thailand 'least miserable' country on planet: http://www.siamrealestate.com/news/?id=360
WANTED:
Seeking Branch Manager for Hua Hin & Koh Samui apply here: http://www.siamrealestate.com/info/jobs/.
Airfare or Cash Refund:
We refund part of your airfare or give you a cash refund if you BUY PROPERTY through us, see more details HERE.
如果您需要中文服务,请联系 china@siamrealestate.com
We look forward to hearing from you.
| | |
| --- | --- |
| Thailand News: | |
Get all the latest Thailand news on property and other areas of interest at Siam Real Estate's Twitter page: https://twitter.com/siamrealestate
We would also recommend you check out Jamie's Blog, Jamie has been in Phuket since 1999. Blogging Phuket since 2006: http://jamie-monk.blogspot.com/
Twitter: https://twitter.com/jamiemonk
---
Looking for hot property deals?
Find your perfect rental, investment or home property quickly and easily with siamrealestate.com
Get a custom quote now:
We look forward to hearing from you.