Greetings,
Markets are generally slow in Thailand like the world over, but GDP was 3.2% in the last quarter which beats most economy's.
Brexit: Since the UK's Brexit vote sterling has now reached its lowest level since 1985. Sellers who are planning to repatriate sales proceeds back to the UK should consider taking this opportunity to reduce their asking prices in THB. As we've seen in recent years with Russian sellers when their currency weakened, this will create some fantastic offers for buyers to take advantage of.
Lifestlye: Thialand is an amazing peacful place with the best food, locations and people and of course some of the best properties, come visit and enjoy the delights of Thailand.
Here is the latest from this month:
Phuket Most Recent Property-
KOH LANTA, KRABI:-
We have taken on a lot of listings in Koh Lanta (Jewel Of The Adaman Sea) recently which is in Krabi province, Koh Lanta is a 4 hour ferry or car journey from Phuket or 2 hour car or ferry journey from Krabi itself.
"Lanta has everything you could need to enjoy your perfect stay from exciting tours and activities, the best in beach going, and top notch amenities and experiences to keep you entertained & comfortable. World class dive sites, ride elephants, visit deserted "castaway" islands, learn to cook authentic Thai cuisine – the list of activities to experience is long. If this sounds a little too adventurous for you – just kick back, relax and wait for your daily fix of the beauty that a famous Lanta sunset can offer. Best enjoyed with a cold beer and maybe a barbecued fish – and if you find your second wind later on, a beach party is never too far away. This is definitely still Thailand, offering the best in Thai cuisine and warm Thai hospitality with that wonderful tropical twist making Koh Lanta famous for its laid back way of life."
Koh Lanta Most Recent Property-
Koh Samui:
Please like our new Samui Facebook page which includes latest listings:
Top Property Selections for this Month:
Phuket: Luxury 1-3 Bed Villas near Nai Harn Beach. Price

from only

THB 8,900,000

(USD 253K, Euro 228K, GBP 191K, HKD 1.9M)
1-3 beds, 2-3 baths, show villa is 8.9m and 199m2 internal area, 367m2 of land, fully furnished, secure estate, flexible payment terms, quiet area close to beach. [ref:HSILD7462]
Pattaya: Most Sought-After Condos in South Pattaya. Price from only THB 3,900,000

(USD 111K, Euro 99K, GBP 83K, HKD 863K)
Located in most peaceful area of Pattaya but short distance to amenities, infinity lap pool, sky deck and garden are just some of the amazing facilities, 30% deposit, 70% on completion, 7% rental guarantee for 5 years, FREE Thailand Elite card with 20 year visa! [ref: PTCO8566]
Phuket: Luxury 3 Bed Pool Villa in Secure Estate at Bang Tao Beach. Price only THB 2,900,000

(USD 496K, Euro 445K, GBP 374K, HKD 3.8M)
3 beds, 3 baths, 220m2 internal area, 700m2 of land, fully furnished and equipped, high ceilings, huge pool with jacuzzi, high quality villa, secure estate only 400 metres to the beach. [ref:HSIL7999]
Chaing Mai: Luxury Contemporary Modern Condos in Prime Central Location. Price from only THB 2,306,490

(USD 65K, Euro 59K, GBP 49K, HKD 510K)
Studio, 1 bed, 2 bed & 3 bed condos, excellent facilities, walking distance to all amenities and next to 5* hotels, great value condos. [ref:CM0004]
Bangkok: Exclusive New 41 Storey Condo in Prime Location next to On Nut BTS. Price from only THB

4,839,918

(USD 138K, Euro 124K, GBP 104K, HKD 1.01M)
1 bed, 2 bed & and penthouse loft stlye units spread over 2 floors, excellent value units, highest new condo in area, full facilities, green areas, right next to BTS, MRT and Tesco, great for investment of living. [ref:BKCO9190]
Phuket: Brand New Resort Condo on the Hillside of Patong. Prices from only THB 3,173,663 (USD 90K, EURO 81K, GBP 68K, HKD 702K)
Studio, 1 bed and 2 bed units, from 33m2, 47m2 and 77m2, sea views, excellent facilities, great for rentals and investment, award winning developer. [ref:CSSVD6290]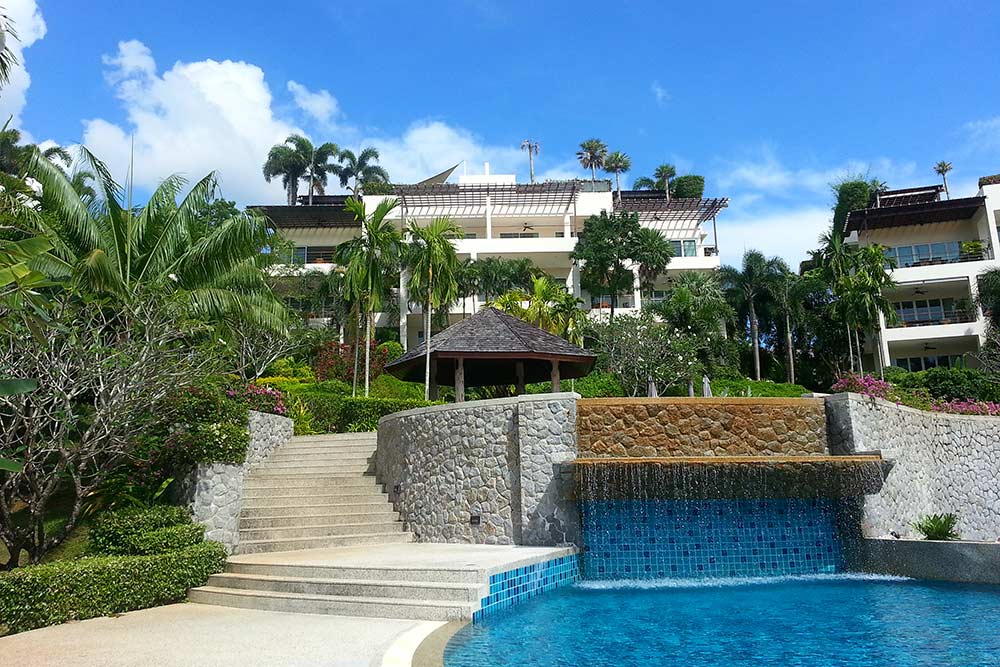 Phuket: Exclusive Large 3 Bed Condo at Layan. Price THB 16,800,000 (USD 479K, EURO 430K, GBP 361K, HKD 3.7M)
3 beds, 3 baths, 212m2 internal area, 256m2 total area, secure estate, communal pools, tennis courts, fully furnished and equipped to a high standard, close to beach. [ref:CSIL7938]
Phuket: 9 Bed Resort at Rawai/Nai Harn. Price only
THB 14,500,000 o.n.o

(USD 413K, Euro 371K, GBP 311K, HKD 3.2M)
9 double bedrooms, 300m2 built up area, 400m2 of land, swimming pool, reception area, could also extend to make coffee shop, existing rental business. [ref:HSIL7995X]
Bangkok: Completed High Rise Condo at Sukhumvit. Price from only THB 5,917,651

(USD 168K, Euro 147K, GBP 115K, HKD 1.3M)
8 unit types from studio, 1 bed and 2 bed, fully furnished, high ceilings, excellent facilities, sky bar, rental history, ready for investment, short distance to BTS. [ref:BKCSD9201]
News:
Ripe for the picking - Phuket Real Estate: http://www.siamrealestate.com/news/?id=354
Pricing your Property to Sell: http://www.siamrealestate.com/news/?id=357
Thailand most hospitable nation, survey shows: http://www.siamrealestate.com/news/?id=352
Thai GDP bounces 3.2% in Q1, above expectations: http://www.siamrealestate.com/news/?id=355
WANTED:
Seeking Branch Manager for Hua Hin apply here: http://www.siamrealestate.com/info/jobs/.
Airfare or Cash Refund:
We refund part of your airfare or give you a cash refund if you BUY PROPERTY through us, see more details HERE.
如果您需要中文服务,请联系 china@siamrealestate.com
We look forward to hearing from you.
| | |
| --- | --- |
| Thailand News: | |
Get all the latest Thailand news on property and other areas of interest at Siam Real Estate's Twitter page: https://twitter.com/siamrealestate
We would also reccomend you check out Jamie's Blog, Jamie has been in Phuket since 1999. Blogging Phuket since 2006: http://jamie-monk.blogspot.com/
Twitter: https://twitter.com/jamiemonk
---
Looking for hot property deals?
Find your perfect rental, investment or home property quickly and easily with siamrealestate.com
Get a custom quote now:
We look forward to hearing from you.