"There's a huge opportunity for a revitalization and a renaissance within the fashion industry."
| | |
| --- | --- |
| | A New Day for the Erstwhile Newspaper |
What's Happening: A new volume from Primary Information collects, for the first time, the entire print run of the wordless Newspaper magazine, a late-'60s DIY treasure trove of work by Diane Arbus, Peter Hujar, Yayoi Kusama, and more.

The Download: While cruising Christopher Street one day in 1965, the young artist Steve Lawrence picked up the burgeoning photographer Peter Hujar. The rest is publishing history: they made names for themselves in the city's gay and artistic circles, and in summer 1968 published a tabloid-sized collection of images without text or even a title. The paper began with a collage of women dining on penises; an "environment" or grid Lawrence assembled of sensational found images—photos of people pleasuring themselves and others, nature shots of birds and seals, gruesome documents of terror—served as centerfold.

A second untitled issue, published by Lawrence and edited with Hujar and Andrew Ullrick, arrived a few months later with a Diane Arbus photo on the cover and a chaotically groovy Yayoi Kusama scene inside, juxtaposed with a crop of a da Vinci. This was Newspaper, the underground periodical which ran for 14 issues between 1968 and 1971 and all but disappeared until 2015, when art historian Marcelo Gabriel Yáñez stumbled upon a disintegrating, incomplete pile of them in a closet while working for the music publicist and journalist Danny Fields.

Yáñez was fascinated. "It fit in with the countercultural newspapers of the time, but it was also an artist magazine, he says. "Its textlessness was rare compared to other newspapers and magazines. In many ways, it bridged a gap between artist magazine and photo book." In its mix of high and low culture, not to mention its unabashed queer eroticism and camp approach to appropriation, Newspaper also prefigures General Idea's FILE magazine in the 1970s and the subsequent explosion of artist and queer zines in the ensuing two decades.

Newspaper was published without page numbers or binding. "People took it apart and pinned pages to their walls," Yáñez says. This may have been by design. The fifth issue features an iconic 1969 Richard Bernstein photograph of Candy Darling, dressed in charisma and not much else, daring the viewer to pull down their dated pin-up girls and get with the new scene. As Yáñez assembled a complete set, he found copies with pages missing or rearranged. Most issues were falling apart. "Even the few institutions that had them in special collections don't let you see them," he says, "because they fall apart every time you touch them."

After years of searching, and then restoration by Rick Myers and photography by David Vu, a full accounting of Newspaper was published this spring by Primary Information, complete with Yáñez's illuminating timeline and annotation. The volume ends with Newspaper's final issue, entirely devoted to Peter Hujar's astonishing photographs of the Cockettes. The chance to see these images again—of queens posing like their lives depended on it, of sainted Sylvester dreaming in bed—is almost miraculous. Really, there are no words.

In Their Own Words: "Newspaper is so good because you have different types of work mixed up and juxtaposed alongside one another, establishing connections that wouldn't have existed otherwise," Yáñez says.
Surface Says: It may not have been printed for posterity, but Newspaper's images were made to last.
| | |
| --- | --- |
| | What Else Is Happening? |
| | |
| --- | --- |
| | Kering's Materials Innovation Lab will help mentor emerging designers at Pitti Uomo. |
| | |
| --- | --- |
| | This year's Mies Crown Hall Americas Prize goes to Mexican architect Mauricio Rocha. |
| | |
| --- | --- |
| | Sotheby's cancels a glitch art NFT auction over a lack of female-identifying artists. |
Reach the design world every morning. Find out more about advertising in the Design Dispatch.
| | |
| --- | --- |
| | Behold, Beyoncé and Balmain's "Wearable Album" of Couture |
Ever since she surprise-dropped her self-titled record in 2013, Beyoncé has rewritten the rulebook on album rollouts. She's widely credited with pioneering the visual album on that release—a concept the superstar revisited with 2016's epic Lemonade—and her unbothered theatrics guarantee each record will provoke a cultural reset. The same holds true today. Her first concert since releasing last year's acclaimed Renaissance christened an outrageous resort in Dubai with an invite-only performance. While fans have pined for visuals since the release, they got something much more monumental: a "wearable album" thanks to a collaboration with Balmain creative director Olivier Rousteing.

First appearing on the cover of French Vogue, the one-of-a-kind haute couture collection features one look for each of Renaissance's 16 tracks. It's essentially a playlist of couture: "Alien Superstar" is a glittering bodysuit; the steamy lyrics of "Church Girl" manifest in a black-and-red velvet cape. Given how the album is a sweaty dance-floor tour de force that pays tribute to Black queer culture, it's fitting that Beyoncé entrusted longtime collaborator Rousteing. "Everything he did as a Black seamstress to break down and open doors was inspirational," she says. The collection is a one-off and won't be for sale, but its existence alone reveals Beyoncé's creativity may have even further heights to scale.
In Santa Monica,
an Art Deco Landmark Is Ready for Its Encore
In 1933, Mrs. Rosamond Borde had a vision in turquoise: a sumptuous getaway for Hollywood greats, rising on the Santa Monica coastline. With the help of architect M. Eugene Durfee, the Georgian Hotel became a favorite for everyone from Charlie Chaplin to Marilyn Monroe. This April, the hotel returns for its second act, refreshed by BLVD Hospitality and ESI Ventures, who brought in design firm Fettle to infuse the property with a modern take on Tinseltown glamour.

The original Art Deco peepholes still adorn the 56 rooms and 28 suites, furnished with beds dressed in Bellino, antique bar carts, and Marshall speakers. Inside the suites, guests can push a button for champagne delivery or a cart of rare books to peruse on pastel sofas. For those wishing to be seen reading, the library is stocked with a collection of novels from, among others, Christopher Isherwood, who lived nearby.

Other appetites can be satiated at the central restaurant, where chef David Almany—who worked with chef Nancy Silverton for almost a decade—plates elevated Italian dishes to pair with Jerom Morris's digestivi-focused cocktail menu and a wine list featuring legacy Italian producers hand-selected by the talented Kristin Olszewski. Or venture downstairs to Georgian Room, a restaurant and piano bar which closed in the 1970s after serving as a clubhouse for Carole Lombard and Clark Gable. The Georgian isn't existing in the past, though—in a nod to today's Hollywood royalty, its Gallery 33 artspace opened with "Shedding, a Prelude," a debut show from living icon Sharon Stone.
| | |
| --- | --- |
| | This New Gallery Aims to Collapse Creative Boundaries |
Anyone still clinging to boundary lines between artwork and design object might joyfully give up the fight after a wander through the vast, enervating "Local Objects," a new show curated by Nate Heiges, Matt Taber, and Trang Tran. The trio, along with partner Annaka Olsen, have filled their new Bushwick gallery International Objects with dozens of examples of categorical futility from some of New York's most vital artists.

"The separation of [art and design] seems to originate from a market distinction of how the objects should be contextualized or used," says Taber. "Our curatorial process disregards these distinctions in favor of the content that each object possesses." As an example, Taber points to Gerardo Ismael Madera's Walled Garden Model 1 (Errant Root, Unpolished). The object is a reading chair that repurposes a vernacular Caribbean/Latin American cockfighting chair, rendered in an aggregate of Yucca flour, mahogany pod and brick powders, shellac, pulp, and chicken wire.

"The objects around us have become political actors," Taber says. "We believe that Madera's work is exemplary of the iconoclasm of an object taken out of its context." And such iconoclasm was a blockbuster—on opening night, the only line was made of the city's cognoscenti, wrapped for blocks around the building, and then reforming later at a warehouse nearby for the afterhours bacchanal.

Founded by Antonin Hautefort and Ignatio Tenggara with the ambition of dissolving boundaries between landscape, furniture, and architecture, Atelier Pendhapa crafts soulful environments that embrace and celebrate the world's complexities while searching for a sense of timelessness. The studio succeeds at all scales, from glass brick townhouses in Jakarta and residences on the Greek isles to Akar, a newly unveiled series of collectible furniture designed with Hermès sister company Métaphores.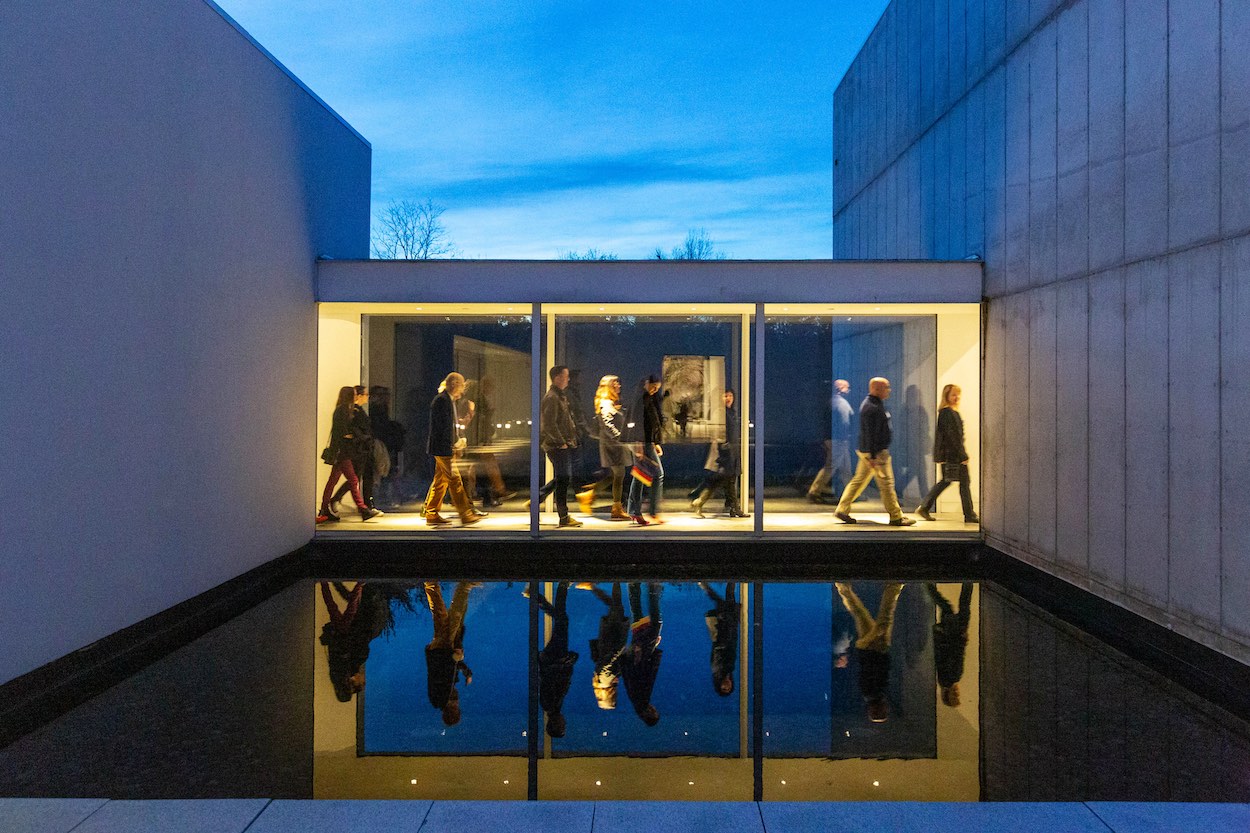 | | |
| --- | --- |
| | The Art World Embarks on "Una Notte a Magazzino" |
Last week, Italian art and culture aficionados flocked to Cold Spring, New York, for an after-hours celebration of the country's cultural highlights at Magazzino Italian Art. Co-founders Nancy Olnick and Georgio Spanu welcomed guests for a night of docent-led tours of the museum and research center's permanent exhibition, "Arte Povera," as well as screenings of several original Magazzino films. Locally sourced refreshments from Juanita's Kitchen and libations from Industrial Arts and Newburgh brewing companies sustained the lively group of collectors, patrons, and gallerists in attendance.

When was it? March 24

Where was it? Magazzino Italian Art, New York

Who was there? Caleb Hahne Quintana, Marilyn Minter, Maria Vogel, Vittorio Calabrese, and more.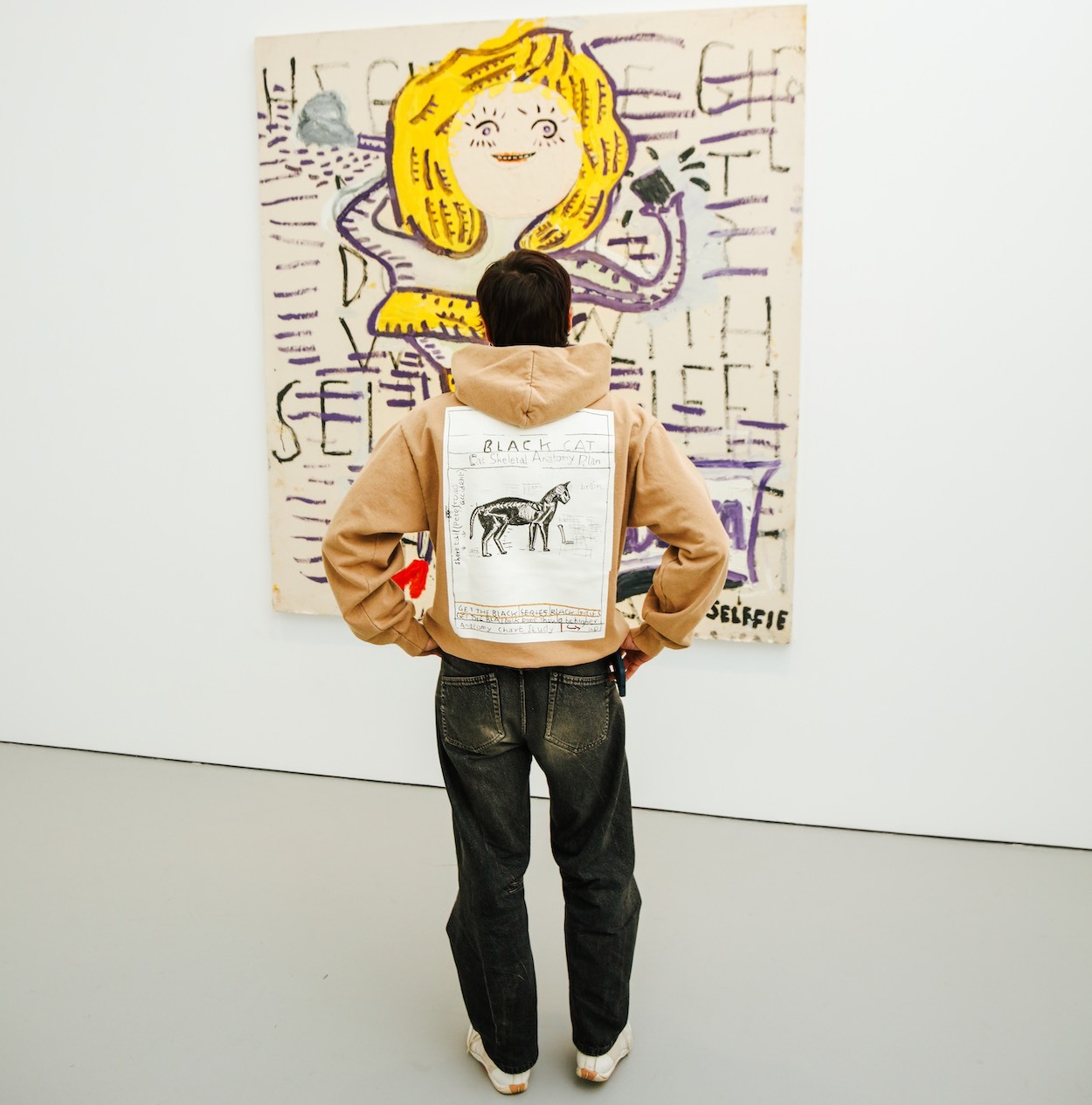 | | |
| --- | --- |
| | ICYMI: Platform and Rose Wylie Team Up on Streetwear |
In Rose Wylie: Which One, a recent monograph by David Zwirner Books, the British painter's oeuvre is described as a "union of high and low culture." Indeed, she pulls inspiration from sources as varied as the news, pop culture, and fashion history. In her latest collaboration with Platform, Wylie's works stand to become part of fashion history. On April 4, Platform will release a 150-count drop of hoodies featuring one of Wylie's skeletal paintings.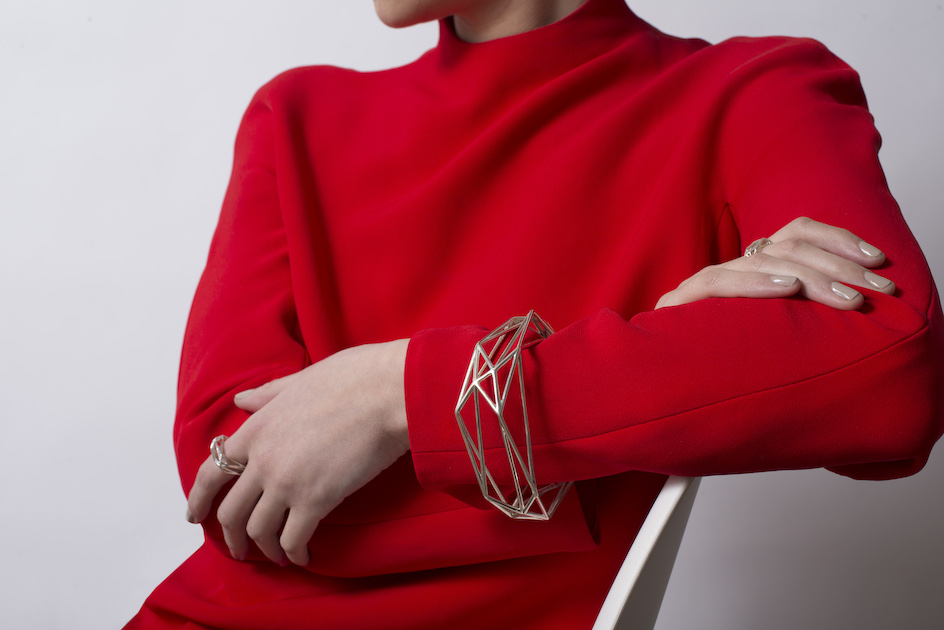 | | |
| --- | --- |
| | Member Spotlight: M. Shively Art and Design |
M. Shively Art and Design crafts furniture, lighting, and sculptural objects for the home and hospitality settings that are distilled from childlike curiosity and expressed in exquisite forms.
Surface Says: Imaginative home furnishings and custom jobs are M. Shively's specialties. One of its seminal designs, the Beam Table, illustrates its unconventional approach; it boasts a singular wooden plank encapsulated by lucite, giving the beam the appearance of being suspended in thin air.