"The best art is achieved in a state of hypnotic absorption in the moment."
| | |
| --- | --- |
| | Roger Ballen's New Art Center Probes the Psyche |
What's Happening: The environmental photographer pulls back the curtain on Johannesburg's Inside Out Centre for Art, a home for his foundation to ask difficult questions about our fraught relationship with nature.

The Download: In 1974, as photographer Roger Ballen prepared for an epic hitchhiking journey from Cairo all the way to Cape Town, he envisioned the African continent teeming with wild animals and big game. "To my surprise, this wasn't the case," he says. "I shall never forget the experience of seeing a rhinoceros running across the road with a spear in his blood-soaked side on a game drive in Ngorongoro Park." The atrocities he witnessed stuck, prompting career-long rumination on the psychological relationships we share with the natural world—and how to capture this tension through photographs. His surreal, confrontational images birthed his very own neologism: Ballenesque.

Ballen eventually settled in Johannesburg, where in 2007 he launched the Roger Ballen Foundation (now the Inside Out Trust Foundation) to support education through the arts. Yesterday, he pulled up the curtain on his most ambitious project yet, the Inside Out Centre for the Arts, his foundation's years-in-the-making home for art that provokes introspection. The museum is a welcome addition to leafy Forest Town, a bustling suburb with a handful of other museums well on its path to becoming the South African city's next cultural corridor.

The museum's building is an attraction in its own right. Ballen gave local firm JVR Architects one prompt: translate Ballenesque into functional architecture. Embodying "form follows function," the firm deftly envisioned a mysterious, Brutalist-inspired monolith clad in raw concrete and Tyrolean plasterwork. "I sometimes think the building looks like it was built 'inside out,'" Ballen says. And much like his gripping images, the building abounds with sly contradictions. Visitors immediately descend on a grand, double-height entry bathed in natural light—a balm for the subject matter awaiting inside. Cleverly placed apertures, a nod to Ballen's lens, let streams of soft light journey through the galleries as the day progresses.

Kicking off the exhibition lineup is "End of the Game," a collection of historic images, artifacts, and films that grapple with the decimation of African wildlife and origins of the safari. Ballen's own works mingle with—and gain context from—archival pieces from the "Golden Age" of hunting expeditions by colonialists and powerful Western figureheads from the mid-19th century. Much like the museum's name implies, the show delves deep into the psyche's elusive recesses to bring repressed ideas about environmental calamity to the fore.

In Their Own Words: "My personal belief is that the relationship between animals and humans is essentially adversarial and exploitative," Ballen writes in the exhibition catalog. "Most societies try to deny this fact, but it's clear to me that the destruction of the natural world continues unabated. I hope this show provides a sound basis for how art and contemporary issues can interact to create a deepened consciousness of the issues facing humanity."
Surface Says: Joburg is giving Cape Town a run for its money.
| | |
| --- | --- |
| | What Else Is Happening? |
| | |
| --- | --- |
| | Disney reveals a slate of updates for its planned "storyliving" community in California. |
| | |
| --- | --- |
| | LVMH announces plans to relaunch the legendary Gérald Genta watch label next year. |
| | |
| --- | --- |
| | Salone del Mobile Returns to Milan |
The 61st edition of Salone del Mobile.Milano is returning to Fiera Milano, Rho from April 18-23 during Milan Design Week. This year's edition of the flagship furniture and design fair will once again include biennial lighting showcase Euroluce, which returns after a four-year hiatus and is rooted in a central theme of "The City of Lights." As curated by Lombardini22, Euroluce's exhibition layout will be designed by renowned studio Formafantasma and feature events, exhibitions, and programming curated by architect and professor Beppe Finessi.

At the greater Salone del Mobile fair, design enthusiasts, collectors, and other creatives can expect a continued focus on sustainability, as established by this past year's theme of "Design with Nature." Between taking in the wares of nearly 2,000 exhibiting brands, attendees can look forward to a robust slate of talks covering everything from ecological transition to the ever-evolving role of technology in design. Speakers include Shigeru Ban, Nao Tamura, Kjetil Trædal Thorsen, and more.
| | |
| --- | --- |
| | Designing Delicious: Restaurant 53 |
Designing Delicious is produced in partnership with Dorsia, a members-only platform with access to reservations at the most in-demand restaurants in New York, Miami, and L.A.

"We have a wide variety of people that come here: producers, CEOs, artists, dancers, musicians, and foodies," says Mark Yu, chef de cuisine at 53, Altamarea Group's latest restaurant. Situated in a three-story Midtown space beneath MoMA's new extended wing, the contemporary Asian concept helmed by acclaimed Singaporean chef Akmal Anuar pulls flavors from Japan, Korea, and China. Thanks to an art program curated by Friedrich Petzel Gallery and local firm ICRAVE's sensorial design inspired by Taoism, a meal at 53 feels like dining inside of a sculpture.

On the heels of the inaugural artist-in-residence, Jorge Pardo, whose light installation adorns the private dining room, two of artist Ross Bleckner's abstract floral paintings have recently joined the entrance and lounge areas. The rotating art program accents ICRAVE's permanent installations such as the technicolor landscape diorama that flows up the dining room like a rainbow shooting into the sky.

Yet even among beauty this rich, the food steals the show. "Everything is rolled out fresh, daily—the dim sum is never frozen; the xiao long bao is rolled one hour before service," Yu says of the menu, which is categorized by temperature and preparation: Cold, Hot, Steamed, Grilled, Clay Pot, and Wok. For cocktails, the chef recommends the signature Singapore Sling and Electric Feels, a mezcal-based holy alliance of guava, Sichuan pepper, calamansi citrus, and Himalayan salt.
| | |
| --- | --- |
| | Ouive's Handmade Rugs Celebrate Centuries-Old Moroccan Handicraft |
Even if you don't know Ouive by name, you likely know its hand-knotted Moroccan rugs by sight. Hand-dyed yarns in magenta, tangerine, and lilac hues create tessellating geometric patterns with imperfections befitting pieces made by hand, not factory machinery. They're a respite from the sterile, algorithmic sameness of tasteful neutrals that has overtaken a certain corner of Instagram.

As a professional photographer, founder Kristina Williamson has long held an appreciation for visual storytelling. So it's fitting that an impromptu trip to Morocco for creative inspiration laid the foundation for the Brooklynite's enterprise with the country's skilled weavers. "I was fascinated by the rugs as a form of visual storytelling and also the crucial role the women artisans played in preserving the craft," she says. Ouive works closely with Moroccan weavers who hand-knot custom and ready-to-ship commissions from their homes and villages. In an interview with Surface, she delves into the unlikely commonalities between photography and rug design, and catering to modern tastes with centuries-old crafting traditions.
| | |
| --- | --- |
| | Hermès's Latest Fragrance Evokes Windswept Greek Isles |
The latest fragrance from Hermès' Parfums-Jardins serves as a portal to a dry, barren land devoid of vegetation. In-house perfumer Christine Nagel envisioned Un Jardin à Cythère with notes of crisp sun-dried grass, nutty olive wood, and fresh pink pistachios that capture "fields of olive trees and high grasses blowing in the wind" that she first spotted from the sea upon first visiting the Greek island of Kythira.

Thanks to her cinematic approach to perfumery in which she painstakingly recreates the "color, texture, and sounds" of an image in her mind, Un Jardin à Cythère captures that alchemy. It evokes nostalgic feelings of dry grasses underfoot, being drenched in sunlight, and the smoky scent of caramelizing oats, resulting in a distinctive fragrance that feels both familiar and entirely new.
| | |
| --- | --- |
| | An Intimate Dinner to Toast Art Basel Hong Kong |
Last week, luminaries from the art and luxury spheres gathered at Carlyle & Co for an intimate dinner hosted by Sonia Cheng, CEO of Rosewood Hotel Group, and Bettina Korek, CEO of Serpentine, to celebrate the return of Art Basel Hong Kong. Guests were served an elaborate seven-course dinner—butter abalone and beef rossini were among the highlights—prepared by Chef Paul Pairet and his team, who traveled from Shanghai specifically for the occasion.

When was it? March 22

Where was it? Carlyle & Co.

Who was there? Jay Jopling, Maja Hoffmann, Boris Vervoordt, and more.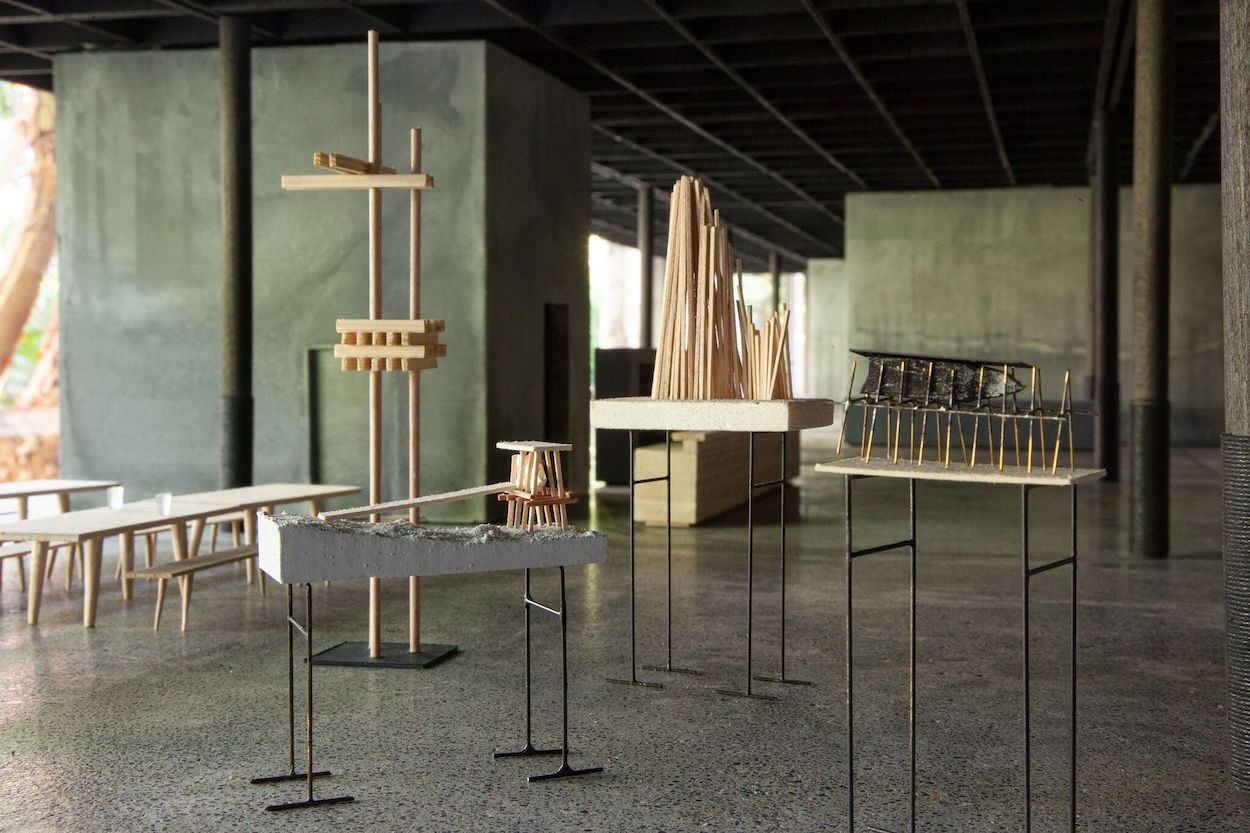 | | |
| --- | --- |
| | Architectural Models from the Atelier Peter Zumthor |
When: Until Sept. 16

Where: Werkraum Haus, Andelsbuch, Austria

What: Curated by Finnish architect and exhibition designer Hannele Grönlund, 40 large-scale models of Peter Zumthor's completed works showcases the Swiss architect's unflinching and minimalist design approach, where materials, construction, and form become an integrated whole. The models provide a tangible experience and convey the power of handiwork in an era where everything revolves around digitalization.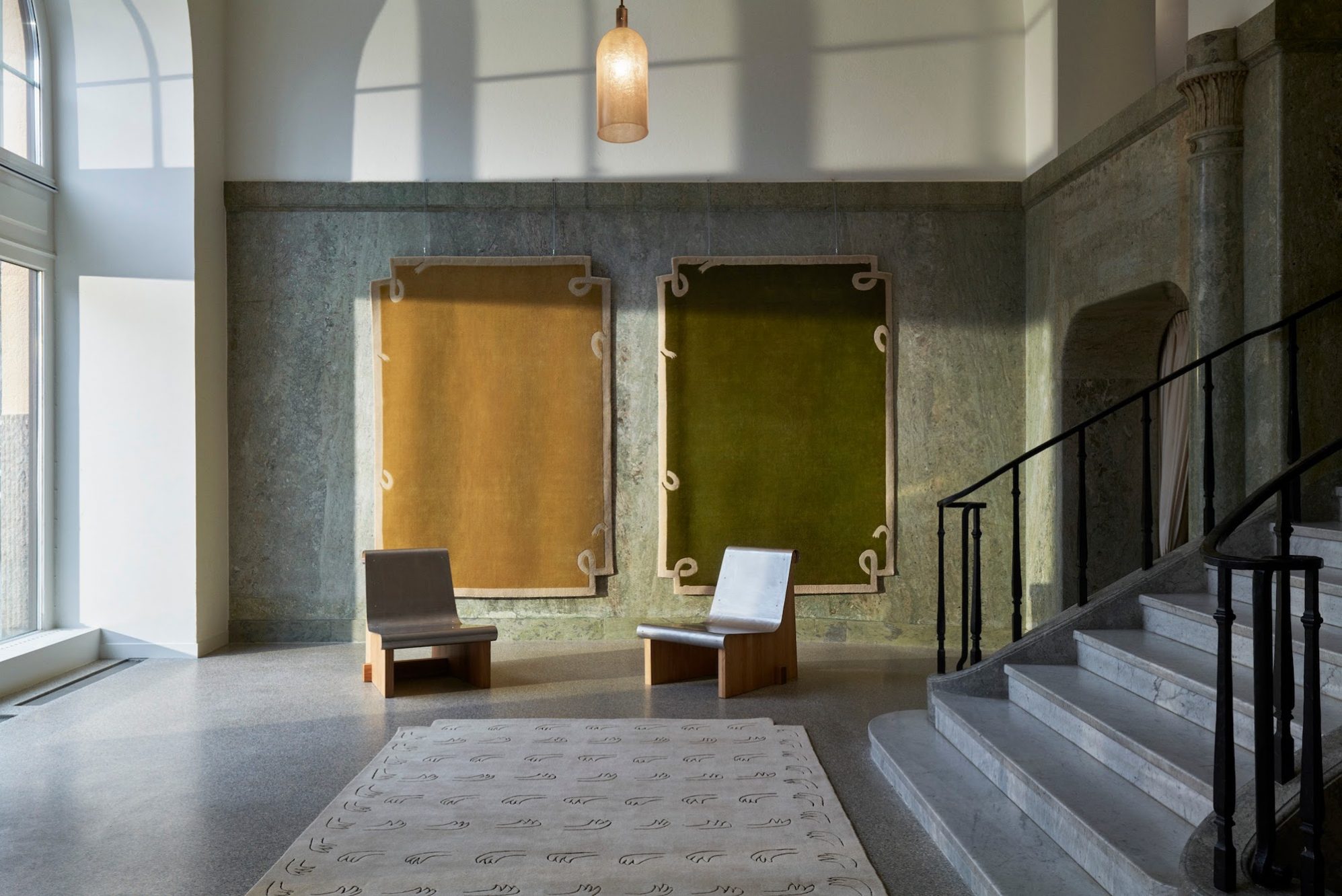 | | |
| --- | --- |
| | ICYMI: Nordic Knots Rugs Glow in a Dazzling Stockholm Theater |
Fabian Berglund and Liza Laserow, the husband-and-wife co-founders of Scandi rug brand Nordic Knots, were scouring the internet for office space when a tiny thumbnail caught their eye. It was for the Eriksbergsteatern, an early-20th-century theater lovingly nicknamed "Woodstock" by Stockholm cinephiles until it closed in 1986. Seeking to showcase the venerable brand's hand-woven rugs in a history-laden setting that transcended a traditional showroom, the duo—and co-founder Felix Berglund, brother to Fabian—signed up.

The interior needed sprucing up, so the Berglunds enlisted a fast friend, the New York interior designer Giancarlo Valle. Acclaimed for spellbinding interiors that deftly bridge reverence for tradition with the playful spirit of the present, he turned out to be an ideal collaborator. Preservation work on the theater's original touches was in order—the dramatic Carrara marble staircase, speckled terrazzo floor, and mottled green marble walls all exquisitely backdrop the array of light-soaked rugs, as well as contemporary touches like a coffee bar and lighting by Mexican designer Carlos H Matos.
Reach the design world every morning. Find out more about advertising in the Design Dispatch.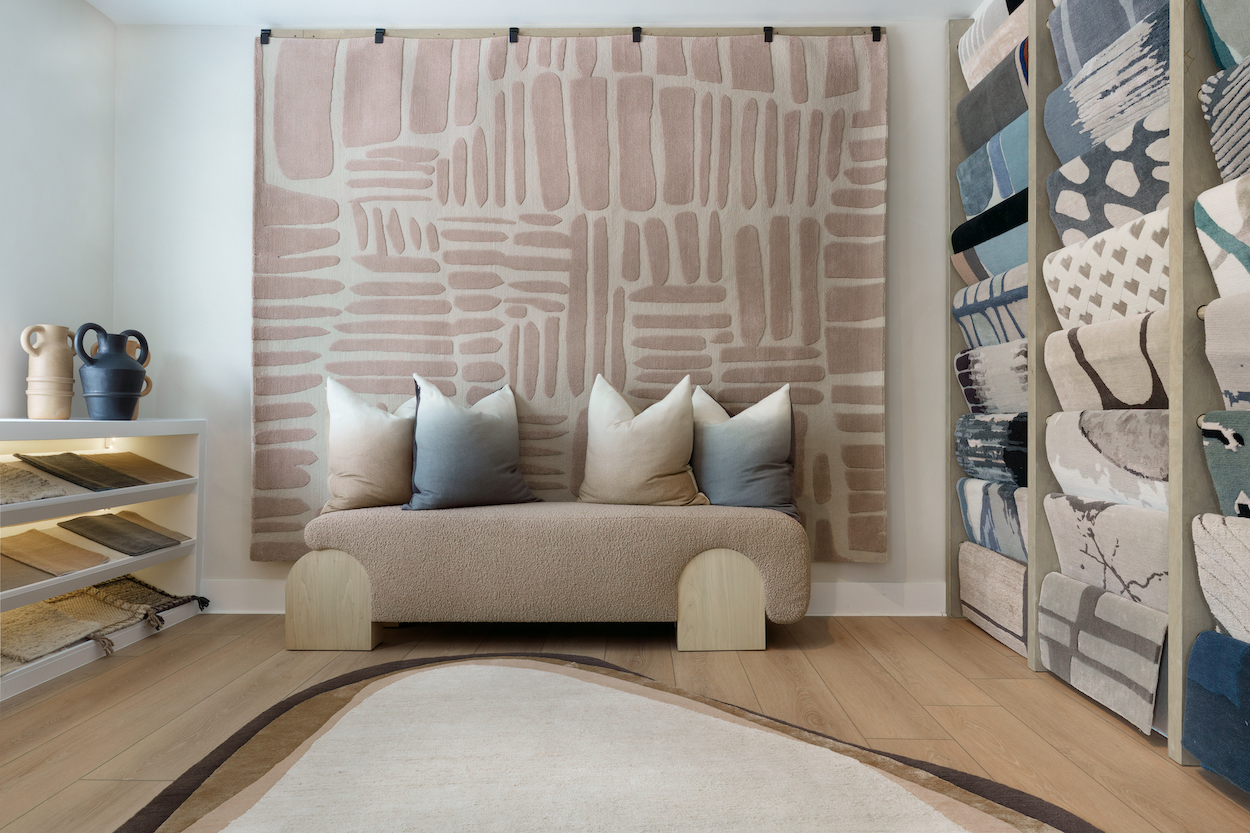 Member Spotlight:
Art + Loom
Art + Loom is a bespoke rug company based in Miami, Florida. Founded almost 10 years ago by designer Samantha Gallacher, Art + Loom's mission is to bring fine art to the floor in homes around the world. Each rug is individually designed by Gallacher and hand-made in Nepal or India using techniques handed down over generations. Art + Loom works with top designers, collaborates with cutting-edge artists, and continues to push the bounds of rug design and construction.
Surface Says: A roster of collaborations with prominent creatives and Gallacher's dedication to overcoming challenges posed by the built environment positions Art + Loom where art and design meet.