"Good design constantly evolves."
| | |
| --- | --- |
| | The 2028 Summer Olympics Looms Over Los Angeles |
What's Happening: Misgivings about the 2028 Summer Olympics abound, from worries of a ballooning budget to traffic and infrastructure concerns. Yet the Games present an opportunity for long-needed improvements in Los Angeles, from public land revitalization to rail transit milestones and water quality.

The Download: The 2028 Summer Olympic Games are a touchy subject for Angelenos: a recent survey revealed a mere 53 percent of residents believe the event will leave a positive impact on the city. The trepidation is understandable: the Olympics have developed a reputation as a massive receptacle of taxpayer funds given the level of investment and infrastructural improvements required from host cities. Critics also cite the environmental impact of developing gargantuan, starchitect-designed competition facilities—so many of which are summarily abandoned that an entire genre of photography has sprung up, dedicated to cataloging the ruins of Olympics in cities like Rio de Janeiro, Athens, and Berlin.

What the City of Angels has on its hands isn't a problem of design, but of communication. Following in the footsteps of the 2002 Salt Lake City Winter Olympics, L.A. is using the occasion to secure state and federal funding for projects with long-term benefits. The Inglewood Transit System, for example, was recently awarded $407 million to build two new stations and connect the neighborhood's K Line transit station to SoFi Stadium, the Kia Forum, Hollywood Park, and the forthcoming Intuit Dome. All are popular destinations for concerts and sporting events, and are expected to host opening and closing ceremonies, soccer matches, archery, and gymnastics in 2028.

A bit farther south, Long Beach will host water sports including sailing, open-water swimming, and the triathlon. Officials there have presented the Olympics as an incentive for the state and congress to earmark more than $1 billion for the revitalization of bridges, parks, and the revamped Belmont Shore pier, which is expected to become the official viewing platform for sailing events.

Officials are looking as far as Paris—host of the 2024 Summer Olympics—for a blueprint through the literal muck of urban planning, sending representatives to study the Seine's billion-dollar cleanup. If successful, the plan will allow next year's Olympians to swim in the river—a first since 1923, when it was outlawed due to pollution. Sweeping promises made under the rosy glow of securing an Olympic host city bid are nothing new, whether they involve fast-tracking water-quality improvements or solving the dire homelessness crisis, as recently elected mayor Karen Bass has pledged to tackle by 2028.

In Their Own Words: "We have a 20-year plan, and at the end of the 20 years, we have another 20-year plan," says urban-river specialist and engineering professor Richard Thayer of lofty projects like the Seine cleanup."Whether it is ever going to happen, I don't know…Nothing in Paris' [cleanup] plan is unique. But to do it is unique."
| | |
| --- | --- |
| | What Else Is Happening? |
| | |
| --- | --- |
| | A judge dismisses the lawsuit questioning the ownership rules of a $1.47 million NFT. |
| | |
| --- | --- |
| | Discount retailers are jumping to occupy newly vacant Bed Bath & Beyond stores. |
| | |
| --- | --- |
| | Iraqi-born sculptor Rand Abdul Jabbar wins the second annual Richard Mille Art Prize. |
| | |
| --- | --- |
| | The Warehouse, a Chicago club that helped birth house music, is seeking landmark status. |
Reach the design world every morning. Find out more about advertising in the Design Dispatch.
| | |
| --- | --- |
| | Center Yourself With Vincent Van Duysen's Meditative Objects |
Vincent Van Duysen is known for deftly creating meditative spaces where purity and simplicity are paramount. Whether stylish furnishings for Molteni & C or thoughtful refreshes of Antwerp hotels, the main theme underpinning the Flemish designer's finest work is quiet introspection by means of subtle, clean-lined minimalism. It's no surprise that Van Duysen is an avid follower of transcendental meditation—or that his latest collection is a series of functional objects designed in collaboration with New York activewear label Jacques, whose founder, Gregg Cohenca, abides by the mantra "quiet confidence."

The collection strips a chair, block, side table, sandbag, and blanket down to their essence, revealing the inherent beauty and function of objects we may otherwise take for granted. The goal, of course, is connectivity. "Rooted in the spirit of practice, each piece creates a tranquil yet dynamic environment," Van Duysen tells Surface, "and supports the mind and body through movement and intention."

He means that literally: the natural oak Meditation Chair features an inclined seat that supports posture during meditation and breathwork, and the lightweight block's rounded edges help the body settle into pose. A welcome salve in today's overstimulated world, perhaps a dose of minimalist furniture will help you slow down—and attain the nirvana-like stillness mastered in his interiors.
| | |
| --- | --- |
| | A Retro Lodge Debuts a Smart Makeover in the Catskills |
Stationed at the foot of the Catskill Mountains, just over the fabled Rip Van Winkle Bridge, lies Camptown—a captivating hotel retreat reimagined by Ray Pirkle and Kim Bucci, owners of Hudson's perennially popular Rivertown Lodge and co-founders of the just-launched Ramshackle Studio. A mere 2.5-hour drive from New York City, this 1930s-era gem has been thoughtfully redesigned to celebrate its original architectural details while embracing local artists and woodworkers.

Dispersed across 22 wooded acres, each of Camptown's unique accommodations (24 guest rooms, 26 log cabins) showcases bespoke furnishings such as wooden spindle bed frames and Shaker-style nook bunks. The cabins, painted in bold earth tones, feature wood-burning stoves, fully-equipped kitchenettes, and inviting Penobscot Bay Porch Swings—perfect for soaking up the fresh mountain air.

At the heart of Camptown is Casa Susanna, a year-round Mexican restaurant and social hub helmed by Chef Efrén Hernández, offering guests a taste of Jalisco through a menu focused on locally sourced ingredients (blood sausage tamal, grilled whole porgie al pastor). Outfitted with a massive horseshoe-shaped bar lined with '60s-era French oak stools, Byron Bates leads the natural wine program while cocktails are the vision of seasoned Brooklyn transplant Natasha David, who uses housemade tinctures and garnishes from the greenhouse. The inviting atmosphere extends to the lobby, where guests lounge by the stone fireplace or enjoy tea from the antique beverage cart. Coming this summer: a swim club, pool bar, and sauna.
| | |
| --- | --- |
| | Arthur Simms: I Am the Bush Doctor, One Halo |
When: Until May 9

Where: San Carlo Church, Cremona, Italy

What: As a child, Arthur Simms recalls being inspired by small carts he saw transporting goods to and from the market in Kingston, Jamaica. He has since developed fluency with this sort of improvisational construction—articulating a singular object, often wire sculptures, from many disparate elements—and has experimented with hemp rope as a binding agent. Several of these pieces appear in his latest exhibition, set within a 17th-century deconsecrated church in the medieval Italian town of Cremona, whose 60-foot ceilings allow the Staten Island artist's sculptures and hanging drawings to absorb and reflect light.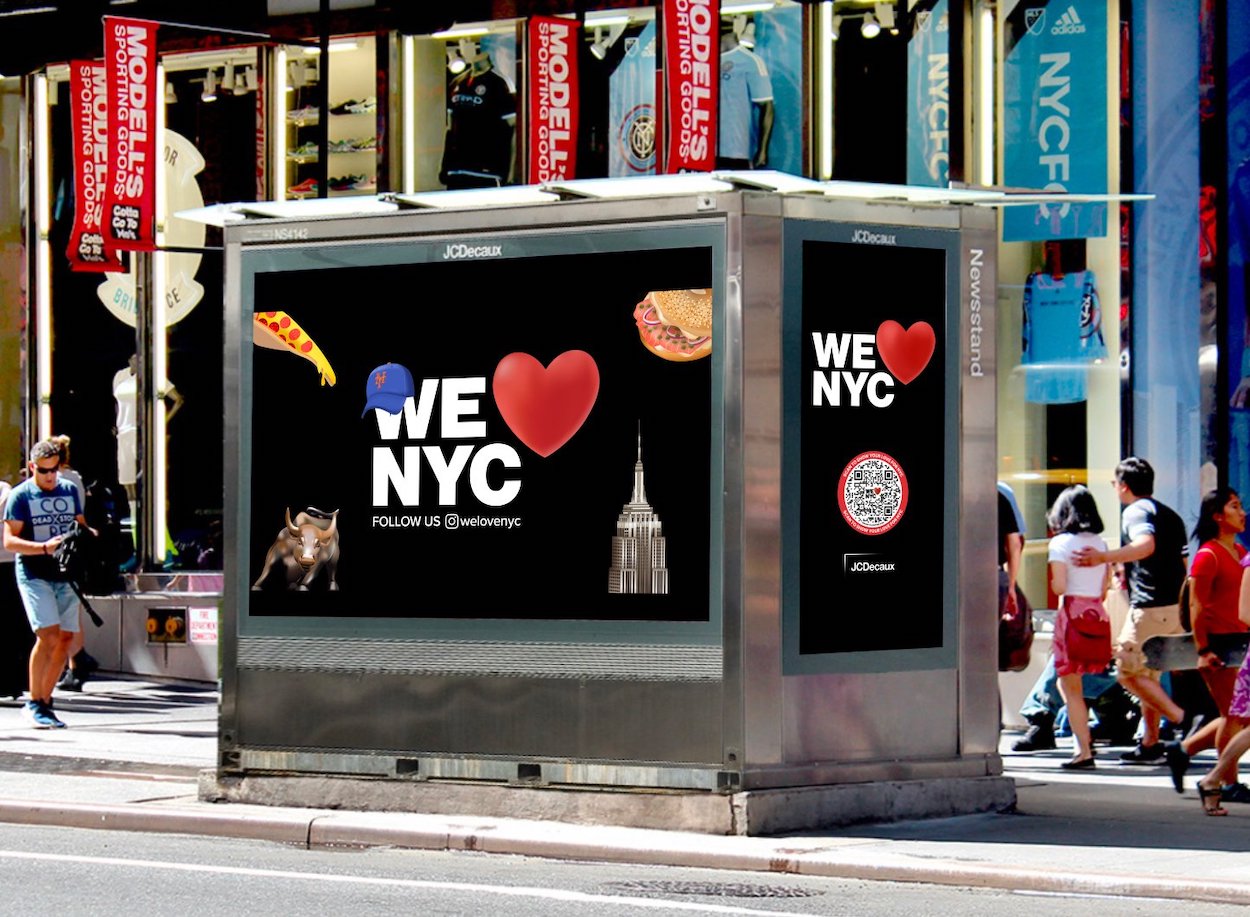 | | |
| --- | --- |
| | ICYMI: New Yorkers Hate the We ❤️ NYC Logo |
In the late 1970s, New York had reached a nadir. The city had barely scraped through a major fiscal crisis. A widespread blackout provoked looting and arson. Son of Sam loomed large. The Bronx was burning. Amid the chaos, Milton Glaser sat in the back of a taxi and sketched what would become the I ❤️ NY logo after being commissioned for a tourism campaign. The late graphic designer loved New York so much that he gave the logo to the city for free, hoping it would become public property. And since then, Glaser's napkin doodle has become inextricably linked with New York City's identity.

Partnership for New York City, a consortium of business executives, corporations, and elected officials, had started drawing parallels between the late 1970s and today. (Both can be viewed as watershed moments as the city rebounded from divisiveness and economic woes.) To help promote their latest campaign that encourages locals to "fix what they see as broken in the city," as president Kathryn Wilde notes, they decided to modernize Glaser's logo to reflect the current times. That entailed swapping in a protruding heart emoji and replacing his typewriter doodles for sans serif caps referencing Helvetica, the font on New York City subway signage.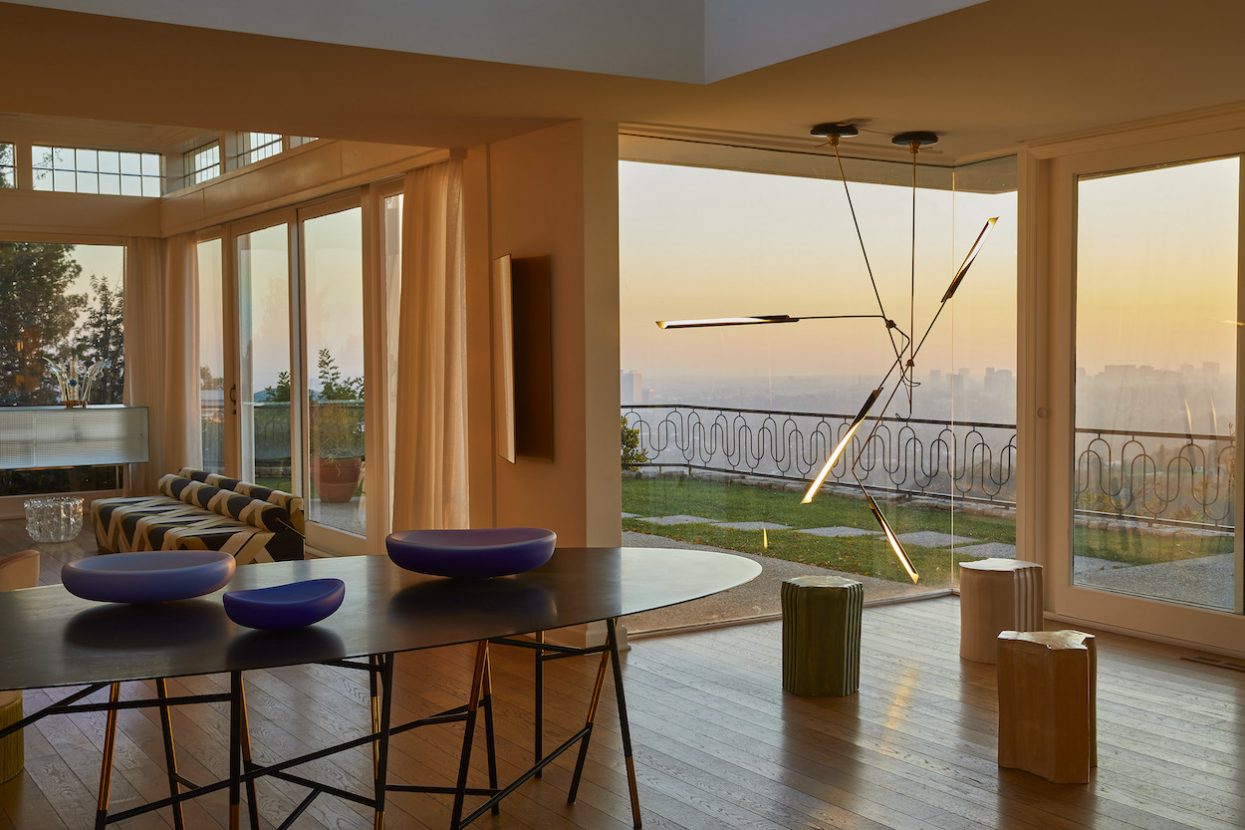 | | |
| --- | --- |
| | Member Spotlight: David Weeks Studio |
David Weeks Studio is a Brooklyn-based design studio founded in 1996. A multi-disciplinary designer renowned for his iconic sculptural lighting, founder David Weeks's minimalist visual language articulates an ongoing and open-ended dialogue between material and form. His genre-defining work is the result of a distinctly hands-on sculptural process of formal reduction that marries an artist's sensibility with technical precision.
Surface Says: A talented and incisive designer, Weeks deftly balances true minimalism with levity and discovery in each fixture created by his studio.
| | |
| --- | --- |
| | Today's Attractive Distractions |