"Art maintains its vitality through continual innovation, and technology is one of the main engines."
| | |
| --- | --- |
| | Micro-Apartments Are Thriving in Tokyo |
What's Happening: Famous for small accommodations and high property values, the Japanese capital is testing 95-square-foot micro-apartments that still provide all the essentials for transitional twenty-something renters.

The Download: In Japan, April is seen as a time of transition, when the new academic year kicks off and recent graduates enter the workforce. In the months leading up, many young people relocate closer to their new life—and to save money, many choose to move into micro-apartments. Over the past few years, real estate developer Spilytus has opened more than 100 shoebox apartment buildings around Tokyo under the Ququri brand. Clocking in at 95 square feet (or three tatami mats, a standard way of measuring room size in Japan), each no-frills unit has the bare necessities: a shower room, toilet room, kitchenette, and living room.

Studio apartments in Tokyo—a dense metropolis known for high property prices and compact housing—are usually double the size, but Ququri's more than 1,500 tenants apparently don't mind cupboard-like quarters. Spilytus strategically built the apartments close to trendy, transit-rich districts like Harajuku and Shibuya, where units rent for around $500 a month. This setup grants close proximity to favored neighborhoods on a budget, allowing them to save up for their next move. Many don't spend much time at home—Japanese people often work long hours and hosting friends is uncommon.

Demand for Ququri's micro-apartments has surged, even throughout the pandemic; Spilytus often needs to turn away applicants or place them on waiting lists due to a lack of vacancies. Though they've drawn comparisons to office cubicles and residents report not having enough space to stretch out, they've also found pleasure in embracing the essentials. One moved closer to work and substituted time spent commuting with routine jogging, shedding 30 pounds; another didn't feel the need to keep his mini-fridge. Trends around minimalism and decluttering (even as Marie Kondo embraces her mess) have also made the "just-the-basics" lifestyle seem more appealing, especially when there are social media incentives.

Micro-housing isn't only having a moment in Tokyo. Prototypes are being tested in U.S. cities with chronically high rents and visible homeless problems. San Francisco is inching toward building a 70-unit complex of transitional housing in tiny homes. Los Angeles is leaning into the idea, recently opening North Hollywood's Alexandria Park Tiny Home Village of 103 brightly colored single-occupancy cabins. The city is also making it easy to build ADUs with high-design options from the likes of Samara and Dwell. Micro-housing already feels like the norm in Manhattan, where you're not even guaranteed a bathroom.

In Their Own Words: "I looked at regular apartments. They were bigger than this, but the rents were really high," Reina Suzuki, a 30-year-old Ququri resident in western Tokyo, told The Guardian. "I'm going to save up for somewhere bigger. When I moved in, I felt tired a lot of the time, but I've got to quite like the place. I would even go as far as saying that I can relax here."
Surface Says: As the rental market intensifies and more people are priced out of basic housing, maybe the U.S. could take a few notes from Japan. Though perhaps we could increase the square footage beyond the size of a prison cell.
| | |
| --- | --- |
| | What Else Is Happening? |
Reach the design world every morning. Find out more about advertising in the Design Dispatch.
| | |
| --- | --- |
| | Nordic Knots Rugs Shine in a Dazzling Stockholm Theater |
Fabien Berglund and Liza Laserow, the husband-and-wife co-founders of Scandi rug brand Nordic Knots, were scouring the internet for office space when a tiny thumbnail caught their eye. It was for the Eriksbergsteatern, an early-20th-century theater lovingly nicknamed "Woodstock" by Stockholm cinephiles until it closed in 1986. Seeking to showcase the venerable brand's hand-woven rugs in a history-laden setting that transcended a traditional showroom, the duo—and co-founder Felix Berglund, brother to Fabien—signed up.

The interior needed sprucing up, so the Berglunds enlisted a fast friend, the New York interior designer Giancarlo Valle. Acclaimed for spellbinding interiors that deftly bridge reverence for tradition with the playful spirit of the present, he turned out to be an ideal collaborator. Preservation work on the theater's original touches was in order—the dramatic Carrara marble staircase, speckled terrazzo floor, and mottled green marble walls all exquisitely backdrop the array of light-soaked rugs, as well as contemporary touches like a coffee bar and lighting by Mexican designer Carlos H Matos.

"Sweden, to me, represents one of the richest and most sophisticated design cultures in the world," Valle says. "It has a deep history of decorative arts and manages to move itself forward in new and original ways without losing its roots. I saw this partnership as an opportunity to continue this great legacy, but through an outsider's lens." To wit: displayed throughout is Valle's own collaboration with Nordic Knots, a newly debuted series of impeccably soft New Zealand wool rugs that play with Swedish folkloric imagery.
| | |
| --- | --- |
| | A Historic Property in the Virgin Islands is Reborn |
A 1940s artist guesthouse formerly known as Smith's Fancy is the site of St. Thomas's first hotel opening in two decades. Located in downtown Charlotte Amalie, the Pink Palm's makeover nods to its history with Art Deco touches, geometric patterns, and a spruce of the green-tiled pool. A sophisticated palette adorns the 28 guest rooms, from tropical-print wallpaper and bamboo furniture to lush velvet accents and the bathroom's terrazzo details.

Ensconced in a banana grove and bay rum trees, the vibrant environs were once a popular stomping ground for artists, fashion designers, and Hollywood types who gathered at the bar for sundowners. In the hands of executive chef Bruce Miller, an alum of Manhattan's shuttered gem Mas Farmhouse, that tradition is experiencing a renewal. The upcoming terrace restaurant and cocktail lounge promise hyper-local menus with fresh ingredients grown on-site that will surely attract a new cohort of creatives drawn to the island's pleasures.

Jonah Takagi founded his namesake atelier in 2009 to showcase the furniture and lighting he made while a touring indie rock musician. Since then, the Tokyo-born talent has become one of the industry's most well-respected product designers, with brands such as Design Within Reach, Hem, Roll & Hill, and Dims all enlisting him (and longtime collaborator Hallgeir Homstvedt) to craft what he deems "considerate" objects that are simply built to last. He now enters the collectible design realm with a series of one-of-a-kind vessels made at Marseilles glass residency CIRVA, where he drew inspiration from concrete architecture, suburban office parks, and the port city's maritime tones.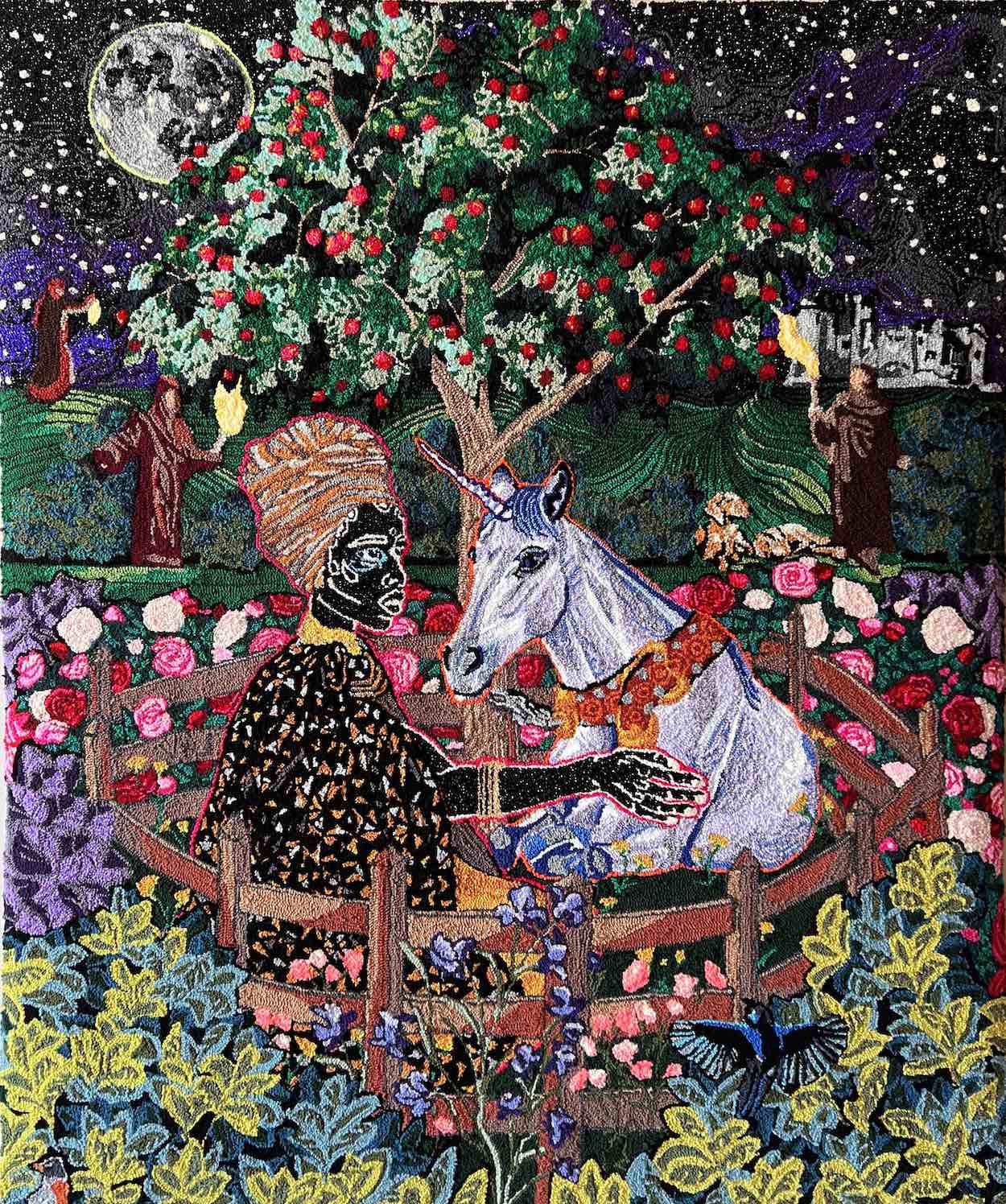 | | |
| --- | --- |
| | Simone Saunders: Unearthing Unicorns |
When: Until May 13

Where: Claire Oliver Gallery, Harlem

What: Afrofuturism, feminist craft, and deep knowledge of Renaissance-era tapestry coalesce in the Canadian textile artist's debut solo exhibition, which reimagines high Renaissance unicorn tapestries in the Met's collection. Through punch-needle and tufting techniques, Saunders creates an allegorical narrative of Black womanhood—in this one, recasting the hunt as a story of heroism and resilience.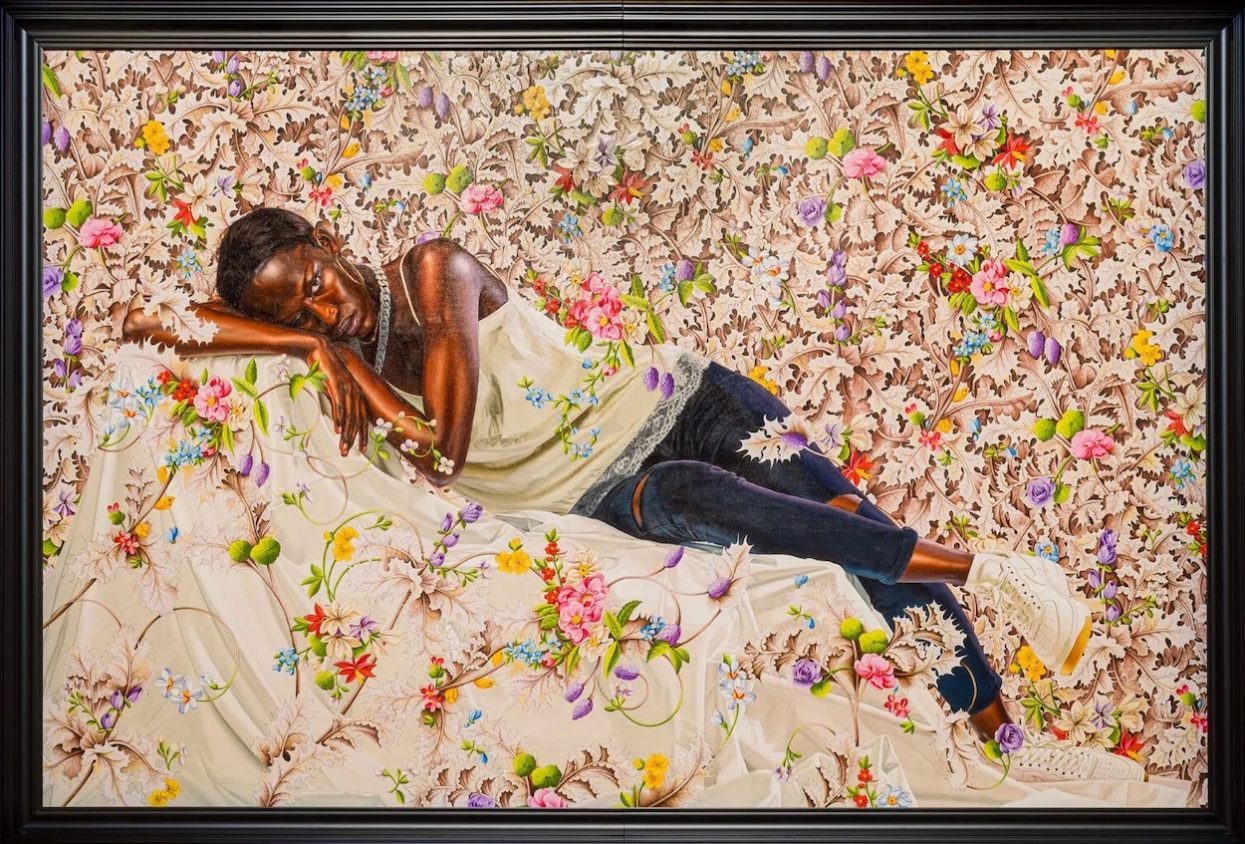 | | |
| --- | --- |
| | ICYMI: Kehinde Wiley's Gripping New Show Has a Respite Room |
Touching fine art is forbidden at most institutions, but visitors to this past year's Venice Biennale were so moved by Kehinde Wiley's billboard-size paintings and giant sculptures of Black people in crumpled, supine positions that many wept, reaching out to grasp their hands. Wiley completed each of the show's 25 artworks against the backdrop of the George Floyd killing and Black Lives Matter uprising. In Wiley's paintings, he illustrates Black people in vibrant, lavish settings that reference religious and mythological Western paintings. In this series, however, each figure is struck down, wounded, or dead.

The exhibition, called "The Archaeology of Silence" and organized by Musée d'Orsay, opened in the U.S. for the first time at San Francisco's de Young Museum, in close proximity to neighboring Oakland where the Black Panther Party was formed in the 1960s. Given the harrowing nature of the work, the Fine Arts Museums of San Francisco (a nonprofit comprising the de Young and the Legion of Honor) is anticipating an emotionally charged response. To ensure the pieces don't overwhelm visitors, the museum created a "respite room" where they can regain their composure as they absorb the message.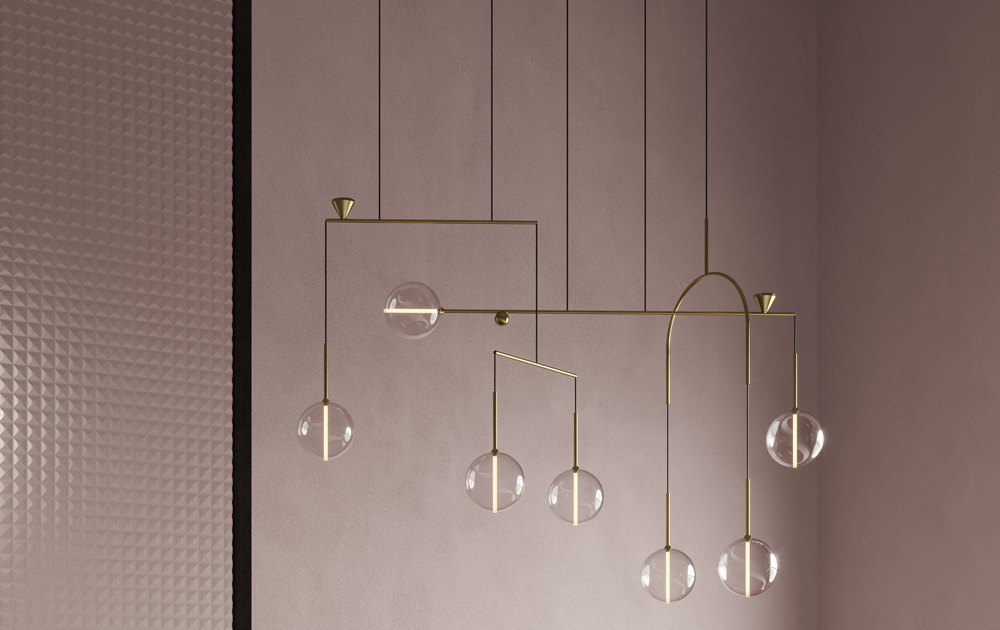 Member Spotlight:
Suite NY
Suite NY is a midcentury modern and contemporary furniture showroom open to the trade and the public. The brand's 8,000-square-foot showroom in New York City's NoMAD district displays a meticulously curated collection of iconic European designs alongside pieces from up-and-coming international designers.
Surface Says: Bringing together international designers across all disciplines, Suite NY's curated showroom puts forth the very best of the best in midcentury modern and contemporary design.
| | |
| --- | --- |
| | Today's Attractive Distractions |
Scientists are developing "cosmic concrete" to help build habitats on Mars.

According to a new study, saliva may be the next frontier in cancer detection.

Welcome back to Good Burger! A sequel to the comedy classic gets the green light.

Domus unearths Joe Colombo's modular, futuristic flat in early-'70s Milan.