"We want people to be able to enter our world and get to know us."
| | |
| --- | --- |
| | Austin Trades In Weird for Innovation |
What's Happening: The Texas capital, a laid-back anomaly in a red state with the slogan "Keep Austin Weird," has matured into a billionaire-friendly tech metropolis—and a hotbed for forward-thinking design ideas like 3D-printed houses and urban light rail.

The Download: Austin is booming—and for longtime residents of Texas's famously livable "blueberry in the tomato soup," the transformational forces at play are trading in "weird." Silicon Valley titans, lured by the prospect of low taxes and less regulation, have stampeded into the city en masse, erecting giant Tesla gigafactories, the sail-shaped Google building, and a sprawling Apple campus. South Congress, once Austin's funkiest street, is now home to Hermès and Soho House. A flurry of cranes is reshaping the once-modest downtown skyline into a showpiece for supertalls. Their glassy panes reflect the sweltering sun, sizzling sidewalks. Traffic snarls, rents are rising, and homelessness has reached an all-time high.

Perhaps most emblematic of Austin's rapid-fire economic growth—and demand for apartments and condos—are plans to build two skyscrapers that, at just over 1,000 feet tall, will reign as the Lone Star State's tallest buildings. Waterline, a shimmering high-rise designed by New York firm Kohn Pedersen Fox, will bring 74 stories of apartments, hotels, and office space to the once-sleepy Rainey Street District when construction wraps up in 2026. Ground is breaking this year on HKS's taller Wilson Tower, whose golden brise-soleil has drawn comparisons to a "giant harmonica." More than 20 similar buildings are on the books, exciting investors but concerning preservation advocates about the rate of change forever altering the city's character.

Those concerns are valid, but it's hard not to be intrigued by the innovation percolating. Underway in the northern community of Georgetown is a 2,500-home neighborhood, Wolf Ranch, which at first may seem like another dime-a-dozen suburban subdivision. Look closer and giant robots are building 100 homes that will soon form the world's largest 3D-printed community, a collaboration between home-builder Lennar, 3D-printing startup Icon, and Bjarke Ingels Group called the Genesis Collection. Layer by layer, Icon's Vulcan printer extrudes a concrete mixture called Lavacrete to form the structures' walls. Construction takes three weeks, minimizes waste, and reduces heating and cooling costs. Pricing is projected at around $400,000—not bad for the city prone to skyrocketing housing costs.

Wolf Ranch is hardly the only major project relying on design innovation to maintain Austin's livability as the city blooms into a bona fide metropolis. Efforts are underway to create a modern rail transit system called Project Connect, which is slowly taking shape after voters approved plans in 2020. City officials are leaning on UNStudio, Gehl, and HKS to devise initial blueprints for stations and other elements. Gehl director Anna Muessig says to expect "seamless transfers" as well as public art and shaded public spaces, but an escalating price tag thanks to inflation, supply chain bottlenecks, and an appreciating property market have stymied the plans.

In Their Own Words: "We didn't go into this with any kind of preconceived notion or design direction," Chi Lee, office director for HKS Austin, told Fast Company about plans for Project Connect. "What we do know is that we want to preserve the Austin vibe. People here are very nice. It's a very comfortable place to live. We have natural environments that kind of flow through our city. All need to be preserved."
Surface Says: Austin might be flying a bit too close to the Texas sun if Grimes can't even afford a house.
| | |
| --- | --- |
| | What Else Is Happening? |
| | |
| --- | --- |
| | Construction officially kicks off on the expansive Edition Residences Fort Lauderdale. |
| | |
| --- | --- |
| | Amazon pauses plans to build its HQ2 in Virginia four years after it was announced. |
| | |
| --- | --- |
| | Extinction Rebellion stages a protest at the Rijksmuseum, but no art was damaged. |
| | |
| --- | --- |
| | Cool Tunes, Light Bites, Fun Vibes |
Join Surface and Blu Dot on Wednesday, March 8, to celebrate the award-winning furniture brand's new Miami showroom. Guests are invited for an evening of music, cocktails, and light apps, as well as the opportunity to meet Blu Dot's founders and peruse the new store.
| | |
| --- | --- |
| | Designing Delicious: Sofia |
Designing Delicious is produced in partnership with Dorsia, a members-only platform with access to reservations at the most in-demand restaurants in New York, Miami, and soon L.A.

"We thrive on quality ingredients and simplistic preparations to go outside the box of classic Italian and elevate the dishes to suit the surrounding Design District," executive chef James Weinlein says. Miami's Design District got even buzzier this past year with the arrival of Sofia. The southern sister to the original location in Toronto's Yorkville, the latest boîte from INK Entertainment (of Byblos, Amal, and Level 6 Rooftop fame) offers Italian fine dining within glammy interiors by Studio Munge.

Sparing no luxury, Alessandro Munge specified a full five pink-and-white honed marbles for the floor. The interiors also serve up a plate full of pink along with a rotating art collection curated by Taglialatella Galleries—the backdrop for fashionable guests sipping negroni siciliano, twirling forkfuls of cacio e pepe with housemade bucatini, and spooning their zeppole with pistachio gelato. Between the blush-red niches, poppy mixed-media works on the walls, and a private dining area with a sparkling chandelier by Brooklyn designer Rosie Li, the space almost feels like a high-gloss pied-à-terre. "We conceived it as an art dealer's entertainment pad," Munge says.
| | |
| --- | --- |
| | Good Design Has a Scarcity Problem—Gantri Is Using 3D-Printing to Solve It |
It shouldn't come as a surprise that addressing problems of scarcity and sustainability is one of Gantri founder Ian Yang's top priorities. When asked what Gantri does, the founder, whose background in economics undoubtedly influences his answer says that "Gantri reduces the cost and complexities of developing and selling designs." Really, the company gives independent lighting designers a platform to showcase their work without incurring the burdens of production. After all, precious few people enter the design industry looking to split hairs over factory minimums, or to spend hours calculating import taxes.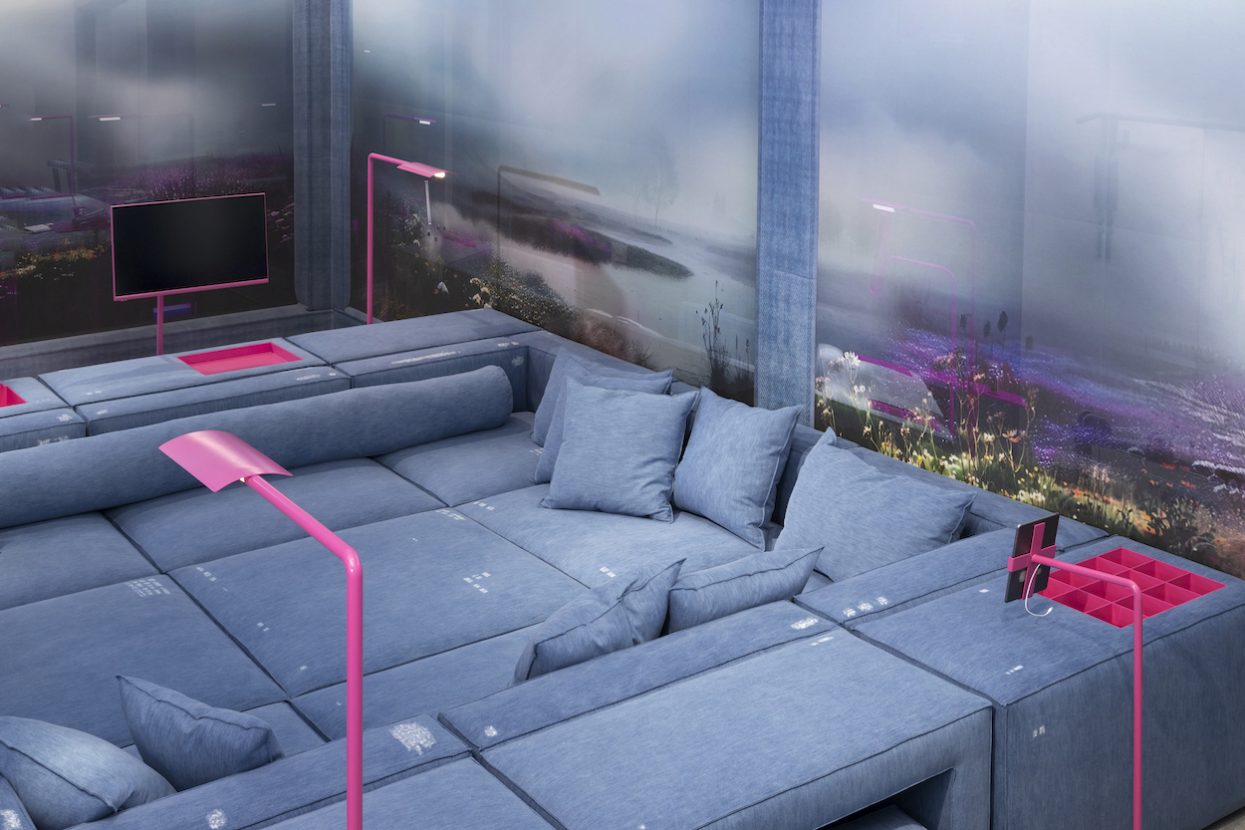 Harry
Nuriev:
Denim
When: Until May 13

Where: Carpenters Workshop Gallery, Paris

What: The creative force behind Crosby Studios' color-blocked interiors unveils a collection of modular furnishings upholstered in the titular fabric. They're displayed within Paulin-esque environments that transform the Parisian gallery into a distressed denim–clad dwelling. "In the same way that you layer your jeans, T-shirts, and jackets in the order you want," Nuriev says, "I want my furniture to adapt and shape itself according to the user's wishes."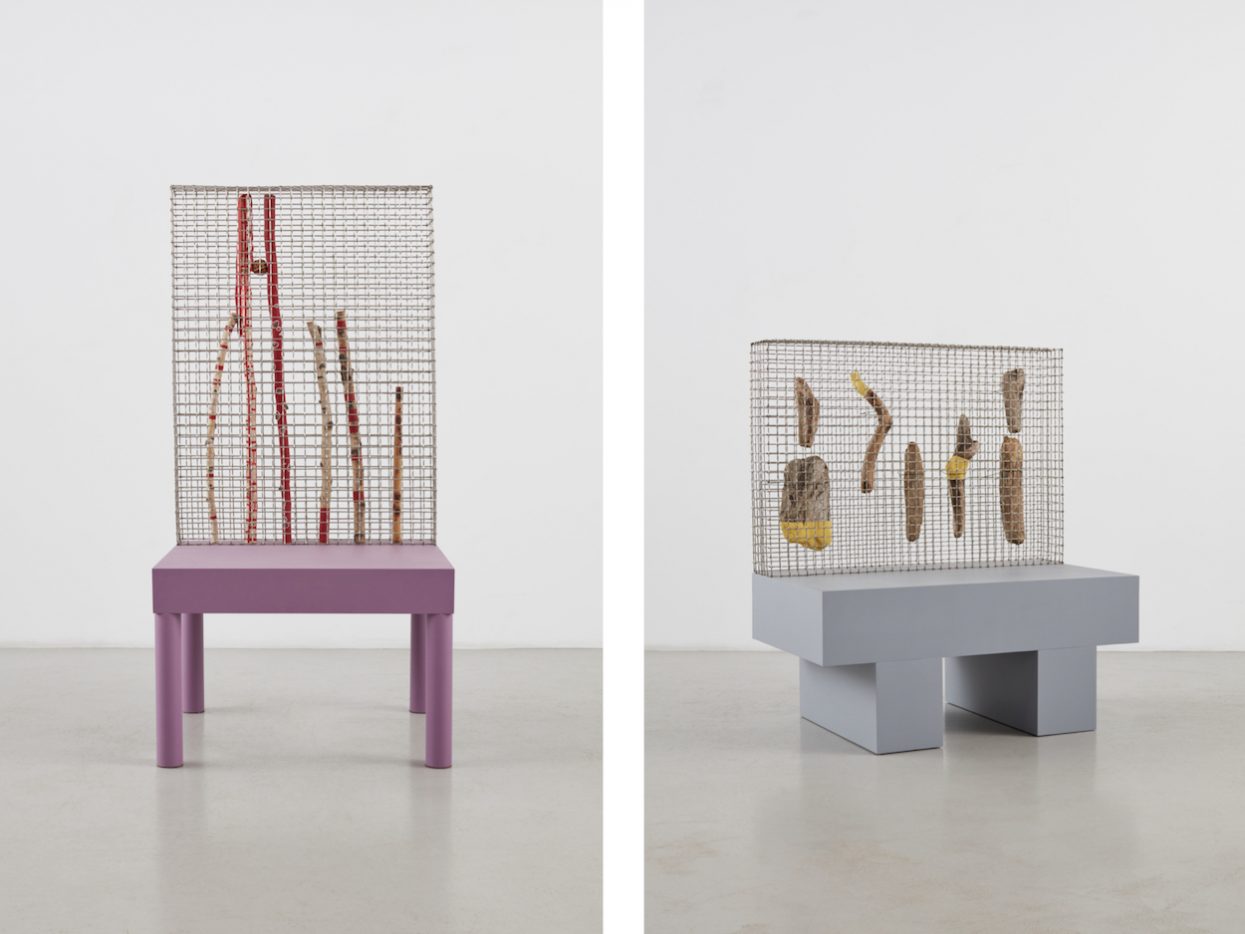 | | |
| --- | --- |
| | ICYMI: Andrea Branzi Is Still Pushing Boundaries |
In the front corner of Friedman Benda, a grove of little trees gathers. Their canopies of washi paper suspend maple and bamboo leaves mid-flutter; their trunks are also lengths of elegant bamboo, secured to rings of patinated aluminum or Belgian Bluestone. They float, summoning childhood memories of pressing foliage between wax paper. Their glow softens in the gallery's natural light, conjuring connections not only to Noguchi's eternal paper lights but also to our affinity for biophilia that floated from avant-garde galleries into health care, user experience, and product design.

The floor lamps form part of "Contemporary DNA," a show of new work from the architect, theorist, and designer Andrea Branzi. Now 85, the legendary Italian had a hand in most of the past century's seminal design movements. In 1966, he co-founded Archizoom Associati, which launched Italian Radical Design. A decade later, he, Ettore Sottsass, and Alessandro Mendini opened Studio Alchimia, pushing the former's pop sensibility into a highly referential and irreverent postmodernism.
Reach the design world every morning. Find out more about advertising in the Design Dispatch.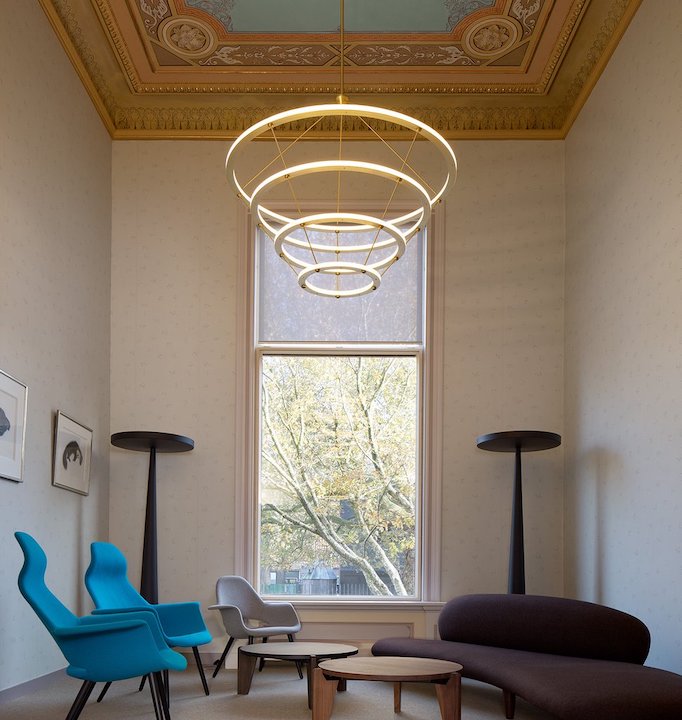 | | |
| --- | --- |
| | Member Spotlight: Loebach Designs |
Paul Loebach is an American designer whose work spans historical, material, and narrative references across product, furniture, and lighting. He has collaborated with, among others, Roll & Hill, Matter, Umbra, and The Future Perfect. His approach is influenced by his family craft history, an interest in American manufacturing, and a deep sense of curiosity about the relationship between objects and emotions.
Surface Says: Loebach's work, whether it be in the realm of lighting, decor, or even storage, delightfully subverts expectations thanks to his acute sense for the impact design can make.
| | |
| --- | --- |
| | Today's Attractive Distractions |