"You can't say you've mastered the making until the last stage."
| | |
| --- | --- |
| | A Pared-Down Desert X Opens |
What's Happening: The closely watched sculpture biennial returns to Palm Springs with a modest but more socially charged program with 12 artists chosen by artistic director Neville Wakefield and curator Diana Campbell.

The Download: When the second edition of Desert X peppered California's Coachella Valley with a smattering of large-scale sculptures by the likes of Sterling Ruby and Jenny Holzer, co-curator Amanda Hunt described the show's theme as "making the invisible visible, about what you can and cannot see." Much has changed since that edition, held in 2019 to fanfare and Instagram virality: a pandemic, racial protests, and backlash to the biennial's polarizing decision to show in Saudi Arabia despite the country's human rights violations, namely the state-led murder of journalist Jamal Khashoggi.

Four years later, the fourth edition—spearheaded by artistic director Neville Wakefield and guest curator Diana Campbell—forgoes flashy subjects for socially engaged artworks that touch on cerebral and political themes. Chief among these is Matt Johnson's slapdash pile of salvaged railway freight cars that, upon closer look, are welded together to resemble a classical reclining figure. Conceived as trade routes choked during the Suez Canal blockage, the colossus is both a sly riposte to Land Art's undying self-seriousness and a poignant reminder of the promises of prosperity and inevitable ruin stoked by railroads, especially in the wake of the toxic freight-train derailment in Ohio.

Other works are more subdued, but still have much to say. Lauren Bon and the Metabolic Studio crafted a to-scale steel sculpture of a blue whale's heart, which will be electrically charged with solar power in order to purify pollution from murky Salton Sea water placed below, in a derelict roadside motel's swimming pool. Steeped in regional traditions is Native American artist Gerald Clarke's maze-like aberration, a giant board game that beckons visitors to answer Trivial Pursuit–style questions about Indigenous culture and history. A bronze equine statue by Tschabalala Self, whose bright paintings typically explore Black female forms, subverts macho monuments of male heroes presiding in public squares.

This year, the most evocative works on view aren't sculptures. They instead came from the lens of Tyre Nichols, the 29-year-old Black man who was fatally beaten by Memphis police officers during a traffic stop in January. An aspiring photographer and avid skateboarder, Nichols captured serene shots of glowing sunsets and luminous bridges in his adopted hometown. Six photographs grace billboards along the busy North Gene Autry Trail in Palm Springs, a pointed venue as adventurous art lovers prepare to take to the desert again.

In Their Own Words: "I find it exciting, compelling, and also challenging to address the many histories that make up the changing landscape of the Coachella Valley that has inspired so many people, especially artists and architects, for such a long time," Campbell says. "The desert is full of mythologies, ones that equip people with a strong will to survive in conditions some might think to be impossible, and this combination of tenacity through storytelling contributes to the important role of 'the desert' in many cultures around the world."
Surface Says: Despite the art's political and environmental statements, we can't help but agree with Oliver Wainwright's assessment that Desert X still requires too much driving.
| | |
| --- | --- |
| | What Else Is Happening? |
| | |
| --- | --- |
| | Nancy Yao is named director of the Smithsonian's American Women's History Museum. |
| | |
| --- | --- |
| | A new Harvard GSD survey suggests most architectural tasks can be done remotely. |
Reach the design world every morning. Find out more about advertising in the Design Dispatch.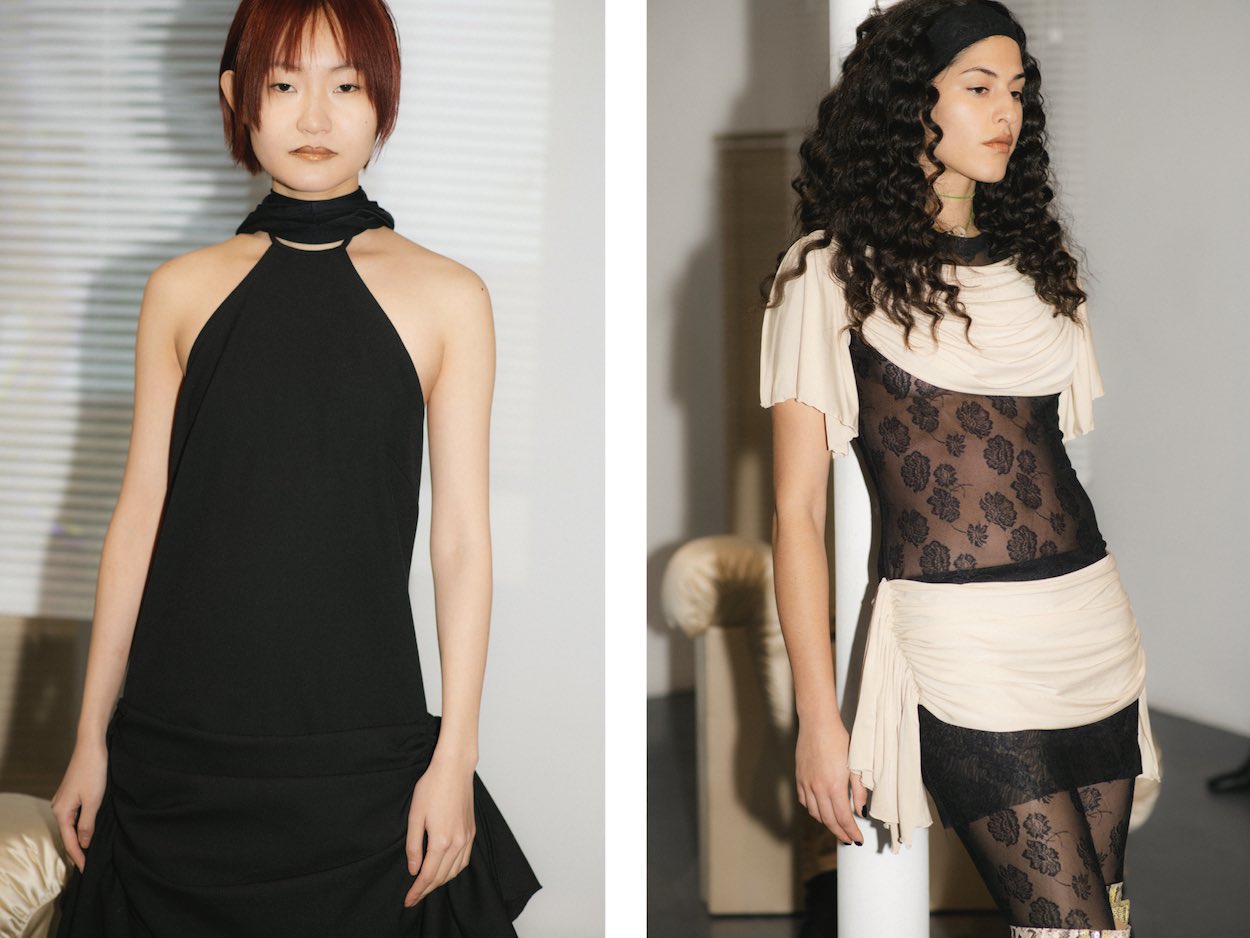 | | |
| --- | --- |
| | LVMH Prize Semi-Finalist Anne Isabella Finds Inspiration in Nature |
Behind Anne Isabella Rasmussen's gauzy dresses and '70s-mod knitwear is a deep appreciation for nature; her latest collection is rooted in inspiration found in the spirals of ammonite shells, while sweaters and skirts seem to nod to the horizontal striations that mark water-worn rock formations. Her talent caught the attention of Maria Grazia Chiuri, Bernard Arnault, and Julia Fox at LVMH's semi-finalist showcase and cocktail during fashion week.

Name: Anne Isabella Rasmussen for Anne Isabella (@anne___isabella)

Describe this collection in three words: Stripes, drapes, spirals.

Which look is your favorite? The black drape dress. It was a new category for me, so it was fun to develop. What I really love is how easy to wear and flattering it feels.

What was the inspiration? Shells. The textures and constructions mimic natural optics.

Attend any parties or events? This year, I was shortlisted for the LVMH prize as a semi-finalist. I had the opportunity to present my work to Anna Wintour, Maria Grazia Chiuri, and Bernard Arnault. I never thought I'd be getting feedback from some of the industry's biggest names. It was a great exercise in formulating and solidifying what my brand is about.

Why show in Paris rather than at another fashion week? I'm half French, and it's still the epicenter of fashion and a destination I have to pass by every season. This is also where I get to present the collection to buyers, so it makes total sense to combine those events together. However, I love working from Berlin, which is slightly calmer.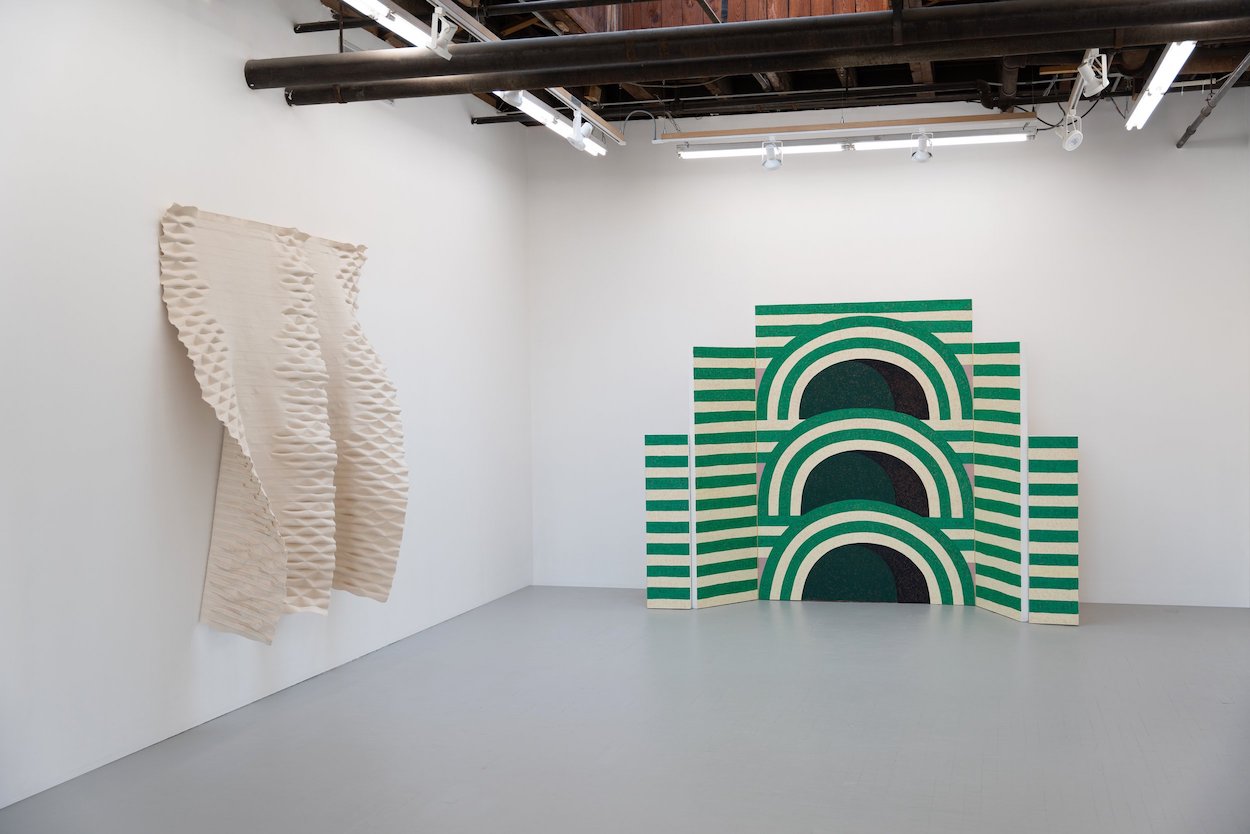 | | |
| --- | --- |
| | Carvalho Park: Creatures of Sense |
When: Until March 18

Where: Carvalho Park, Brooklyn

What: From the rippling canvas sculptures of Mary Little and Rachel Mica Weiss's mesmeric fiber works to towering proscenium arches by Matt Kleberg, each artwork in this dynamic group show transcends notions that visual knowing is absolute. Their complex presence instead finds roots in experience, each tapping into the dynamic physical interplay between viewer and art object.
| | |
| --- | --- |
| | Surface Celebrates Blu Dot's Arrival to the Miami Design District |
On March 8, Surface and Blu Dot rallied Miami's creative community to celebrate the award-winning furniture brand's new showroom in the city's tony Design District. Since winning the Cooper Hewitt's National Design Award for Product Design in 2018, the company has cultivated a devoted following who were eager for its expansion to the Magic City. Co-founders John Christakos and Maurice Blanks were joined by Surface editors and top-notch designers for a celebratory evening of music and refreshments by Tepozan Tequila, Body Vodka, Vital Tonics CBD, and OffLimits.
| | |
| --- | --- |
| | ICYMI: A Clever New Spatial Audio Speaker by Sonos |
A pair of AirPods and Spotify's questionable new TikTok-inspired feed may appeal to casual listeners, but Sonos has always held out on delivering a 360-degree musical experience. The brand's latest speaker, the Era 300, is designed as such. Spaced within the product's elegantly cinched hourglass shape is an array of speakers angled around the front, top, and sides, blasting audio in all directions—including 10 degrees upward, an angle engineers determined helps simulate truly immersive sound.

Clever spatial audio technology isn't Era 300's only appeal. Focused on reducing the brand's environmental footprint, Sonos eschewed plastic adhesives for nearly 100 screws holding together the speaker's interior architecture. This makes disassembly a breeze, helping streamline repairs and ultimately extending the product's lifespan. Also on the sustainability front: nearly 50 percent recycled plastic construction.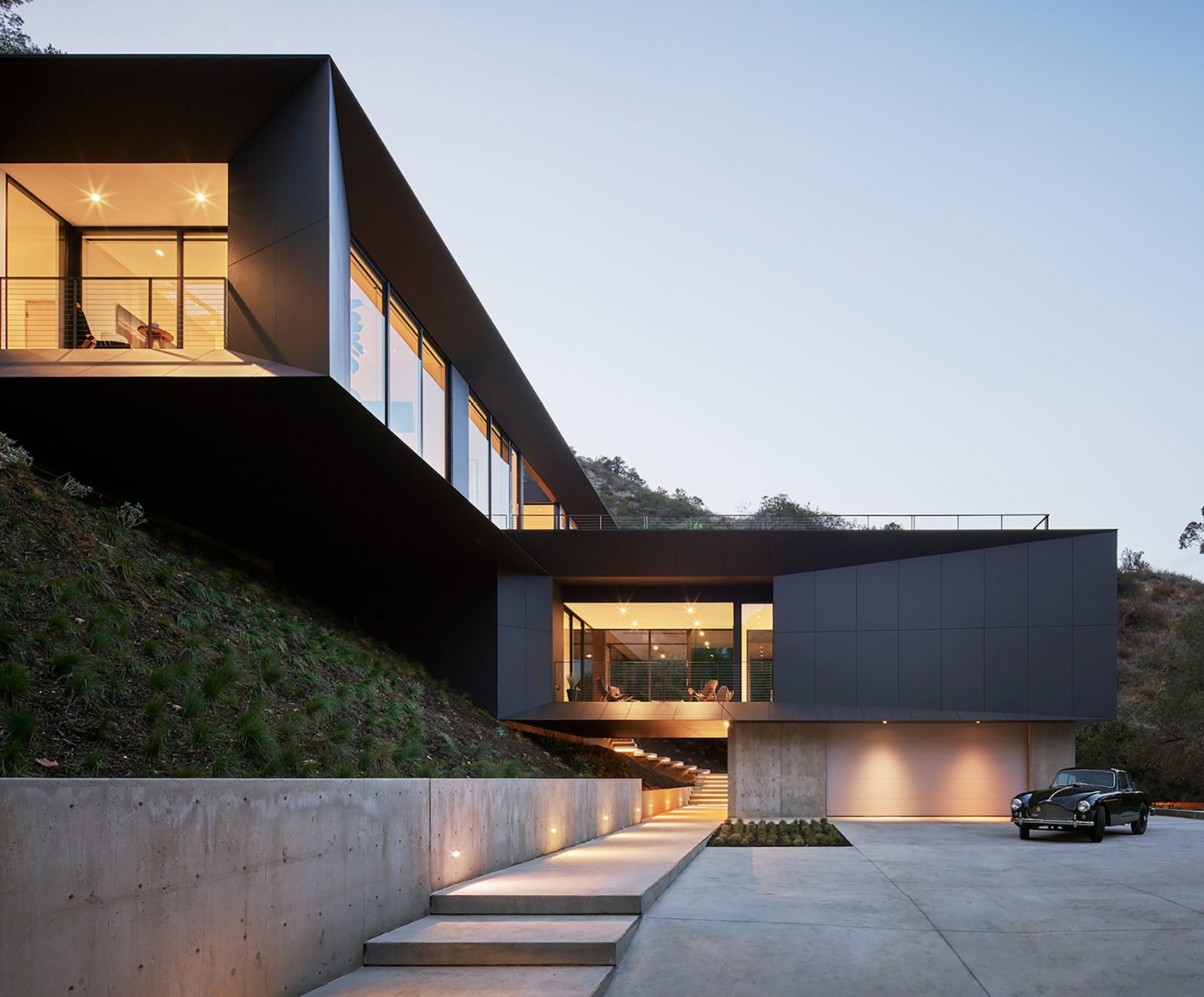 | | |
| --- | --- |
| | Member Spotlight: Montalba Architects |
Montalba Architects is an award-winning practice producing select architecture and urban design projects around the world. By embracing a humanistic approach that considers not only a client's needs but also the cultural and economic environment, solutions are realized that are contextual and visionary in their intent and appeal.
Surface Says: What's impressive about Montalba's wide-ranging body of work, which spans residential and commercial, is that no project feels the same as another. Each is a unique collaboration between client, architect, and environment.
| | |
| --- | --- |
| | Today's Attractive Distractions |
Here's an exhaustive history of how Atari's beloved Pong came to be.

This room-temperature superconductor has transformative potential.

Is Ikea's custom Pax wardrobe the most frustrating product to assemble?

Berlin's famed Berghain club has changed how some composers approach music.