"You want to be thoughtful about what you bring, but you can't just lock the door."
| | |
| --- | --- |
| | NFTs Are Having a "Four Seasons Total Landscaping" Moment |
What's Happening: A miscommunication resulted in digital artist Claire Silver being dragged online for believing her work could be shown at the Louvre, illustrating how the NFT market's consistent "hardcore believing" has its shortcomings.

The Download: It's difficult to fault digital artist Claire Silver for thinking Paris Blockchain Week wanted to exhibit her work at the Louvre during the conference's fourth edition in late March. The offer arrived shortly after a series of career wins: Silver signed with talent agency WME, and one of her pieces entered LACMA's permanent collection this past month when Cozomo de' Medici—a prolific collector believed to be Snoop Dogg—donated 22 blockchain artworks, including her trippy, kintsugi-inspired collage that layers acrylic blooms over an AI-generated face.

Eager to celebrate an ostensible career peak, Silver excitedly tweeted the news about exhibiting in the Louvre's hallowed halls. Variety picked up the story, leaving NFT expert and New York Times contributor Zachary Small incredulous about her claims. Louvre representatives confirmed his suspicions, and Silver soon clarified (in a now-deleted series of tweets) that Paris Blockchain Week allegedly misrepresented the location of their show: it would take place at Le Carrousel du Louvre, an underground shopping mall nearby, not the Louvre proper. She pulled her work from the show and began assessing other options.

Despite Silver being a community leader and outspoken advocate of Web3 art, the backlash was swift and vicious. The NFT community (a group with a shaky reputation to begin with) branded Silver as a scammer. Others mocked her for believing her work—the result of AI sweeping away "the barrier of skill," as she puts it—was strong enough to be shown at the Louvre. Superchief Gallery, which represents her, sprung to her defense with a stern retelling of their side. Silver, meanwhile, has asked to be excluded from the narrative.

For digital artists experimenting with non-fungible tokens, the past few years have seen oceanic ebbs and flows. A monumental digital collage by Beeple fetched $69.3 million at auction, stoking nonstop internet hype and a market bonanza that made NFT artwork and discourse unavoidable. Digital artists once relegated to the industry's periphery were suddenly thrust into the spotlight, even if it required heavy evangelizing to convince Luddites that NFTs were a legitimate medium. The market has since cooled considerably, but digital artists are still carving out a niche and being granted access to the highest echelons of an industry fiercely resistant to change.

In Their Own Words: "In the end, Silver was a victim of the ecosystem that made her," Shanti Escalante-De Mattei writes in ARTnews. "The fortunes of those in the NFT scene were made by harnessing a single, precious resource: hardcore believing. Artists and sellers of NFTs had to convince buyers that these pieces of digital art, mere JPEGs, could be worth something, and that meant a lot of evangelizing… Silver believed because believing brought her this far. But belief has its limits."
| | |
| --- | --- |
| | What Else Is Happening? |
| | |
| --- | --- |
| | Phyllida Barlow, a British artist who created "non-monumental" sculptures, dies at 78. |
| | |
| --- | --- |
| | New York scraps plans to build an AirTrain linking Manhattan to LaGuardia Airport. |
| | |
| --- | --- |
| | An incident at the Portland Art Museum draws ire from the Indigenous community. |
Reach the design world every morning. Find out more about advertising in the Design Dispatch.
| | |
| --- | --- |
| | Rafael de Cárdenas's First Furniture Line Is a Visual Feast |
Given the manifold accomplishments of Rafael de Cárdenas—designing a Kenzo boutique in Seoul, Ulla Johnson's Manhattan showroom, and even an ice-expedition yacht—you'd be forgiven for thinking the Brooklyn multihyphenate had already masterminded a home collection that mimics the sly sensuality of his interiors. But that wasn't the case, so American furniture purveyor Mitchell Gold + Bob Williams came calling. Together the two forces created a 19-piece collection of heirloom-quality furnishings combining classic silhouettes with the power of self-expression.

Whether a voluptuous swivel chair evoking 1940s French Deco or a clean-lined walnut console, each piece invites comfort and stands out in a variety of settings—or doesn't, depending on one's preference. "By changing the color and fabric, you really create a different mood," he says. "The forms are ready for you to go wild, or not at all." This is largely thanks to MG+BW Home's repertoire of more than 500 fabrics, which can create distinct, versatile pieces that pack a visual punch. The graceful fusion of classic and contemporary is intentional: de Cárdenas specifically drew from films and references that molded his sensibilities during his formative years.

Seeing the collection through, of course, required de Cárdenas to visit the furniture mainstay's North Carolina factory, which has operated continuously since 1989. The experience proved illuminating: "[It's] a place where American craftsmanship has a home," he says, awestruck by the diversity of artisans keeping the factory in motion. "It makes me think we as a country are going to be okay."
| | |
| --- | --- |
| | With SIX.TWO Editions, Photographers Rally for Earthquake Relief |
On Feb. 6, two earthquakes wrought devastation in Turkey and Syria, claiming more than 50,000 lives and thrusting a years-long recovery effort. Within weeks, a cohort of American talents with ties to Turkey sprung into action with SIX.TWO Editions: a photography fundraiser benefiting earthquake relief efforts. Inspired by the Pictures for Elmhurst photo print sale that benefited the hard-hit Elmhurst Hospital Center in Queens during the pandemic, organizers soon rallied 200 artists to participate.

Through March 20, collectors can purchase their choice of 10" x 12" prints from more than 200 photographers, including marquee creatives like Carolyn Drake, Sam Youkilis, and Shirin Neshat. Each print is priced at $150 and proceeds are distributed to NGOs through Turkish Philanthropy Funds.
Designing Delicious:
Amal
Designing Delicious is produced in partnership with Dorsia, a members-only platform with access to reservations at the most in-demand restaurants in New York, Miami, and soon L.A.

"Sexy, feminine, cool," is how executive chef Wissam Baki describes Amal, an arabesque Miami newcomer whose vibrant menu is a paean to the flavors of Lebanon. Sister to the original outpost in Toronto's posh Yorkville neighborhood, known for its strip of luxury boutiques dubbed "Mink Mile," Ink Entertainment Group brought its winning formula to Coconut Grove. Perpetual collaborators Studio Munge chose a soft palette of dusty rose, muted terracotta, and pastel blues for the interiors while decking out the sun-speckled dining room with lush greenery and a sense of indoor-outdoor living evocative of the Mediterranean.

Tall arched portals connect the open kitchen, where Baki's team is busy at work turning out contemporary renditions of mouthwatering mezze (garlicky labneh; fiery Muhammara) accompanied by pillowy housemade pita and shareable plates (truffle-cheese Rakakat; charbroiled chicken tawook skewers) packed with traditional Lebanese spices. Amplifying the menu is a cocktail program that utilizes authentic imported ingredients such as saffron, jab syrup, rosewater, and Arak, the anise-flavored Levantine spirit that spikes drinks like the spicy tequila-and-mezcal-based Phoenician Connection.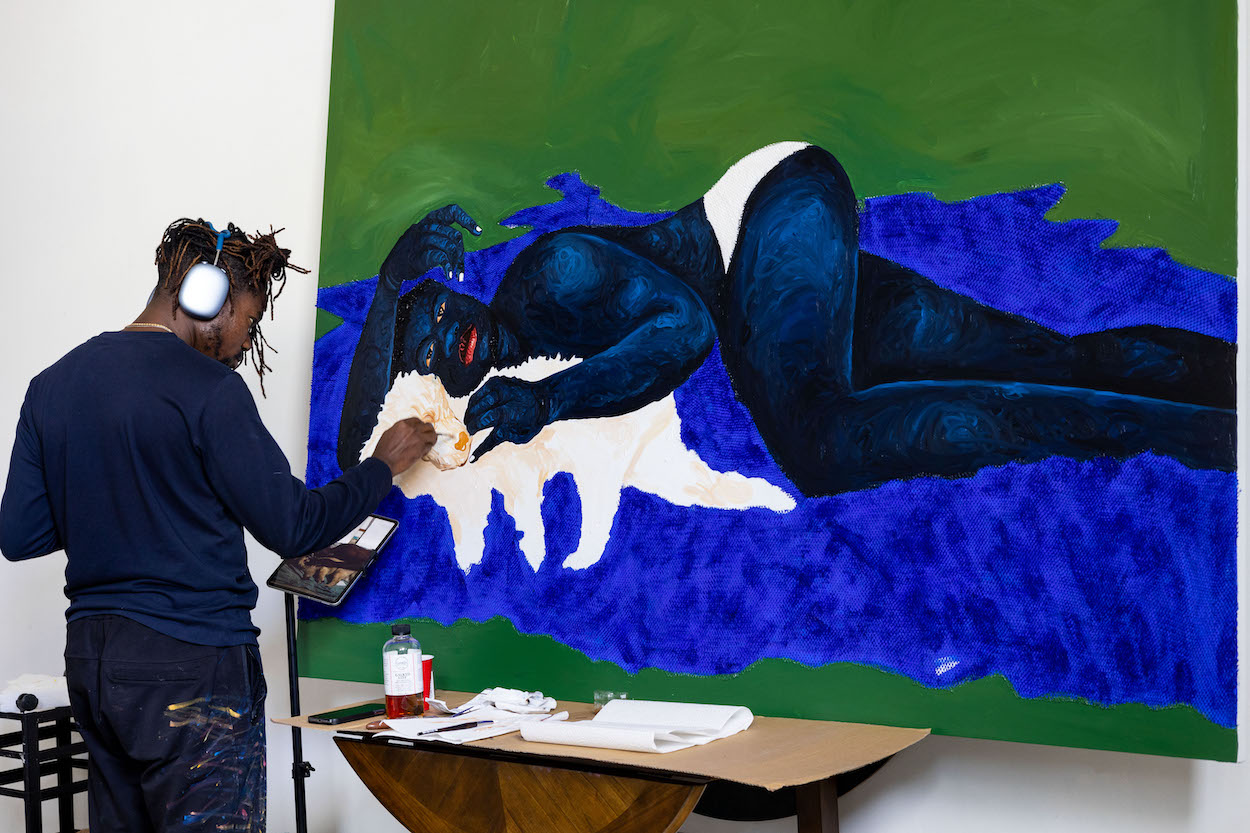 Adjei
Tawiah:
I Miss Us
When: March 15–April 11

Where: Opera Gallery, New York

What: Tawiah's portraits capture introspective, melancholic moments, specifically those induced by lost love. The emerging Ghanaian painter renders skin in exquisitely lucid cobalt hues with a pearl-like sheen, swirled and laced in ivory black with a signature nylon sponge material commonly used in his home country for bathing. The combined effect exudes opulence while luring viewers into a state of reflection.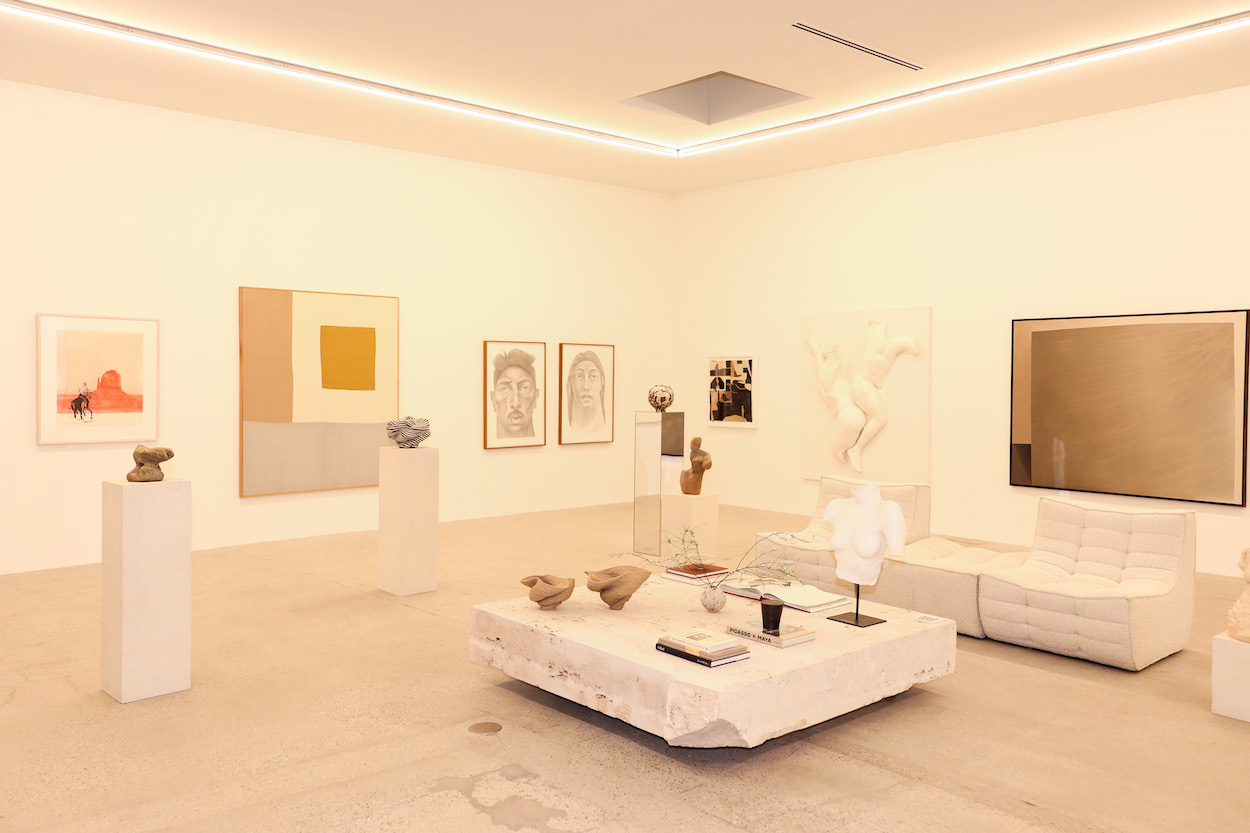 | | |
| --- | --- |
| | ICYMI: Tappan Collective Shakes Up the White Cube |
Over the past few years, digital art marketplace Tappan Collective has emerged as a go-to for art lovers looking to stay in the know with emerging talents. Now collectors can experience the platform's array of textiles, prints, photography, and sculptures in person through curated exhibitions at its new brick-and-mortar gallery in L.A.'s Melrose neighborhood.

Cream-colored walls and polished vignettes create a blank canvas to help potential collectors visualize pieces in their own abodes. The opening exhibition, cheekily titled "Offline," features paintings, sculptures, and textile art by the likes of Fei Li, Firoozeh Neman, Ali Beletic, and more artists whose work plays with materiality and texture. Ever the digital natives, QR codes accompany each exhibited piece to allow potential collectors to learn more about the artwork and the person behind it. In a twist on the record-shop browsing experience, the gallery offers private walkthroughs of its back room.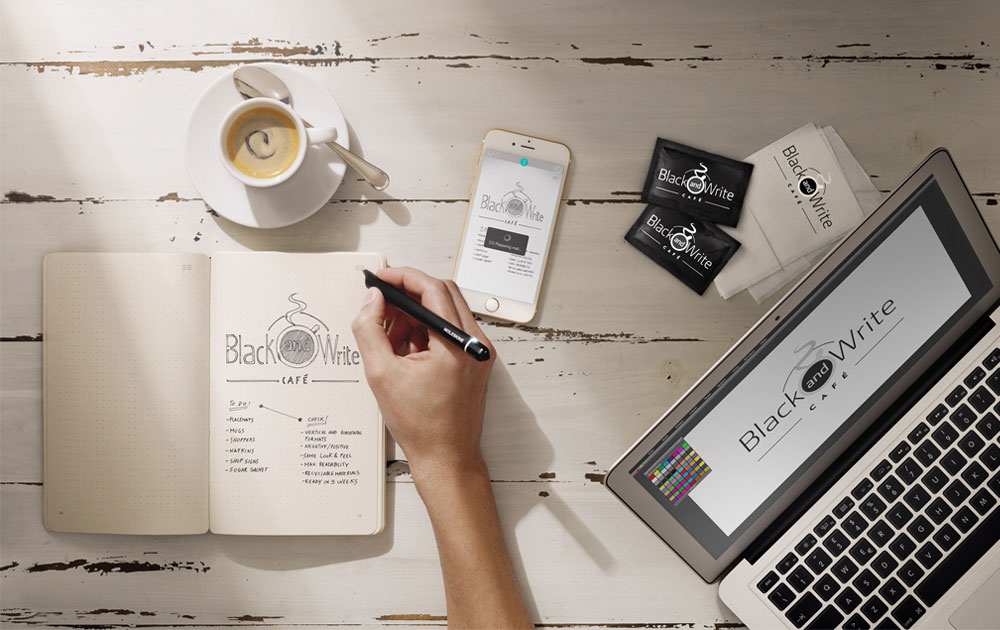 | | |
| --- | --- |
| | Member Spotlight: Moleskine |
Founded in 1997, Moleskine revived the legendary notebook used by artists and thinkers—such as Vincent Van Gogh, Pablo Picasso, and Bruce Chatwin—over the past two centuries. Today, Moleskine is an iconic brand that's an open platform for creativity, reflection, and sharing.
Surface Says: Best-known for the stalwart minimalism of its classic notebooks, Moleskine also produces bags, accessories, and illustrated books. The high quality of its products, as well as their references to history, evoke a nostalgia that inspires writers and authors to this day.
| | |
| --- | --- |
| | Today's Attractive Distractions |
Scientists finish the first map of an insect brain to learn how we think.

The couple behind this vivacious hair salon are leaving beige behind.

Would you pay $3,000 to launch a gram of your remains into space?

Thanks to tech, executive assistants are becoming a thing of the past.