Standing at Stake Zhan Zhuang
Most styles of internal martial arts incorporate standing meditation as a core component, if not the most important part of their training. While the practices are elegantly simple and instruction on correct posture abounds.

Most students do not maintain a standing practice and never achieve the benefits of Zhan Zhuang. Why is this?

You are assuming a posture that gradually transfers the strain/weight to your lower extremities and gives that sensation that you are cemented to pylons/roots that extend through the ground beneath you.

What is the purpose of Zhan Zhuang?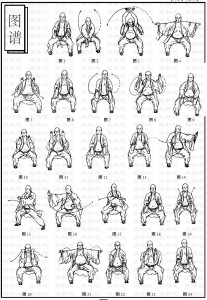 The purpose of these standing exercises is to become aware of the body and how it stabilizes itself. You are then able to gain a measure of control over this autonomic process and use it to improve health, posture, and martial abilities. Still too esoteric? Let's break it down a bit. Normally your stabilizer muscles keep you from falling down. However, this relies on balancing with minute, continual adjustments against gravity. Secondly, the same muscles that stabilizes you also constrict your blood flow. By aligning your posture you are asking you major muscles and your bones to take your bodies weight. This allows the blood to rush freely while you concentrate on your breath and mental presence.

Read full article here