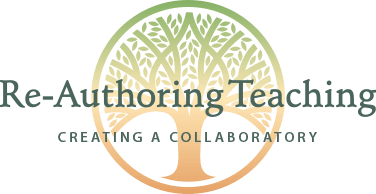 July Offerings & Updates

"How we think about hope has all to do with whether we can maintain our own."
-- Kaethe Weingarten

Here in the USA , we are experiencing shock waves as we watch our rights being systematically attacked by our radically conservative Supreme Court. As we face these divisive and dangerous actions, our intention to engender hope, build community and discover possibilities for taking action. With a spirit of reasonable hope, our Board recently drafted the Supporting Rights, Channeling Anger, Finding Reasonable Hope News Blog.

Please join us for our next Collab Salon: Therapeutic Conversations That Explore How A Person Wishes To Die
with with Sasha McAllum Pilkington (Auckland, Aotearoa New Zealand)
Sunday, July 17, 2022: 4:00-5:30pm NY Time

We are delighted to welcome Poh Lin Lee as our newest member of the Reauthoring Teaching Board. Check out
A Conversation with Poh Lin Lee (Quebec City, Canada) to learn more about Poh, Narrative Imaginings & her latest venture: Patreon

Finally, it is with some regret and many sweet memories that we announce we have sponsored our last Narrative Camp. We've come to realize that our limited resources are better aimed at creating enduring content that can be accessed internationally.

Read below to learn more.
All our best,
Peggy Sax
&
The Reauthoring Teaching Board
July 17, 2022 Collab Salon
THERAPEUTIC CONVERSATIONS THAT EXPLORE HOW A PERSON WISHES TO DIE
Sasha McAllum Pilkington (Auckland, Aotearoa New Zealand)
A new law called The End of Life Choice Act came into effect in Aotearoa New Zealand in November 2021 . The new law gave New Zealander's living with a life ending illness the option of hastening their death through assisted dying/ euthanasia should they be in the last six months of their life and experiencing intolerable suffering. In this Collab I would like to discuss some of what I have been learning since the law changed in Aotearoa and facilitate a conversation about narrative practices that might be helpful when a person is contemplating how they want to die. I will describe some examples of conversations with people who: chose to die through assisted dying, who deteriorate suddenly before the assisted dying assessment process has been completed and with people who change their minds and opt to die with palliative care support only. My hope is that there can be an exchange as some of you may have had experience in this area of practice.
Everyone can register for free. If possible, please become a member - or renew your old membership- if you haven't already. You will be supporting the ongoing maintenance and development of training initiatives. Members can also pay $40 extra to earn 18 CE credits for attending or watching the entire series.
Supporting all whose rights are being attacked by the U.S Supreme Court
What might help us remember that we are in the business of inspiring hope?
Re-authoring Teaching joins many voices in expressing our outrage at the recent decisions by the aggressively conservative U.S Supreme Court - overturning the constitutional right to abortion, expanded rights of gun owners to carry firearms in public, erosion of the separation of church and state in public life and a sharp curtailing of the Biden administration's power to combat climate change. Soon comes a decision on state legislatures' power over elections. We cannot help wondering about the implications for other rights such as the access to birth control, marriage equality, Native American sovereign rights and trans rights. These developments are also sending shockwaves throughout the world. Re-Authoring teaching wishes we could stand close to every person, precious relationship and connection that has been and will be affected by these blatant attacks. While finding our bearings, we ask ourselves: What might help us remember that we are in the business of inspiring hope? Much of our work involves uncovering histories of struggle in fights not yet won, and celebrating stories that guide and encourage future efforts. With that in mind, there are many creative and hopeful efforts to share!

Please check out our News Blog where we have begun to compile links to resources that can channel our profound disappointment and anger into effective action.
A Conversation with Poh Lin Lee
NARRATIVE IMAGININGS AND PATREON
Peggy Sax interviewed Poh Lin Lee on Zoom in March 2022 and then again in June 2022. While the video offers highlights from our second conversation, the text includes excerpts from our first conversation. Thank you Poh for becoming a member of our community, for participating in this Community Interview, and for all that you do.
Remembering Narrative Camp
Narrative camps were truly a labor of love and we regret bringing them to an end.
Over the past decade, we have been organizing Workshops & Narrative Camps in beautiful Vermont locations. Our last Narrative Camp was in 2019. Each of these gatherings has become an important source of learning, warm memories and enduring connections across generations and around the world. During the pandemic, we took a step back from sponsoring live events. Re-authoring Confinement gave us time to work with existing materials and reassess our priorities and next steps. We've come to acknowledge our limited resources for sponsoring camps, and to aim our efforts at creating enduring content that can be accessed internationally.
Having professionally recorded our live and digital events, we are eagerly transforming these recordings into new courses including two online series in development. It is our dream to create an online series of narrative courses and Collab Salons that will inspire practitioners. We also believe these offerings could be very useful to graduate programs and other institutes of higher education.

To learn more, visit Workshops & Narrative Camp and then join us in Remembering Narrative Camp!
Free videos from Re-authoring Teaching Check out our YouTube channel for useful videos about Narrative Therapy
Re-Authoring Teaching's Facebook page keeps you updated on monthly Collab Salons, workshops and other narrative training opportunities, videos, resources and news.
Re-authoring Teaching, Inc is a non-profit organization that promotes training, professional development and continuing education in a narrative approach to therapy, organization and community work.