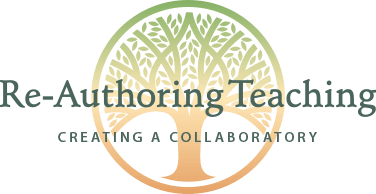 FOUR NEW OFFERINGS!
September 19, 2021 Collab Salon
ASKING ABOUT ONLINE COMMUNITIES OF SUPPORT:
NARRATIVE THERAPY WITH A YOUNG MAN AND HIS DISCORD SERVER
Dale Andersen-Giberson (Ontario, Canada)
Narrative therapy with a Young Man and His Discord Server
Sunday, September 19, 2021 Collab Salon
4:00-5:30 pm New York time
Narrative Therapy inquiry offers novel and exciting opportunities to explore membership in online communities and spaces. Whether it is through involvement with Discord servers or Team Speak or through informal groups through Facebook or WhatsApp, complexity and sophistication can be co-discovered in online communities. Vast possibilities exist around speaking about these groups and communities in Narrative Therapy and, in particular, the importance of these communities can be privileged and elevated instead of obscured or diminished.

Collab members can also earn 18 Alliant CEs for attending and/or viewing The Collab Salon
2021 Series.

Members can also watch
at your convenience
6 years of archived collabs in our Library of Past Salons.
Em-BODY-ing Conversations Group
NEW GROUP FORMING NOW!
Lynne Rosen, LCSW (Pasadena California)
REGISTRTION NOW OPEN!
NEW REDUCED INTERNATIONAL EXCHANGE RATE
The EM-BODY-ing Conversations Consultation Group is for mental health workers or educators who have had experience with mindfulness, EMDR Therapy or Somatic-Oriented Therapies in addition to a Narrative Therapy approach. Through sharing tales of our work with those who consult us, we will explore what becomes possible when we create different kinds of scaffolding using sensations, images/visual metaphors and memories in non-discursive ways. Talking about anti-racist and inclusive somatic practices will be privileged throughout our time together. As a prerequisite, participants will have previously taken an Em-BODY-ing Conversations training (online or in person) or have experienced integrating at least one of the following modalities with a Narrative Approach: mindfulness, somatic therapies, EMDR.

New Group starts October 21 and will meet via Zoom twice monthly on Thursdays 6:00-7:30 pm New York time ( 3:00-4:30 pm Pacific time)/ Six sessions: October 21, November 4 & 18, December 2 & 16, December 30 or January 6. The fee is $390 regular and $300 reduced international rate. For more information, email Lynne Rosen at lynnerosen13@gmail.com or Contact.
Emerging Black Voices in Psychotherapy
THE NEW FEATURED VIDEO ON OUR YOUTUBE CHANNEL

Our May 2021 Collab Salon was so memorable, we made an edited (free) version to circulate in teaching and other contexts. Charley Lang interviews Barbara Herring ("B"), Tanya Barr and Eric Katende about challenges and hopes experienced as black students, community members and therapists in a very white world. Collab members can login to review the unedited May 2021 Collab Salon. Non-members can watch the longer recording on our Featured Recordings page; for a small rental fee.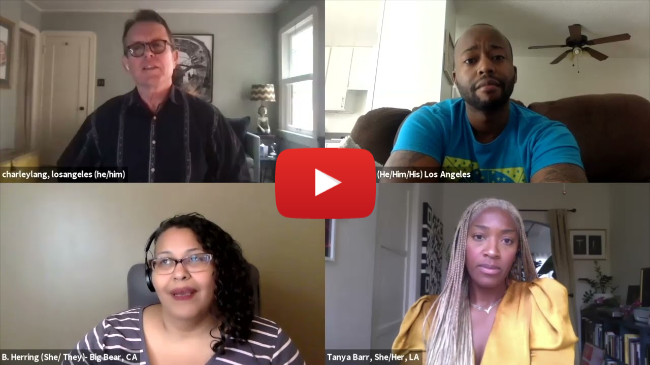 NARRATIVE THERAPY PAST, PRESENT & FUTURE
CHRIS HOFF INTERVIEWS PEGGY SAX

"What particularly sparked my interest was when she spoke of 'building bridges' by inviting and learning from new and young narrative therapists and creating co-learning spaces, studying different therapeutic approaches to see how might they be adapted to narrative ideas and building a collaborative network with organisations from diverse contexts as some of her hopes for the narrative community. "
- Trishala Kanakia, Reauthoring Teaching Assitant

Thank you Chris for this fun interview on the Radical Therapist Podcast, which gave me the opportunity to reflect on my journey with Narrative Therapy, and my hopes for Re-authoring Teaching.
-Peggy Sax, Founder Reauthoring Teaching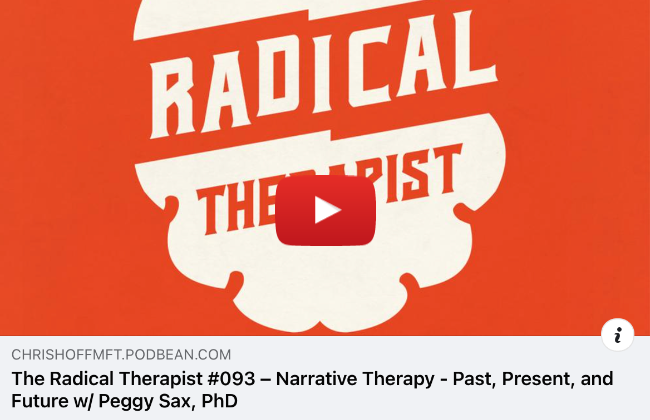 Free videos from Re-authoring Teaching Check out our YouTube channel for useful videos about Narrative Therapy
Re-Authoring Teaching's Facebook page keeps you updated on monthly Collab Salons, workshops and other narrative training opportunities, videos, resources and news.
Re-authoring Teaching, Inc is a non-profit organization that promotes training, professional development and continuing education in a narrative approach to therapy, organization and community work.