¡Buenas dias, POLITI-Niños y Niñas!

Happy National Hispanic Heritage Month — a time when we celebrate and recognize the achievements and contributions of Hispanic and Latinx Americans.

Hispanic Heritage Month began on Wednesday, September 15, and it will run through October 15. Why the 15th? Many Latin American countries, such as Costa Rica, El Salvador, Guatemala, Honduras and Nicaragua, all celebrate their independence dates on September 15, while Mexico celebrates on the 16th and Chile on the 18th.

There are many different ways to observe Hispanic Heritage Month, and we've got quite a few activities in this issue for you to print out and enjoy. More activities, resources and ideas to honor this month can be found in the POLITI-Kids Master Doc of Resources for Parents.

Before you go, we wanted to let you know that POLITI-Kids will be moving to a bi-weekly cadence, so we'll be back in your inboxes on Friday, October 1.
Con cariño,
The POLITI-Kids Team
Aloise Phelps & Alexa Velickovich
LTTLE MAN, BIG TRAIL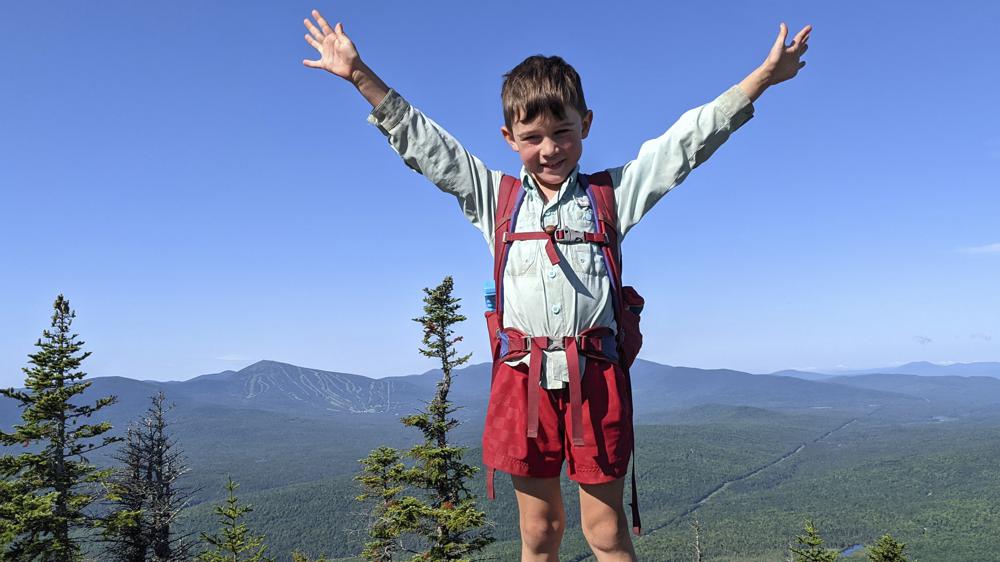 It is tradition in hiking — particularly long trails — that you are given a trail name. Harvey Sutton, also known as "Little Man" on the trail, hiked the entirety of the Appalachian Trail this summer. Oh, and he just started kindergarten.
At only 5 years old, Sutton is one of the youngest people to ever hike the entirety of the Appalachian Trail. Alongside his parents, Sutton hiked over 2,100 miles in 209 days.

Sutton enjoyed many aspects of his hike. Some parts that stood out were climbing the rock scrambles and checking out the wildlife — such as frogs and lizards — along the way.

Plus, his meals were pretty good. His favorite trail snack was a tortilla covered in peanut butter and Skittles — perfect fuel for the long days. He also grew accustomed to sleeping in a tent, waking up at the crack of dawn, and hiking all day long.

While Sutton was 4 when he started the hike, he turned 5 on the trail. This is extremely impressive and the only person younger than Sutton to complete the Appalachian Trail is Juniper Netterberg, who finished at age 4 and wore a Wonder Woman costume most days.
(Source: AP)
WORD OF

T

HE WEEK:
INSPIRATION4
Inspiration4 is the world's first all-civilian mission to orbit. The mission was commanded by Jared Isaacman, an accomplished pilot and the CEO of a major company called Shift4Payments.

As a fun fact, Issacman started this company when he was just 16 and continues to run it today.

Inspiration4 left Earth from Kennedy Space Center in Cape Canaveral, Florida on Wednesday. You can watch the launch of Inspiration4 here. The mission will travel across a low earth orbit for several days.

The mission is named in recognition of the four-person crew traveling to space and will raise awareness and funds for the St. Jude Children's Research Hospital.
JOKE OF THE WEEK:
Q:
If you're on a hike and find a fork in the path what do you do?
A:
Stop for lunch!

Below is an excerpt from a POLITICO article, along with some questions to help guide your reading.
To read the full article, click here.
How Gavin Newsom survived the recall
By David Siders and Carla Marinucci
September 15, 2021
LOS ANGELES — For a moment this summer, Gavin Newsom's inner circle feared the effort to recall him could be drawing uncomfortably close.

In late July and early August, the Delta variant of the coronavirus was raging, threatening school reopenings in the fall. Public polling showed many Democrats were so apathetic about voting that it was possible — if turnout was low enough — that a Republican could win.
...
Against that backdrop, principals involved in the campaign detailed a furious effort by Newsom's campaign to put the race out of Republicans' reach. The turning point for the campaign, according to Newsom's strategists, came in the governor's adoption of aggressive mask and vaccine mandates — both widely popular in California — and in Newsom's avalanche of spending depicting his top Republican opponent, Larry Elder, as an anti-science clone of former President Donald Trump.
...
Within 50 minutes of voting centers closing Tuesday night, Newsom's defeat of the recall was called by four television networks and the Associated Press, ending a race that began as an almost laughable longshot, became unexpectedly competitive, then settled where it began, with Newsom prevailing in a blowout.

Even before the final ballots were cast, Newsom's advisers were selling his campaign as a template for Democrats nationally in the midterm elections. Mask and vaccine mandates such as those embraced by Newsom are viewed favorably by a majority of Americans, polls show. For Democrats, Ace Smith, Newsom's lead strategist, said, "there's a huge thing to take away, which is don't be timid on Covid. That was the turning point in this campaign, when Newsom came out and took bold action on vaccine mandates. … We go out and we figure out that not only is it really good policy and bold policy, which he was going to do no matter what, but it's actually really good politics."

If Newsom's response to the coronavirus ultimately helped him beat the recall, it was also one of the primary reasons that he faced the threat of ouster in the first place. Late last year, Newsom's opponents, citing difficulty collecting signatures during the pandemic, successfully petitioned a Sacramento judge last year to extend their signature-gathering window for an extra 120 days, giving them enough time to turn what would likely have been a doomed signature-gathering effort into a successful one. That same month, Newsom was caught attending a dinner party at The French Laundry, a world-famous restaurant in California's Napa Valley, just as he was discouraging the state's residents from gathering for the holidays.
...
Republicans hammered Newsom for the hypocrisy. Yet even then — even after the recall qualified for the ballot — the numbers were on his side. This is a state where Democrats outnumber Republicans nearly 2-to-1, where Newsom beat his Republican opponent in 2018, John Cox, by 3 million votes, and where Joe Biden, who campaigned for Newsom in Long Beach on Monday, beat Trump by nearly 30 percentage points two years later.

With the power of incumbency, Newsom raised more than $70 million, dwarfing his Republican opponents. And Newsom's allies successfully dissuaded any other prominent Democrat from joining the race. Unlike in 2003, when then-Gov. Gray Davis was recalled and replaced by Republican Arnold Schwarzenegger — with Democratic Lt. Gov. Cruz Bustamante also on the ballot — Democratic-leaning voters on Tuesday had no viable alternative to siphon votes away from Newsom.

In an interview, Davis said he thought before California's filing deadline this year that a celebrity might get into the race, a wild card that he said could have "greatly improved" Republicans' prospects.

"In California, celebrity is the coin of the real," Davis said. "If you have Oprah Winfrey running, or you have 'The Rock' [Dwayne Johnson] running, or you have George Clooney running, you have some megastar. … It's the currency of the realm, and it matters more in California than some other place."

But no megastar got in. One celebrity who ran, Caitlyn Jenner, was a non-factor. And the other, Elder, was nothing short of a boon to Newsom's campaign — a ready-made highlight reel with his opposition to gun control and the minimum wage, an ex-fiancee who said he brandished a gun at her and his suggestion that it could be argued slave owners were owed reparations.

The entrance of Elder into the race — and his vaulting ahead of every other Republican contender — "woke everybody up, and just at the right time," a Newsom adviser said. "That made it real."
...
Despite the benefit of having Elder to pummel, Newsom still had to persuade Democrats that it was worth turning out. As recently as last month, public polling suggested Democrats were far less motivated than Republicans to vote in the election — and less likely to participate in the all-mail election. Complicating Newsom's effort was the election being held in an off year.
...
But Newsom's advisers believed public polls that put the race within the margin of error were incorrectly assuming unenthusiastic Democrats wouldn't vote. Democrats, Smith said, may not have been excited about voting in a recall election, but "it was more like taking out the trash. They're just going to do it."

Still, the attention those public polls drew to the race were invaluable for Newsom, creating a sense of urgency among Democratic voters.
...
By Labor Day weekend, the Newsom campaign's internal polling had him defeating the recall by 10 percentage points or more, according to multiple advisers. And after that, their numbers barely moved. Before Sen. Elizabeth Warren (D-Mass.), Vice President Kamala Harris and Biden came to the state to campaign with Newsom, the race was already over.

Newsom was simply trying to run up the score.
...
WHO IS GAVIN NEWSOM?

Gavin Newsom is the 40th Governor of California. He was elected in 2018 and assumed office in 2019. His current term ends in 2023. Newsom served as lieutenant governor of California from 2011 to 2019, and prior to that, he served as mayor of San Francisco.
WHAT IS A RECALL ELECTION?
(Source: BallotPedia)
A political recall is the process by which citizens can remove elected officials from office before their term is completed. The details of the recall process vary from state to state.

Eleven states do not allow recalls of public officials, while three states allow recalls for all public officials. Nineteen states allow recalls of state officials. The remaining states allow recalls of select public officials.

The United States Constitution does not provide for recall of any elected federal official.
GUIDED ARTICLE QUESTIONS
1. Why was Newsom being recalled?


2. What was the turning point in the election, according to Newsom's strategists?


3. What do you think it means that the recall was called so early on voting day?


4. What effects does voting on an atypical date and time have on the outcome of an election? Why?


5. What were Newsom's strengths and weaknesses throughout the campaign?


6. What power does being a celebrity have in politics? Why?


7. What was the outcome of the 2003 recall election in California? What factors led to that result?
NOTABLE NEWS THIS WEEK
Use the guided reading questions in

blue italics

to help gain a deeper comprehension of this week's notable news.
After nearly 200 years of electing white men, Boston will finally elect a woman and a person of color as mayor. City Councilors Michelle Wu and Annissa Essaibi George are poised to face off in the city's historic November general election. In elevating Wu and Essaibi George, voters denied Acting Mayor Kim Janey a shot at a full term. Janey became the first Black woman and first person of color to lead the city after former Mayor Marty Walsh was tapped by President Joe Biden to serve as Labor secretary. Wu became the city's first Asian-American city council leader in 2014, and went on to become the first woman of color to serve as its president. She was the longest-serving city councilor running in this election. Essaibi George is a former schoolteacher, small-business owner and city councilor who's the daughter of Tunisian and Polish immigrants.

Why has it taken Boston voters almost 200 years to elect someone other than a white man as mayor? Who would you vote for?



Two coronavirus-sniffing dogs began their new jobs at Miami International Airport this week. Cobra, a Belgian Malinois, and One Betta, a Dutch shepherd, have been trained to detect the presence of the coronavirus in sweat, breath and scents. One Betta's accuracy rate is 98.1 percent, while Cobra's is 99.4 percent! Miami International, which is one of the nation's busiest airports, is the first American airport to test using dogs to detect Covid-19, and for now, only airport and airline employees are being sniff-tested.

Would you want to be sniff-tested at the airport for coronavirus? Why or why not?
PAW-LITICO OF THE WEEK: TONY
Submitted by POLITI-Kid Grace McKellip
Hi Politi-Kids, I'm Tony! I'm a miniature dachshund who just celebrated his first birthday. I like to spend my days napping on my mom's lap while she works and chewing anything I can get my teeth on. Sometimes on special occasions I manage to escape under the fence and get chased around the neighborhood, which is a blast! My mom tells me I'm the most photogenic dog around, and I have to say, I think I agree.
Do you want your pet to be next Paw-litico of the week?
Send us a photo and a bio to
politikids@politico.com
RECIPE OF THE WEEK:
PERUVIAN PLANTAINS
Adapted from WanderingWagars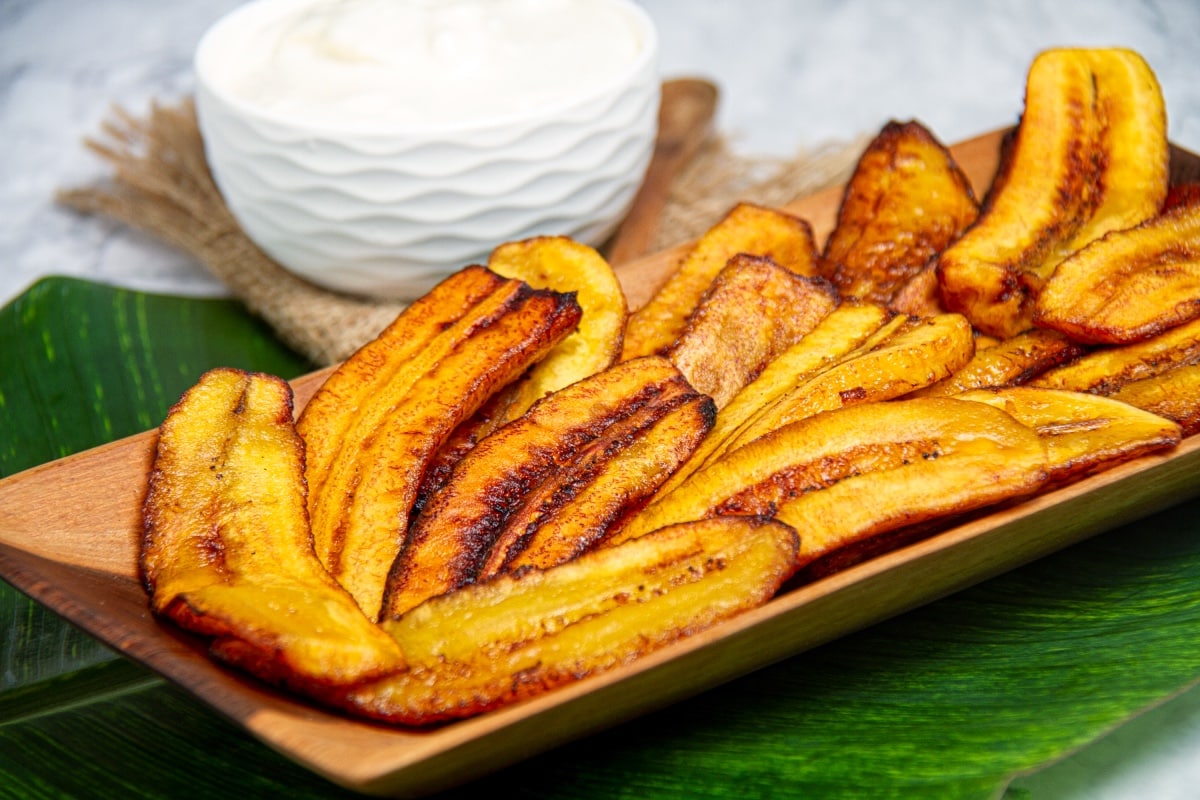 Ingredients:
– 4 very ripe plantains. Look for yellow skin with black spots)

Directions:
1. Preheat oven to 450°F.

2. Coat a nonstick cookie sheet with cooking spray.

3. Peel the plantains and trim the ends.

4. Cut the plantain horizontally into 1/2 inch slides.

5. Arrange the plantains on the cooking spray in a single layer.

6. Coat the top of the bananas with cooking spray.

7. Bake for 10-15 minutes turning occasionally.

8. They should be done when the plantains are soft and have a golden-brown crisp on the ends.

9. Continue until all slices are cooked.

10. Place on a plate lined with absorbent paper or paper towel.

11. Serve as an accompaniment to other dishes or enjoy with grated cheese, beans, sour cream, garlic dipping sauce, or butter. Yum!
CRAFT OF THE WEEK:
HOJALATA TIN ART
Adapted from Parents
Transform aluminum foil into tin art, or hojalata — a beloved Mexican folk tradition dating back to the 16th century.
Supplies:
– Aluminum foil roasting or pie pan
– Paper
– Sharpies
– Pencil
– Masking tape
– Felt or Fun Foam
– Scissors
– Optional: string to hang

Instructions:
1. Cut a 5 1/2-in. square from a clean aluminum foil roasting or pie pan. Round the edges with scissors to prevent sharp corners.

2. Draw a design on a 5-in. square of paper.
3. Layer the paper over the foil. Use painter's masking tape to secure the squares to a piece of felt or Fun Foam (enough to keep the foil in place).
4. With a pencil, draw over the paper design, pressing hard to emboss the foil underneath.
5. Remove the masking tape and felt or Fun Foam. Flip the foil square over, and color its indented spaces with Sharpie markers.
HAPPY BIRTHDAY
to the following

POLITICO's

,

POLITI-Kids

and celebrities. Is your birthday coming up? Let us know by submitting your name and date of birth here!
September 17:

Crystal Thomas, Emily Birnbaum,

Cheryl Strayed, Kyle Chandler
September 18:

Ian Bent,

Jada Pinkett Smith, Jason Sudeikis
September 19: Jimmy Fallon
September 20: Phillip Phillips, George R.R. Martin
September 21:
Karey Van Hall,

Jason Derulo, Bill Murray, Nicole Richie, Billy Porter
September 22:

Jeremy Siegel, Kelsey Powers, Stephanie Murray,

Tom Felton
September 23:

Olivia Bridges, Janie Hannon,

Bernie Becker, Brandon Winrow, Emily Martin, Sam Sabin,

Anthony Mackie, Skylar Astin, Hasan Minhaj
September 24:

Lisa Leonard,

Bisha Wanzala, Brian Kidd, Jalyn Sanders,

Ben Platt
September 25:

Bob King, Lesley Clark,

Will Smith, Donald Glover, Barbara Walters
September 26:

Casey Miles, Patterson Clark,

Serena Williams
September 27:

Alyssa Clune, Amanda Pietroski, Anne Mulkern, Meridith McGraw, Molly Fruits, Nicholas Tedesco, Steven Overly,

Lil Wayne
September 28:

Christian Vasquez, Patrick D'Silva,

Hilary Duff
September 29:

Marissa Martinez, Ryan Hutchins,

Halsey
September 30:

Brendan MacArthur, Sally Goldenberg,

Fran Drescher, T-Pain