The more you adapt, the more interesting you are.

— Martha Steward
WELCOME
In the newsletter this week, we've got a friendship fix, some half-hour HIIT sessions, and tidying-up tips from a Buddhist monk. Read on...
"Nobody talks about Jesus' miracle of having twelve close friends in his thirties!" This Twitter quip went viral—probably because people can relate. As pandemic reopening welcomes us back to normal life, we're thinking more and more about how to connect IRL.
In the book
Here to Make Friends: How to Make Friends as an Adult,
Hope Kelaher provides some advice to help you expand your social circle. Kelaher urges us to say "yes" to invitations, even when we'd rather chill at home. Host a gathering, whether a formal party or backyard BBQ, and ask invitees to bring one person you don't already know. Another way to meet new people is by seeking out local "micro communities" like book clubs, running groups, and volunteering.
When it comes to striking up a conversation, Kelaher advises: "Often, people are reluctant to engage in a conversation because they fear that they will have to say something meaningful… The key trick here is to remember that most people like talking about themselves, and most people don't have good listeners around them. So, be that good listener." A thoughtful question could turn today's stranger into tomorrow's pal.
Hoping you kick off a new friendship this week, Katherine & Linda
Dear Fit Girls: Can we ask you a special favor?

We now have hundreds of Fit Girls Society members receiving this email newsletter and we're so thrilled to have you with us. Our goal is 1,000 subscribers by the end of 2021!

Would you please forward this newsletter to a friend and tell them how much you enjoy it? It would mean the world to us. Thank you!
WORKOUT OF THE WEEK
Sydney Cummings is a NASM-certified personal trainer based in Charlotte, North Carolina. Watching her YouTube channel (which has more than a million subscribers), you might not guess that since founding her personal training business in 2015, Cummings has overcome staggering adversity.
In September 2018, she was
shot in the ankle
in a horrifying random attack outside her fitness studio. Surgery and a lengthy rehab followed. Happily, she had a full recovery, and returned to fitness with more enthusiasm than ever.
Try this:
Cummings' most popular videos are her high-intensity interval training and strength workouts—check out this 30-minute, no-equipment
Fat-Burning HIIT Workout
, or this 30-minute
Strength and Conditioning Workout
that uses dumbbells.
WELLNESS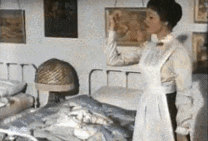 Can housework be therapeutic? Sure, chores like scrubbing the toilet bowl are just plain drudgery. But sometimes, tidying and organizing can be surprisingly satisfying.
A UK-based home improvement company
polled Britons
to find out what household chores they found the most pleasurable. Some winning tasks were hanging washing on the line, pairing up socks, and walking the dog.
In his book
A Monk's Guide to a Clean House and Mind
, Shoukei Matsumoto writes that at his Buddhist temple in Tokyo: "We sweep dust to remove our worldly desires. We scrub dirt to free ourselves of attachments. The time we spend carefully cleaning out every nook and cranny of the temple grounds is extremely fulfilling. We live simply and take time to contemplate the self, mindfully living each moment."
Matsumoto recommends cleaning be done in the morning, as your very first activity of the day, to refresh and clear your mind.
WHAT WE'RE READING
"The burpee is so easy to get wrong"—prevent injuries by learning
how to do a burpee with perfect form
(Greatist)
These
quinoa-stuffed peppers
are healthy, hearty, and freeze well (Choosing Chia)
We love this video demonstrating
three types of goblet squats
you can do with a kettlebell or dumbbell, for intense glute activation (Mark Wildman)
A new study shows
exercise may help mitigate the negative effects of poor sleep
. (Medical News Today)
We've been told all our lives that sprains are best treated with rest, ice, compression, and elevation (RICE). Fact check: ditch the ice—
here's what to do instead
(Skeptical Inquirer)