👋 A MESSAGE FROM THE GOVLAUNCH TEAM
Thanks for reading the Govlaunch newsletter!  As we continue to grow this free resource (now available in 16 countries), please consider supporting our mission by joining our community. It takes less than a minute to do and there are zero requirements or commitments involved.

Already joined Govlaunch? You can also help us by forwarding our newsletter to your peers or directing them to join.govlaunch.com.

Whether you work for a local government, govtech vendor, non-profit or none-of-the-above, your support goes a long way towards helping us continue our work. 


Sincerely,
The Govlaunch Team
Cabarrus County, NC reinvents internal forms using chatbots
The switch to conversational, data-backed tools is a great example of how a human-centered approach can benefit local governments…and how one of the best ways to apply this approach is to start from within. We highlight Cabarrus County's innovative work to reimagine department forms using chatbots.
Transport for London's
groundbreaking commercial innovation hub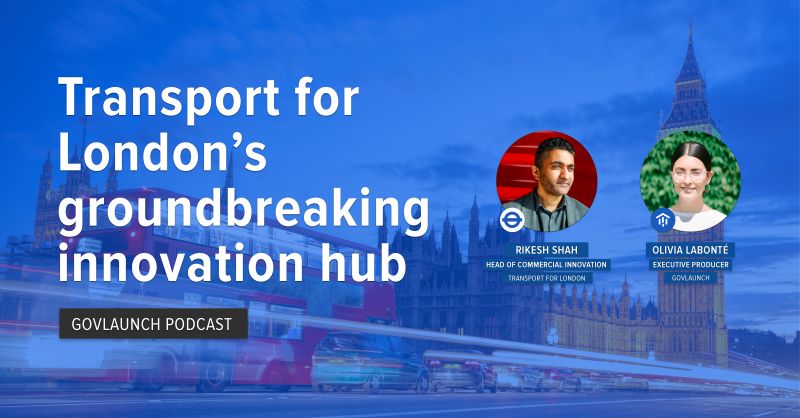 It's time we let the problem statement guide how we tackle public sector innovation. Transport for London makes the case for leveraging private R&D and collaborative partnerships to spur public sector innovation as they have through their groundbreaking commercial innovation hub.
Innovation Projects
Powered by the international Govlaunch community
🇺🇸 Columbine Valley, CO modernizes building & construction permitting with GovPilot
🇦🇺 Kalamunda, WA glimpses into its waste management future with smart bin pilot
🇺🇸 Austin, TX is piloting a lidar-based intelligent traffic system at a dangerous intersection
🇨🇦 Kitchener, ON simplifies its annual sidewalk audit with robots from a local start-up
🇺🇸 Arlington County, VA launched a one-year pilot of a Safety Innovation Zone using streetlight sensors
🇩🇪 Ludwigshafen am Rhein, RP aims for improved traffic patterns and lower emissions with UVM system
🇧🇷  Cariacica, ES facilitates micro-business lending with Entrepreneur's Mobile Units
🇺🇸 Chicago, IL is monitoring air quality data with sensors strategically placed on bus shelters
🇦🇷 Neuquén, NQ advances service digitization efforts with WhatsApp and QR code payment options
🇺🇸 Las Vegas, NV deployed a 5G-ready private municipal network to improve connectivity and services
Search our library of over 5,300 crowdsourced innovation projects from around the world...
Featured Collections
Curated projects, products and stories searchable by category. See More