Ken Sugarman
Residential REALTOR®
Direct (208) 585-1032
Ken@TripleCordRealEstate.com
TripleCordRealEstate.com/Ken
As the weather has started to cool, so has the Boise real estate market. Our median sales price was $530,500 last month—down about $10,000 from July but still up 32.2% from the same month last year. The main reason for high appreciation over the last year is primarily a matter of supply versus demand. The Boise area simply hasn't had enough housing inventory to keep up with the number of buyers looking to purchase. Fortunately, though, housing supply is on the rise. Last month was the fifth consecutive month of inventory growth, increasing 6.5% from July and a whopping 90.8% from August 2020!!

As stated by Boise Regional REALTORS® (BRR), these inventory gains are "very encouraging—and likely prompted by higher prices—although still low compared to what they might have been had they tracked with the historical trendline." (See the historical trendline for Ada County HERE).

The number of pending and closed sales remain on track with their respective trendlines, although they decreased 22.9% and 28.3% respectively from last year (see graph HERE). As BRR reports, "Some in the national news have speculated that declines in national sales activity indicates buyers are backing off. This may be the case in some situations, especially among more price sensitive buyers, but the declines likely have more to do with seasonality and limited inventory…The past two years haven't had that same seasonal feel with the pandemic compressing the traditional market cycles, but any additional declines in activity from now through the end of the year are not completely atypical."

The increase in the number of homes available and the slight cooling of the market are good news for buyers, but they aren't completely out of the woods yet. Inventory remains near historic lows compared to demand, meaning the market is still very competitive. Although the number of homes receiving multiple offers and selling for over asking price has declined, 42.3% of properties still sold for an average of $22,675 more than list price last month.

If you're considering buying or selling, I'd love to talk with you more about the typical and atypical factors of today's market and how I can leverage those to help you meet your real estate objectives. Please don't hesitate to reach out for a coffee date or phone call, anytime!
For more information and specifics on the current market, please check out Boise Regional REALTORS® Market Report HERE.
Boise Area Event Calendar
Jump into fall with some of these great local events! Check out our event calendar HERE for the latest happenings. Some events may change, so please make sure to check the website links for the most up to date information.
What Buyers and Sellers Need to Know About the Appraisal Gap
by Keeping Current Matters
It's economy 101 – when supply is low and demand is high, prices naturally rise. That's what's happening in today's housing market. Home prices are appreciating at near-historic rates, and that's creating some challenges when it comes to home appraisals.
In recent months, it's become increasingly common for an appraisal to come in below the contract price on the house. Shawn Telford, Chief Appraiser for CoreLogic, explains it like this: "Recently, we observed buyers paying prices above listing price and higher than the market data available to appraisers can support. This difference is known as 'the appraisal gap...'"
Why does an appraisal gap happen?
Basically, with the heightened buyer demand, purchasers are often willing to pay over asking to secure the home of their dreams. If you've ever toured a house you've fallen in love with, you understand. Once you start to picture yourself and your furniture in the rooms, you want to do everything you can to land the property, including putting in a high offer to try to beat out other would-be buyers.
When the appraiser comes in, they look at things a bit more objectively. Their job is to assess the inherent value of the home, so they're going to study the facts. Dustin Harris, Appraiser Coach, drives this point home: "It's important for everyone to understand that the appraiser's job in the end is to remain that unbiased third party, to truly tell the client what that home is worth in the current market, regardless of what decisions have been made on the price side of things."
In simple terms, while homebuyers may be willing to pay more, appraisers are there to assess the market value of the home. Their goal is to make sure the lender isn't loaning more money than the home is worth. It's objective, rather than emotional.

In a highly competitive market like today's, having a discrepancy between the two numbers isn't unusual. Here's a look at the increasing rate of appraisal gaps, according to data from CoreLogic (see graph below):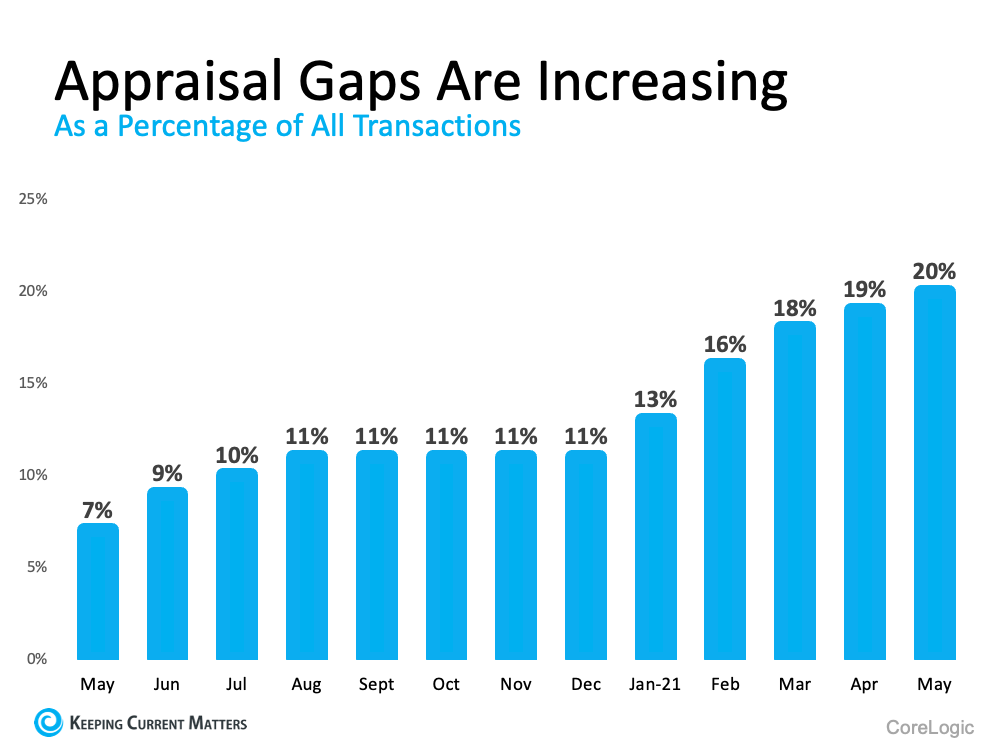 What does this mean for you?
Ultimately, knowledge is power. The best thing you can do is understand an appraisal gap may impact your transaction if you're buying or selling. If you do encounter an appraisal below your contract price, know that in today's sellers' market, the most common approach is for the seller to ask the buyer to make up the difference in price. Buyers, be prepared to bring extra money to the table if you really want the home.
Above all else, lean on your real estate agent. Whether you're a buyer or seller, your trusted advisor is your ally if you come up against an appraisal gap. We'll help you understand your options and handle any additional negotiations that need to happen.
Bottom Line
In today's real estate market, it's important to stay informed on the latest trends. Work with a real estate professional to help you navigate an appraisal gap to get the best possible outcome.
Ken was recommended to us by a friend, and her recommendation was spot on. Ken was extremely patient with us as we looked for our home. Offers were over bid, and he kept with us. We finally decided on a new build and again Ken was with us every step of the way. This included finding a home inspector and making sure that everything found was taken care of for us. Ken was with us while helping to define our needs for a lot, meetings with the builder, design meetings, walk through with the home inspector and signing. When Ken could not be at the final walk through, he arranged for a co-worker of his to be with us. Should you need a realtor that is professional, personable and ethical, I would highly recommend Ken at TripleCord. ~Kathleen Stracner
Read more of my client testimonials HERE.
Exciting New Announcement!
If you have been reading my newsletter over the last few months, you know that I love the mountains and specifically the area directly north of the Treasure Valley. The mountain communities of McCall, New Meadows, Donnelly, Cascade, and Tamarack are some of the special places near my Meridian home that I love to explore. The mountain air, beautiful rivers and lakes, cooler weather, and amazing vistas, draw me in and capture my imagination.

In recent years here in the greater Boise area, as I have shown many new out of area home buyers the gems of our amazing valley, more and more people are drawn to property and homes in these mountain regions. In order to serve those buyers better, I have recently joined the Mountain Central MLS, which directly covers these areas. I am excited to expand my real estate services to include these beautiful mountain communities. I am still a member of the Intermountain MLS which covers the Greater Boise area, so don't worry I will still be here in the Treasure Valley helping buyers and sellers as usual. I am simply expanding the territory that I can assist my clients in. I wanted to make sure all of you were aware of this big news in case you are contemplating a move up north, looking for a mountain vacation home, or have friends or family that are looking to do the same. It has been an incredible blessing to serve you, and I look forward to serving you, your family and friends in the central mountains of our gorgeous state of Idaho as well!
Recommended Service Providers
Need help with a home project, service, or repair? Check out our Homeowners Resources page HERE, where we've listed several different service providers we've used personally or who have been recommended to us. We are always updating this list, so if you have contractors to recommend, please email my Broker!
Available TripleCord Listings