Ken Sugarman
Residential REALTOR®
Direct (208) 585-1032
Ken@TripleCordRealEstate.com
TripleCordRealEstate.com/Ken
This month's Boise real estate market update is brought to you by Boise Regional REALTORS®. If you have question about what you read here or want to discuss how our current market conditions could affect your personal real estate decisions, please don't hesitate to reach out to me! I'd love to connect and help you process the best next steps:

The median sales price for homes in Ada County reached a new record of $523,250 in May, up 8.7% compared to April 2021. Crossing this threshold may have been anticipated by some, considering the recent report from realtor.com shared by the Idaho Statesman noting that the Boise metro's price growth was the highest in the country over the past four years.
The Boise region has faced insufficient supply for years, which has been the main driver of home prices, but several factors have accelerated the growth in recent months. Buyer demand remains high due to historically low mortgage rates, and the added ability for more people to work remotely has likely increased in-migration due to our relative comparative affordability in comparison to more expensive metro areas.

Further, the supply of homes for sale continues to be restricted by longer homeownership tenure, baby boomers aging in place, and a hesitancy from potential sellers who may be concerned about finding another home in these competitive market conditions.

New construction has often been an option for those looking to sell their existing home; however, due to rapid increases in material costs — especially lumber — coupled with supply chain disruptions, not only are new construction homes more expensive, some builders have held back available inventory until they are closer to delivery so they can price the property based on final materials costs. As a result, new construction home prices reached a median sales price record of $544,986 in May 2021 — an increase of 16.0% from the previous record of $469,900 in April 2021.

With delays in new home delivery, demand for existing homes that are ready to move-into, further increased. Prices followed suit with nearly 70% of buyers willing to pay over list price for existing homes in May 2021...CONTINUE READING
For more information and specifics on the current market, please check out Boise Regional REALTORS® Market Report HERE.
Boise Area Event Calendar
With the beginning of summer comes more fun, local events! Check out our event calendar HERE for some of the latest happenings. Some events may change, so please make sure to check the website links for the most up to date information.
Buying a Home is Still Affordable
The last year has put emphasis on the importance of one's home. As a result, some renters are making the jump into homeownership while some homeowners are re-evaluating their current house and considering a move to one that better fits their current lifestyle. Understanding how housing affordability works and the main market factors that impact it may help those who are ready to buy a home narrow down the optimal window of time in which to make a purchase.

There are three main factors that go into determining how affordable homes are for buyers:
Mortgage Rates

Mortgage Payments as a Percentage of Income

Home Prices
The National Association of Realtors (NAR) produces a Housing Affordability Index. It takes these three factors into account and determines an overall affordability score for housing. According to NAR, the index: "…measures whether or not a typical family earns enough income to qualify for a mortgage loan on a typical home at the national and regional levels based on the most recent price and income data."

Their methodology states: "To interpret the indices, a value of 100 means that a family with the median income has exactly enough income to qualify for a mortgage on a median-priced home. An index above 100 signifies that family earning the median income has more than enough income to qualify for a mortgage loan on a median-priced home, assuming a 20 percent down payment."

So, the higher the index, the more affordable it is to purchase a home. Here's a graph of the index going back to 1990: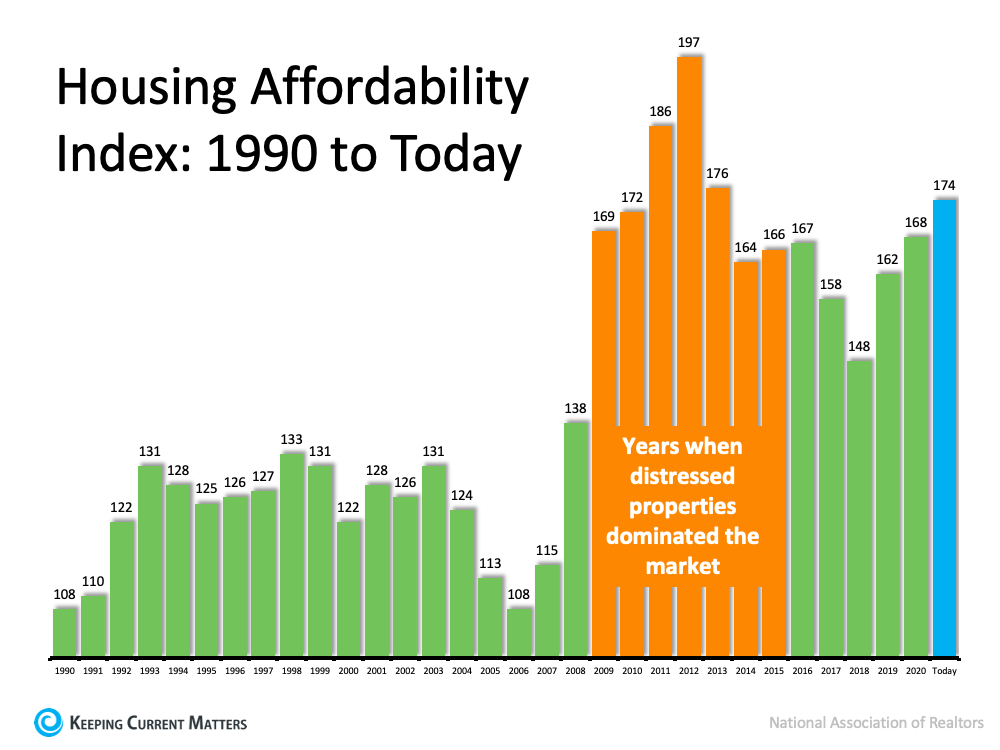 The blue bar represents today's affordability. We can see that homes are more affordable now than they've been at any point since the housing crash when distressed properties (foreclosures and short sales) dominated the market. Those properties were sold at large discounts not seen before in the housing market for almost one hundred years.
Why are homes so affordable today?
Although there are three factors that drive the overall equation, the one that's playing the largest part in today's homebuying affordability is historically low mortgage rates. Based on this primary factor, we can see that it's more affordable to buy a home today than at any time in the last eight years.

If you're considering purchasing your first home or moving up to the one you've always hoped for, it's important to understand how affordability plays into the overall cost of your home. With that in mind, buying while mortgage rates are as low as they are now may save you quite a bit of money over the life of your home loan.
Bottom Line
If you feel ready to buy, purchasing a home this summer may save you a significant amount of money over time based on historical affordability trends. Reach out to a local real estate professional today to determine if now is the right time for you to make your move.
It was a pleasure working with Ken Sugarman and TripleCord Realty during the process of buying and selling our homes. Ken listened carefully and helped us sort through the many options available. When we sold our house, he provided excellent guidance in how much work he thought was necessary and when the offers came in, he helped us sort through the options and even created a secondary position which turned out to be critical. During the purchasing process, he didn't just try to close a deal, he made sure it was right for us. He paid attention to critical details and always got back to us immediately with answers to our questions – even those we hadn't thought to ask. Ken was a great advisor and a consummate professional. We would recommend him without reservation. ~Mike & Linda Rush
Read more of my client testimonials HERE.
In lieu of my own personal update this month, I wanted to share a word from my broker, Katie Miller. The following is her most recent personal blog post. It was an encouragement to me, as I hope it will be for you also:
Contemplations from Katie: Open the Door
By Katie Miller, Broker of TripleCord Real Estate
I recently went back and read a sermon I've long remembered by a friend and mentor, Ben Tyson. I always remember the sermon because Ben helped to answer a question I often wondered about, "Why was King David—a man whose life was marked by moments of great faithfulness and wisdom but was also tainted by such sins as adultery and murder—referred to in the Bible as 'a man after God's own heart.'" I know, like David, I am tainted by my own sins, but I want more than anything to be a "woman after God's own heart." So, I like learning more about what that means and how, amidst my sin struggles, that's still possible for me. One of the keys Ben noted to moving toward this is valuing close relationship with God.

Unlike any other religion or god, the God of the Bible desires relationship with His people. If you read the Bible, you'll see this truth is evident throughout its pages. It's how God created things to be in the beginning when He dwelled in the garden with Adam and Eve. It's what He sought with the Israelites throughout the Old Testament. It's what we continually mess up and what Jesus came and died to restore. And, it's what He promises those who love Him will experience perfectly and eternally in heaven (Revelation 21:3). God cares a lot about our relationship with Him, and David definitely did too. We know this about David, because just as you'd expect to see in any healthy human relationship, he invested time in his relationship with God—learning about Him, talking to Him through prayer, and sharing with Him his deepest thoughts, hurts, and fears. He asked for God's direction and listened to His response. He delighted in God's Law, not just to understand it but also to better know God's heart. When he sinned, He came with a broken and contrite spirit to repent and to seek forgiveness and relational restoration. He praised and gave thanks to God regularly. And, he was eager to share God's love with others...CONTINUE READING
Recommended Service Providers
Need help with a home project, service, or repair? Check out our Homeowners Resources page HERE, where we've listed several different service providers we've used personally or who have been recommended to us. We are always updating this list, so if you have contractors to recommend, please email my Broker!
Available TripleCord Listings