1. First International Day of Clean Air for Blue Skies Calls for Global Cooperation on Air Pollution. Today marks the first International Day of Clean Air for blue skies. The day was created following a December 2019 United Nations General Assembly resolution recognizing the need for increased awareness and international cooperation to reduce air pollution. Air pollution is the single greatest environmental risk to human health, causing 7 million premature deaths annually from diseases like stroke, heart disease, chronic obstructive pulmonary disease, lung cancer and acute respiratory infections. In Africa, Air pollution iis estimated to cause 780,000 premature deaths a year. Check out this Real-time Air Quality Index Visual Map of Air Pollution in Africa: (Air Quality Map)
2. ReImagining Africa's Food Systems at the Intersection of Agriculture and Conservation; How will Africa's food future look like in high-value conservation landscapes where agriculture and conserva
tion intersect?. How can we reduce human-wildlife conflict and biodiversity loss while enabling sustainable agricultural intensification, alongside alternative livelihoods like sustainable tourism, to deliver benefits to both people and nature? A new report by WWF tackles these questions head-on by focusing on two of Africa's largest conservation areas - the Kavango Zambezi Transfrontier Conservation Area (KAZA) and the Southern Kenya Northern Tanzania (SOKNOT) Integrated Trans-boundary Wildlife Corridor. Another report by WWF; UN Environment Programme; EAT & #ClimateFocus reveals that adding actions on diets and food loss and waste to national climate plans could reduce greenhouse emissions by an extra 12.5 Gt CO2e annually. The report identifies 16 ways policymakers can take more action from farm to fork. WWF

3. New App Shows How to Protest Some of Africa's Grasslands, Biodiversity, and Stem Carbon Emissions. A new online platform #TheGlobalSafetyNet shows where
best to protect land in order to safeguard biodiversity and stem carbon emissions. The platform combines six primary data layers: existing protected areas, habitats where rare species live, areas of high biodiversity, landscapes inhabited by large mammals, large areas of intact wilderness, and natural landscapes that can absorb and store the most carbon. The app also ranks countries on how much of their biological important land areas are under official protection, which is broken down into three lists based on the size of the country. (Global Safety Net).

4. Camera-Traps Show Sustainably-Managed Forest Concessions in Gabon are Providing a Refuge for Local Biodiversity; including the elusive African golden cat (Profelis aurata) according to the latest report by the Sustainability Policy Transparency Toolkit (SPOTT). Companies assessed in the 2020 Timber and Pulp Assessment received an average score across all indicators of 22.6% — up 2.2% from 2019, despite more stringent criteria this year. Mongabay

5. Africa Estimated to Lose over USD $20 billion from Illegal Sea Food Trade. The latest Blue Paper on Organized Crime in Global Fisheries reveals that Africa is estimated to experience annual losses of between $7.6 billion and $13.9 billion and between $1.8 billion and $3.3 billion in economic and income impacts, respectively, due to the redirection of catches from legitimate to illicit seafood trade. The paper calls for intersectional, transboundary law enforcement by governments around the world to combat these "clandestine" crimes in the global fisheries industry. (Ocean Panel ). In more not so good news for fisheries, a new report by WWF found the small-scale fishing sector in Africa is not currently equipped to adequately adapt to the #climatecrisis. However, the report also found that globally, sustainable fisheries' management could increase fish biomass in the oceans by 60% if global warming is kept within the limit of 1.5 °C. Urgent action is required to steer both oceanic and social scenarios to more thriving and resilient outcomes. WWF.
6. East Africa Invests in Strategies to Manage E-Waste:- As many countries in Africa embrace the latest technology—smartphones, computers, and other electronic gadgets—few have developed national strategies for managing the resulting e-waste. E-waste may incl
ude electrical and electronic assemblies, scrap, and batteries. Some contain hazardous materials such as cadmium, mercury, lead, and polychlorinated biphenyl. Uganda is one of several nations working to establish a coherent e-waste policy and looking to neighboring Rwanda for lessons in how to develop and implement it. ( EOS). Meanwhile concerns were raised last week about Kenya, which has been one of the leaders in plastic bans in the region, may be set to become a dumping ground for plastics under a new trade agreement with the US (New York Times).

7. Updated Global Water Risk Atlas Reveals Top Water-Stressed Countries and States. New data from WR
I's Aqueduct tools reveal that 17 countries – home to one-quarter of the world's population—face "extremely high" levels of baseline water stress, where irrigated agriculture, industries, and municipalities withdraw more than 80% of their available supply on average every year. These water challenges, already urgent before COVID-19, lead to increased insecurity, migration, and a growing risk of violent conflict, especially in developing countries that lack the financial, technical, and governance capacities to deal with these problems. The solutions identified in this report can help improve water resources management, drought response, flood prevention and access to safe, reliable and affordable water for all. (World Resource Institute)
8. Africa's Great Green Wall Status Report. More than a decade since the first sapling went in the ground, the GGW is about 15 percent complete. Launched by the African Union, the wall is expected to stretch across the entire width of the continent, traversing more than 20 countries at a cost of $8bn. It is projected that by 2030, this ambitious u
ndertaking should sequester 250 million tonnes of carbon from the atmosphere, restore 100 million hectares of degraded land and create 10 million jobs in rural Africa.UNCCD. Meanwhile, Rwanda is on Track to Restore 2 Million Hectares of Deforested Land. In 2011, Rwanda became one of the early adopters of the Bonn Challenge, a global effort to bring 150 million hectares of the world's deforested and degraded land into restoration by 2020, and 350 million hectares by 2030. Over the past ten years, Rwanda quadrupled domestic investment in landscape restoration. Currently, the Bonn Challenge Barometer assessment shows that Rwanda has restored 708,629 of the pledged 2,000,000 hectares over the past ten years. (All Africa).

9. New Advances in Mapping Land Tenure in Africa: GPS-enabled smartphones provide an unprecedented opportunity for governments, funders, and NGOs to collaborate with local communities to document their land rights. Many African governments recognize that insecure land tenure undermines efforts to achieve food security, improve nutrition, and spur rural development. But they have traditionally lacked the capacity or will to undertake the monumental task of hiring an army of surveyors to fan out across the country and document every farmer's land. Moreover, the region lacks enough trained land surveyors to meet demand. Without digital technologies, it would take Uganda's few dozen surveyors more than 1,000 years to document the 15 million land parcels in that country. Armed with GPS-enabled tablets or smartphones, local and international NGOs and African governments are mapping the property lines of everything from clam farms in Ghana to cotton fields in Zambia (Project Syndicate )
10. Maps of the Week: The Impact of Climate Change on Malaria in Africa: Of an estimated 228 million cases of malaria worldwide each year, around 93% are in Africa. This proportion is more or less the same for the 405,000 malaria deaths globally. This new set of maps just published in Nature Communications give the most accurate picture yet of where in Africa will – and won't – become climatically suitable for malaria transmission. The Conversation
How malaria suitability will change by 2100 under the most extreme global warming scenario (RCP 8.5). Red = more suitable, blue = less; bolder colours = more certainty.
Figure of the Week: The African Continental Free Trade Area (AfCFTA) presents a major opportunity for wage gains for women. This trend is a result of the AfCFTA's potential expansion of output in female labor-intensive industries. Overall, wages for women are projected to increase by 10.5 percent by 2035. Brookings
Beyond Tourism in Africa Innovation Challenge: Do you have an idea that could change the wo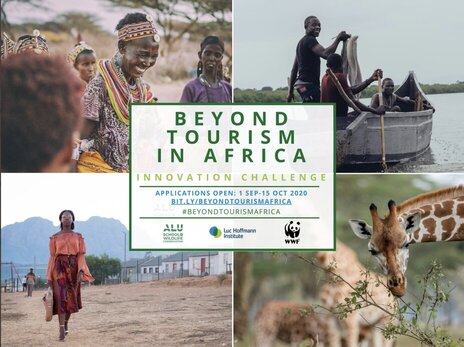 rld? Applications are now open for #BeyondTourismAfrica! We are seeking community-led, non-tourism income ideas for wildlife across Africa. You could win a place on @aluconservation's incubator + seed money. Anyone with a bold idea for a sustainable way to derive income from wildlife may apply. Applications from people within the African continent, from those with strong ties to wildlife-adjacent communities anywhere in Africa, and from those with non-traditional conservation backgrounds are encouraged. For further details and to apply online visit: https://bit.ly/beyondtourismafrica