Dec 31, 2019 05:36 am



Royal Marines in action since December 1664!
Unit/ Formation: Marine Regiments Location: Cadiz Period/ Conflict: Second Anglo Dutch War Year: 1664 Date/s: December 1664
Possibly the first action where Marines were used was the suddenly attacked the Dutch Smyrna fleet.
Though the attack failed, the Dutch in January 1665 allowed their ships to open fire on English warships in the colonies when threatened.
Charles II used this as a pretext to declare war on the Netherlands on 4 March 1665 leading to the Second Anglo Dutch War.
Image: James, Duke of York, the Lord High Admiral of England and openly Catholic, argued in favour of a war between England and the Dutch.
Thank you to all my new followers in 2019, if you know anyone that would like to follow me in 2020 please do forward this e mail.
Happy New Year,
Simon
Read in browser »
    



Dec 31, 2019 04:31 am



Unit/ Formation: 40 Cdo RM Location: Azores Period/ Conflict: World War II Year: 1942 Date/s: 30th December 1942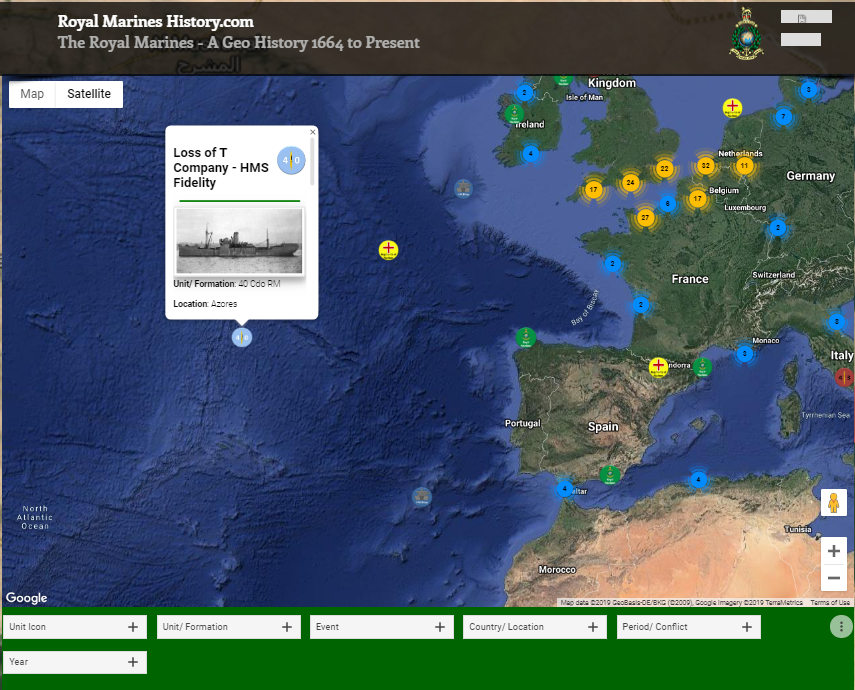 HMS Fidelity a special service/ decoy AA ship with mainly Free French crew had Royal Marines of T Company embarked, she had been refitted to support operations in the Far East she had two landing craft two motor torpedo boats and two aircraft, as well as bristling with all manner of guns and explosives.
She was sunk by torpedoes during a U Boat attack (U435) on the 30th December 1942 off the Azores.
The U-boat reported a surprising high number of survivors on overcrowded rafts and swimming in the water, none of them were rescued and all drowned in the worsening weather.
274 crew members & 51 Royal Marines from 40 Commando RM together with 44 survivors from other ships were lost.
The only survivors were a few who had launched a motor boat from the ship before the attack.
The letter 'T' was never used again by 40RM Commando for a Company.
ANDREWS, Charles, Marine, PLY/X 1674:
ANSON, Harry R J, Marine, PO/X 100156:
APPLEBY, William T, Marine, PLY/2597:
BASHAM, Cyril E, Marine, PLY/X 3085:
BOOTHROYD, Geoffrey, Marine, PO/X 3189:
BRADLEY, William J, Marine, PLY/X 3580:
BROWNBRIDGE, Robert W, Marine, CH/X 1085:
CHAPMAN, Charles C, Marine, EX 1169:
DIXON, David G, Ty/Act/Corporal, RM, PLY/X 2699,:
EDWARDS, Maurice A, Marine, PO/X 4386:
FARRELL, Robert, Marine, PO/X 2501,:
FISK, George E, Marine, RFR, PO/X 315:
GOODYER-KETTLEY, Frederick R, Marine, PLY/X 3095:
HEBDEN, Richard, Marine, PO/X 4047:
HENDERSON, Alfred W, Ty/Sergeant, RM, CH/X 1123:
HERD, Alexander F, Marine, EX/3189:
HEWSON, William B, Marine, PO/X 2397:
HILDRETH, Harry L, Marine, PO/X 104141:
HILL, Reginald H, Marine, PLY/X 3235:
HUMPHREYS, Harry, Marine, PLY/X 2458:
HUTCHINSON, James, Marine, CH/X 2331:
JAMES, Russell K, Marine, PO/X 108891:
JEFFERS, Michael, Marine, PO/X 105426:
KELLY, John F, Marine, CH/X 2555:
LAGOR, Reginald A, Marine, PLY/X 3859:
LEDBURY, David R, Marine, PO/X 5001:
MCDOWELL, Ernest, Marine, PO/X 3758:
METCALF, Reginald H, Ty/Act/Corporal, RM, PO/X 2450:
MILO, Frederick C, Marine, PLY/X 2430:
NASH, Thomas, Marine, CH/X 2218:
OBORN, Arthur R, Marine, PO/2308:
O'BRIEN, Edward S, Marine, PO/X 1309:
PALMER, John, Marine, PLY/X 3323:
PANTER, Howard D, Marine, PO/X 107976:
PARKER, Robert S, Marine, PLY/X 2254:
PAYNE, George T, Marine, PO/X 4374:
PEMBER, Henry D, Marine, EX/3500:
RICHMOND, James A, Marine, EX/3778:
SALAMAN, Hugh L, Marine, PLY/X 104581:
SAUNDERS, Reginald T, Marine, CH/X 1276:
SEABROOK, John J, Marine, CH/X 1934:
SHOCKLEY, Harry W, Marine, PO/X 101827:
SIMMONDS, Joseph, Ty/Corporal, RM, PO/X 3601:
SWATTON, Vernon, Ty/Act/Corporal, RM (DEMS), PO/X 2317:
THOMSON, Ronald, Ty/Act/Corporal, RM, EX/3948:
TRASK, Walter A H, Ty/Lieutenant, RM:
TRUMP, William C, Marine, CH/X 104658:
TURNER, Roland C, Marine, CH/X 2632:
TWIDALE, Thomas, Marine, EX/3870:
WAKEFIELD, Jack H, Marine, CH/X 1417:
WILSON, Desmond J, Marine, CH/X 2546
Read in browser »
    



Dec 31, 2019 01:50 am



HMS Minerva was an Eclipse-class protected cruiser built for the Royal Navy in the mid-1890s.

During December 1914 Minerva was stationed off of Aqaba conducting various operations against the Turks, during this period Captain John W Snepp was wounded and Private Frank Ward RMLI killed.
29 December 1914
Akabah
Lat 29.5, Long 35.0
6.00am: Course & speed as requisite hoisting out seaplane and approaching Akaba
8.45am: Hoisted in seaplane.
10.43am: Stopped. Came to port bower in 20 fathoms
11.00am: Landed armed party of marines. Shelled Turks in hills eastward of town
Noon: Marines returned
2.00pm: Hoisted out seaplane
2.50pm: Hoisted in seaplane engine trouble.
5.00pm: Weighed & proceeded
3 on sick list
30 December 1914
Akabah
Lat 29.5, Long 35.0
6.00am: Course & speed as requisite anchoring at head of Gulf of Akaba
9.00am: Divisions. Prayers
1.00pm: Hoisted out seaplane for trial flight unsatisfactory
4.30pm: Proceeded
3 on sick list
31 December 1914
Akabah
Lat 29.5, Long 35.0
5.00am: Course & speed as requisite approaching Akaba & anchoring at head of gulf
7.00am: Hauled in Patent Log
9.45am: Hoisted out seaplane which started for reconnaissance up Wadi Akaba
9.50am: Capt Snepp RMLI & escort landed NW corner of gulf to examine beach. Turks concealed in sand hills opened fire. Landed marine detachment to rescue opened fire with shrapnel and cannon. Marines returned, enemy driven off. 1 private RM killed. Capt Snepp seriously wounded (Captain John W Snepp had, according to the Navy List, joined Minerva on 2nd August 1914, though this is not recorded in the log)
1.00pm: Seaplane not returned, due noon
2.00pm: Hands employedd as requisite
3.30pm: Shelled Turks in hills to NW
4.00pm: Weighed & proceeded. Course & speed as requisite
5.00pm: Stopped. Read burial service. Buried Private Frank Ward RMLI
5.30pm: Course & speed as requisite lying off
8.00pm: Returned to head of gulf, embarked Capt Sterling (Seaplane observer) Seaplane wrecked 20 miles away, pilot left 15 miles slightly injured unable to walk
8.30pm: Proceeded as requisite down gulf in order to return at daylight
3 on sick list
1 January 1915
Akabah
Lat 29.5, Long 35.0
6.45am: Arrived head of gulf
6.50am: Stopped. Came to port bow in 19 fms veered 2.5 shackles
8.00am: Landed armed party 150 rifies and 2 marines to search for missing pilot, party penetrated about 6 miles no sign of pilot
1.20pm: Landing party returned
2.30pm: Hands make and mend clothes
5.30pm: Weighed & proceeded Course & speed as requisite down gulf
Water expended: 4.0; remaining: 17.0
Coal expended for all purposes: 28; remaining: 520
5 on sick list
2 January 1915
Akabah to Tor
Lat 27.7, Long 34.0
Northbrook
12.30am: Returned to head of gulf, found the pilot Grall on beach & embarked him uninjured but exhausted.
8.20am: Co as reqts passing thro Tiran St
3.00pm: Course & speed as requisite anchoring at Tor.
3.40pm: Stopped. Came to port lower in 10fms. Northbrook present
5.25pm: Nour-el-Bahr arrived (the private yacht of the Sultan of Maskat)
2 on sick list
3 January 1915
Tor & Ras Abu Zenima
(No position given – lying off Ras Abu Zenima which is Lat 29.1, Long 33.1)
4.15am: Weighed & proceeded
6.55am: Ras Gharib Lt abeam 7'
9.50am: Course & speed as requisite lying off Abu Zamina, communicated with shore
11.00am: Divisions. Divine Service
5.30pm: Stopped port engine. Course & speed as requisite entering Suez Bay & anchoring
6.30pm: Capt Snepp RMLI discharged to hospital (John Wansey Snepp obviously recovered and returned to duty as he was awarded the OBE in 1919 for valuable services during the war, by which time he was a Major.)
3 on sick list
https://www.naval-history.net/OWShips-WW1-05-HMS_Minerva.htm
Read in browser »
    



Dec 30, 2019 07:12 am



HMS Natal was a Warrior class Cruiser of 13,550 tons with a complement of 704 officers and men. She was launched at Barrow-in-Furness on 30th September 1905 and had a distinguished peacetime career. This included accompanying King George V and Queen Mary to India in 1911.

On 30 December 1915, HMS Natal was lying in the Cromarty Firth with her squadron, under the command of Captain Eric Back.
The captain was hosting a Christmas film party aboard and had invited the wives and children of his officers, one civilian friend and his family, and nurses from the nearby hospital ship Drina to attend. A total of seven women, one civilian male, and three children were in attendance that afternoon.
Shortly after 15:25, and without warning, a series of violent explosions heard upto 25 miles away, tore through the rear part of the ship. She capsized five minutes later.
Some thought that she had been torpedoed by a German U-boat or detonated a submarine-laid mine, but examination of the wreckage revealed that the explosions were internal.
Wartime security meant the incident could not be reported. The Ross-shire Journal could only report that a local family the Dods had been wiped out 'as a result of a painful and distressing accident'. Many bodies were never found.
The divers sent to investigate the ship reported that the explosions began in either the rear 9.2-inch shellroom or the 3-pounder and small arms magazine.
The Admiralty court-martial into the causes of her loss concluded that it was caused by an internal ammunition explosion, possibly due to faulty cordite.
It is probable that stored in the magazine room with insufficient ventilation the cordite had begun to sweat and eventually spontaneously combusted.
The Admiralty issued a revised list of the dead and missing that totaled 390 in January 1916, but did not list the women and children on board that day. Losses are listed from 390 to 421.
About 400 of the crew survived because they were on shore leave, some were playing football when the series of powerful explosion tore through the ship.
With her hull still visible at low water, it was Royal Navy practice on entering and leaving Cromarty right up to World War II for every warship to sound "Still", and for officers and men to come to attention as they passed the wreck
After numerous attempts, much of the ship was salvaged. The remainder was blown up in the 1970s to level the wreck so that it would not be a hazard to navigation.
Of those lost 63 were Royal Marines:
BARTON, Colin, Gunner, RMA, RMA 14343:
BARTONS, Thomas H, Gunner, RMA, RMA 11327:
BATES, William, Bombardier, RMA, RMA 12694:
BEART, Robert A, Private, RMLI, 1994 (Ch):
BURCHELL, Wilfred J, Musician, RMB 1563:
BURNS, Thomas, Private, RMLI, 19647 (Ch):
CHEESMAN, Alfred, Private, RMLI, 14464 (Po):
CHILLCOTT, Arthur G, Private, RMLI, 15834 (Ch):
COLLIER, George, Musician, RMB 648:
COOK, Samuel, Private, RMLI, 17090 (Ch):
CROPPER, John, Private, RMLI, 19649 (Ch):
DANCE, Richard, Musician, RMB 956:
DAVENPORT, Frank, Gunner, RMA, RMA 5417:
DAVIDSON, Thomas D, Private, RMLI, 19646 (Ch):
DENTON, Herbert F, Gunner, RMA, RMA 12673:
DRAKE, Edward, Private, RMLI, 16807 (Ch):
DRANE, Bertram H, Stoker 1c, SS 112201 (Ch):
GOLSWORTHY, William H, Musician, RMB 301:
HALE, David, Private, RMLI, 18018 (Ch):
HARLOCK, Bertie, Private, RMLI, 13549 (Ch):
HARPER, Joseph H, Bombardier (RFR B 1305), RMA 7594:
HARRIS, Frederick, Sergeant, RMLI, 7690 (Ch):
HARRISON, James A, Corporal, RMB, RMB 975:
HEWITT, Victor N, Bugler, RMA, RMA 12681:
HIGGS, Albert, Gunner, RMA, RMA 13023:
HODGES, Charles H, Musician, RMB 1178,
DOW: JACKAMAN, Robert, Private, RMLI, 11386 (Ch):
JAMIESON, Samuel E J, Musician, RMB 2215:
KEMP, Samuel, Private, RMLI, 7823 (Ch):
KILLING, Herbert G, Private, RMLI, 18179 (Ch):
LARMAN, Percy S, Private, RMLI, 15072 (Ch):
LEACH, Percival H, Gunner, RMA, RMA 12193:
LEE, Thomas, Gunner, RMA, RMA 9622:
LOCKE, John W, Gunner, RMA, RMA 8848:
MARTINDALE, Jonathan, Musician, RMB 1514:
MORTIMER, Edward A N, Private, RMLI, 19327 (Ch):
NEWMAN, Arthur C, Private, RMLI, 17011 (Ch):
NORRIS, Arthur E, Private, RMLI, 15352 (Ch):
OVERTON, Harold, Musician, RMB 1216:
PARKER, Arthur G, Bandmaster 2c, RMB 814:
PARRY, Harry, Private, RMLI, 12549 (Ch):
PARSONS, William J, Gunner, RMA, RMA 10871:
PAULSON, Wallace, Gunner, RMA, RMA 12713:
PEARCE, Leonard G, Gunner, RMA, RMA 6455:
PEOPLE, Owen C, Gunner, RMA, RMA 14453:
SAMMS, Charles G, Private, RMLI, 18500 (Ch):
SHEPHERD, William H, Private, RMLI, 13184 (Ch):
SHIP, Frederick, Musician, RMB 1781: 229
STEVENS, Herbert W, Musician, RMB 221:
STUART, William, Gunner, RMA, RMA 9529:
SUTHERLAND, William, Gunner, RMA, RMA 13207:
SWAIN, Tom H, Gunner, RMA, RMA 10612:
WALKER, Reginald D, Sergeant, RMA, RMA 8862:
WATKISS, Frederick J, Private, RMLI, 19059 (Ch):
WATSON, Elam, Gunner, RMA, RMA 10109:
WHITE, Cornelius H, Gunner, RMA, RMA 14308:
WHITE, Spencer J, Gunner, RMA, RMA 6253:
WILDING, Joseph T, Musician, RMB 1594:
WILLIAMS, George F, Private, RMLI, 13678 (Ch):
WILSON, Thomas G, Musician, RMB 900:
WRIGHT, Leslie J, Gunner, RMA, RMA 14511.
Read in browser »
    



Dec 30, 2019 05:58 am



Battle of Welsh Ridge

Unit/ Formation: Royal Marines Location: Villers Plouich Period/ Conflict: World War I Year: 1917 Date/s: 30 December 1917

The action at Welsh Ridge was fought when the enemy counterattacked in the last days of the Battle of Cambrai.
Welsh Ridge was a short stretch of higher ground forming a salient bulging out towards Marcoing. It had been captured during the Battle of Cambrai, the Germans determined to re take the ground. The salient was centred to the front of Villers Plouich; the trenches held by the British were in the Hindenberg Line along the crest of the Ridge.
The enemy had early success and managed to infiltrate and overrun sections of the British lines but by evening, after hard fighting all day, the lost ground was re-captured. The Royal Naval Division (made up of Royal Marines & Royal Naval Reserve) were holding the allied line at Welsh Ridge.
At dawn the usual German "hurricane" bombardment took place killing several officers & men. The rest of the day was to be far from usual. Suddenly, as the bombardment stopped, the Royal Naval Division was attacked. Heavily armed German Stormtroopers wearing snow suits for camouflage had advanced using the bombardment as cover.
The Royal Naval Division was now in a desperate fight for survival. The Royal Marines & sailors in the Hood & Drake battalions held & in hand to hand fighting drove the attackers back. The supporting British Army units suffered heavy casualties & the line was breached. A counter-attack was now essential before the Germans could re-enforce their stormtroops & fortify the captured positions.
The strongest units in the Royal Naval Division, the Nelson Btn & the Artisits Rifles attacked, the scene captured in John Nash's picture.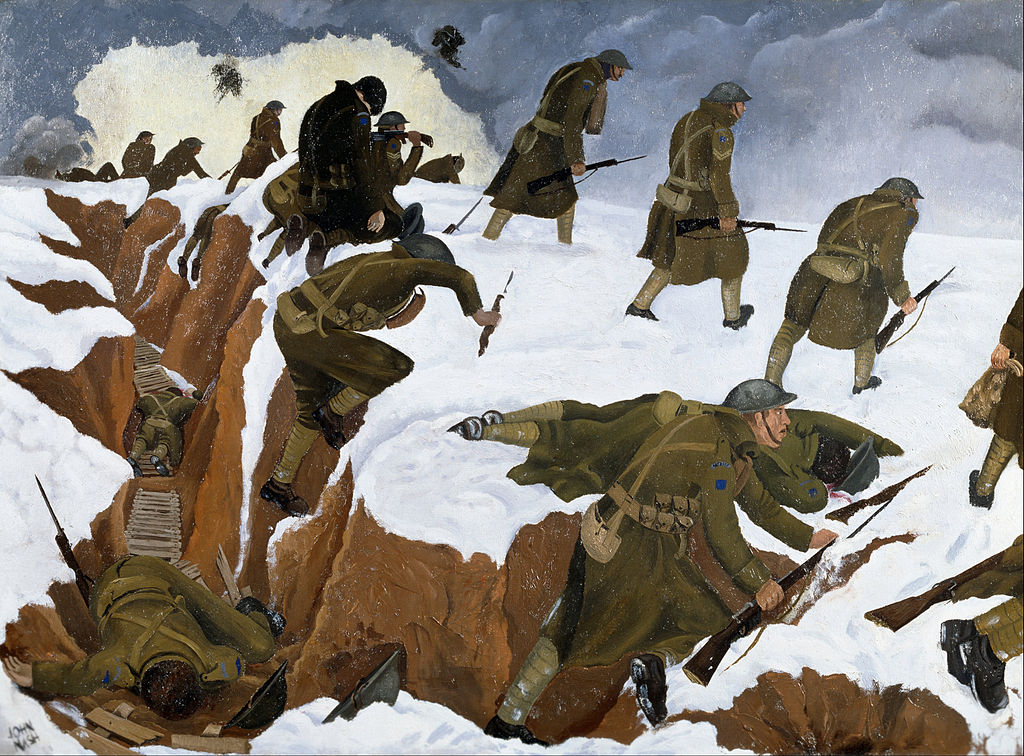 'Over The Top'. 1st Artists' Rifles at Marcoing, 30th December 1917
The counter-attacks stalled. At this point T/Lt Cdr Buckle RNVR (a school teacher pre-war & a Royal Naval Reserve promoted from AB) won the DSO for planning & leading new attacks with his Anson Btn.
By the end of WWI, he had been awarded the DSO 4 times & 5 MiDs. In two days of hard fighting, the Royal Naval Division had suffered 1,420 casualties. They had held Welsh Ridge & fought off an enemy force of 15 battalions.
Text from a tweet by @HMSKingAlfred RNR Whale Island
Read in browser »
    



Dec 26, 2019 04:59 am



On 20th December 1943 Convoy JW55B, comprising 19 merchant ships screened by 10 destroyers, was bound for Russia sailed on December 20th to resupply the Eastern Front.

The convoy served as bait to entice the Scharnhorst into action. Also in the vicinity was a British force consisting of the battleship HMS Duke of York, the cruiser HMS Jamaica and four destroyers. Also inbound from the east were the British Cruisers HMS Norfolk, HMS Belfast, and HMS Sheffield.

Many Royal Marines were amongst their crews as Gunners, butchers and bandsman.
Scharnhorst in Port
The German battle group set sail on Christmas day, coming from the South was KMS Scharnhorst and her screen of destroyers looking for the convoy. Scharnhorst and its escort were steaming through a snow storm when, at 7:30am, the destroyers were detached to the southwest to look for the convoy.
Scharnhorst was now on her own and sailed north until, at 9:00am, she came under fire from three enemy cruisers. During the running battle, the forward radar on Scharnhorst was hit by a British shell which essentially blinded the vessel.
Scharnhorst then turned south at 30 knots outrunning the cruisers in heavy seas. Scharnhorst then ran south, turning east to attack the convoy from another angle. As she turned north again, around noon, Scharnhorst came upon the cruisers Norfolk, Belfast, and Sheffield. At ranges between 4 and 8 miles, all ships received damage.
At 12:41pm, Scharnhorst turned south at 22 knots, unknowingly, towards the British battleship Duke of York.
At 4:20pm on 26th December the major British force lead by Duke of York made radar contact with Scharnhorst at 20 miles while the three cruisers Norfolk, Belfast, and Sheffield were in hot pursuit.
Scharnhorst was hit and turned southwest and then turned to hit back with broadsides while zig-zagging. As Duke of York closed in, the order was given for four destroyers to make a torpedo attack on Scharnhorst and five torpedoes eventually found their mark.
Duke of York firing on Scharnhorst
By 7:00pm, the range between Scharnhorst and Duke of York closed to approximately 8,000 yards with Duke of York hitting Scharnhorst with broadsideafter-broadside. One of Scharnhorst engines failed yet she was still able to make 22 knots.
Duke of York was too close now to use "plunging fire" to destroy Scharnhorst so she stopped firing and sent the cruisers Jamaica and Belfast and her destroyers to finish her off with torpedoes. By this time, the Scharnhorst was only able to manage 12 knots. Taking her punishment, the great German ship went down by the bow and rolled over to starboard. A large explosion was heard by British observers and then the Scharnhorst disappeared beneath the waves.
Thirty six survivors were rescued from her crew of 1,960.
Read in browser »
    



Dec 25, 2019 08:11 am



On 25 December 1940, whilst part of the escort to convoy WS-5A, a troop convoy to the Middle East, Berwick was in a surface engagement with the German heavy cruiser Admiral Hipper about 700 nautical miles west of Cape Finisterre, Spain 43°39'N, 25°08'W.

Despite being thoroughly ready for combat Berwick got the worst of the encounter.
HMS Berwick
During a 35 Minute engagement she scored no hits on Admiral Hipper, and sustained a fair amount of damage, being hit by several 8-inch (which for the most part passed right through the ship) and 4.1-inch shells.
Admiral Hipper
The action did however, drive off Admiral Hipper, and saved the convoy from any losses. Four of her complement a Royal Marines gun crew were killed and she had to return to Britain for repairs, which lasted until June 1941
December 1940
21st Took passage to join military convoy WS5A as relief for HM Cruiser NAIAD.
24th Joined HM Cruisers DUNEDIN and BONAVENTURE in Ocean Escort for WS5A.
25th Convoy came under attack by German cruiser HIPPER at dawn and was scattered.
Engaged HIPPER and hit by 4 shells in return fire causing casualties. After structure and gun mountings damaged with some flooding.
Marine Denis BROOM: PO/X 2701: Corporal Robert DAVISON: PO/X 762: Marine Reginald LYONS: PO/X 1825: , Sergeant Charles PAINTER: PO/X 22435,
all killed
31st Landed wounded at Gibraltar and taken in hand for temporary repair.
Read in browser »
    



Dec 18, 2019 06:36 am



18th December 1941 HMS Neptune a Leander-class light cruiser with HM Cruisers AURORA, PENELOPE, HM Destroyers: KANDAHAR, LANCE, LIVELY and HAVOCK moved to intercept the supply convoy reported outside the entrance to Tripoli harbour.
During the passage, in position 20 miles from Tripoli, ran into an enemy minefield. Hit one mine and disabled.
Whilst adrift Neptune hit second mine which wrecked propellers and rudder. Subsequently the vessel detonated a third mine which caused further damage aft.
Nearly three hours later a 4th mine was struck amidships and the ship then sank very quickly.
Only one seaman survived and he was taken prisoner. He was the only survivor out of a complement of 764.
There were 66 Royal Marines killed:
AUCHINLECK, James W, Corporal, RM, PLY/X 2373: BARLOW, William S, Marine, PLY/X 101070: BLACKWELL, George, Marine, PLY/X 1654: BOXALL, Leslie A, Marine, PLY/X 1721: BURROWS, Verdun C M W, Marine, CH/X 1348: CHAMBERS, George H, Marine, PLY/X 100460: CLOUGHLY, Norman D S, Marine, PLY/X 3749: COPPOCK, Colin F, Marine, PLY/X 100461: COPPOCK, Colin F, Marine, PLY/X 100461: CORNER, Arthur E G, Musician, RMB/X 1095: CRAY, Terence C, Marine, PLY/X 3754: CROCKER, William H, Sergeant, RM, PLY/X 731: CROKE, William T, Ty/Corporal, RM, PLY/X 1066: DALE, Dennis I T, Marine, PLY/X 100436: DAY, James E, Marine, PLY/X 3752:DICK, David, Musician, RMB/X 1093: DICKENS, George, Marine, PLY/X 100424: DOWLE, Sidney J, Marine, PLY/X 100444: DUBBER, Ronald A, Marine, PLY/X 3230: DUFTON, John, Marine, PLY/X 3765: EVOY, James, Marine, PLY/X 356: FACER, George B, Marine, PLY/X 3784:GLOVER, Reginald J, Marine, PLY/X 3759: GODDARD, Hayward T C, Musician, RMB/2879: GREAVES, Dennis, Musician, RMB/X 1467: GREEN, Frank, Marine, PLY/X 1531: HARRIS, Brynmor I, Marine, PLY/X 100395: HARRISON, Robert L, Marine, PLY/X 3783: HAWKINS, Thomas C, Marine, PLY/X 1028: HAYWARD, Charles E E, Ty/Corporal, RM, PLY/X 374,: HENDY, Norman, Marine, PLY/X 1659: HILL, Thomas W, Marine, PLY/X 3764: HOLLICK, Percy E, Marine, PLY/X 227: HOOPER, William, Marine, PLY/20840: HOOPER, William H R, Sergeant, RM, PLY/X 1127: HOPKINS, George A, Marine, PO/X 4219: HYNARD, Walter G, Marine, PLY/X 3756: JOYCE, Donald F, Band Master 2c, RMB/3032: LAVIS, George, Sergeant, RM, PLY/X 435: LEWIS, Robert J, Marine, PLY/21179: LOVETT, Frederick C, Marine, PLY/X 2301: MCGUFFOG, Andrew, Marine, PLY/X 100465: MEDCALF, Ernest W, Marine, PLY/X 3936: MILLAR, Noel L W, Act/Captain, RM: MURCH, William E, Ty/Sergeant, RM, PLY/X 624: NUTTALL, James, Marine, PLY/X 100411: O'BRIEN, Patrick G, Ty/Sergeant, RM, PLY/X 1527: PARTRIDGE, George W, Marine, PLY/X 100420: PATTERSON, John, Marine, PLY/X 100601: PHIPPS, Reginald C, Corporal, RM, PLY/X 1039,: PLAIN, Charles H M, Musician, RMB/2950: POOLE, Cyril E, Musician, RMB/X 1283: PREECE, Douglas R V, Corporal, RM, PLY/X 982: RABY, Albert F, Marine, PLY/X 100440: RANDALL, Douglas A, Musician, RMB/X 309,: REFFORD, Leonard, Marine, PLY/X 2642: ROBERTS, John O, Musician, RMB/X 1604: ROBINS, Henry A, Marine, PLY/X 1740: ROGERS, William J, Boy Bugler, PLY/X 2491: SERGISON, Andrew H W, Marine, PLY/X 1726: SHACKLETON, William T, Marine, PLY/X 100419: SIMPSON, John W, Marine, CH/X 3345: SMITH, Albert R, Bugler, PLY/X 3744: SOMMERFORD, Jack, Marine, PLY/X 3762: SOUTHGATE, William A, Musician, RMB/X 490: SPENCE, Walter A, Musician, RMB/X 593: TEBWORTH, Albert G, Marine, PLY/22622: VOSPER, Sydney A, Marine, PLY/21538: WALFORD, Selby H L, Corporal, RM, PLY/X 1536,: WHITWORTH, James, Marine, PLY/X 100412: WILCOCK, Joseph, Marine, PLY/X 100432: WILLIS, Oswald G L, Marine, PLY/X 3785: WRIGHT, Stanley H G, Marine, PLY/X 100267: YOUNG, Ronald J, Marine, CH/X 2902.
Read in browser »
    



Dec 16, 2019 09:44 am



The Battle of the Bulge, also known as the Ardennes Counteroffensive, was the last major German offensive campaign on the Western Front during World War II, and took place from 16 December 1944 to 25 January 1945.

It was launched through the densely forested Ardennes region of Wallonia in eastern Belgium, northeast France, and Luxembourg, towards the end of the war in Europe. The offensive was intended to stop Allied use of the Belgian port of Antwerp and to split the Allied lines, allowing the Germans to encircle and destroy four Allied armies and force the Western Allies to negotiate a peace treaty in the Axis powers' favor.

For the Americans who took the brunt of the offensive, out of a peak of 610,000 troops, 89,000 became casualties out of which some 19,000 were killed. The "Bulge" was the largest and bloodiest single battle fought by the United States in World War II and the third deadliest campaign in American history. (

Wikipedia

)

Although fought primarily between German and American forces approximately 55,000 troops of the British Army, Royal Marines, Royal Air Force, and the 1st Canadian Parachute Battalion, as well as other allies participated in the counter offensive.

45 Commando

During the Ardennes Offensive, 45 Commando and the retitled 1st Commando Brigade was given the task of holding a stretch of the River Meuse; it was during this period of operations that Lance Corporal H. Harden, a medical orderly of the RAMC attached to 45 (RM) Commando, won the Victoria Cross
47 & 48 Commando
A German support operation for the ARDENNES Offensive took place, to support the main German attack through the Belgian ARDENNES. This support operation was know as "FALL BRAUN".
For this the Germans gathered a large force, north of the river MAAS in the Netherlands. When the operation started, German troops advanced through the south of the Netherlands towards ANTWERP. There was only one small problem for the Germans. The river MAAS acted as a natural barrier between the Germans on the north- and the Allied forces on the southbanks of the river. The Germans had three small bridgeheads at the river MAAS. One of these bridgeheads was the island of "KAPELSCHE VEER", named after a small ferry, that crossed the river MAAS near that point. The bridgehead was heavily defended, mainly by German paratroopers of the 6th Parachute Division.
At the end of 1944, the preparations of "FALL BRAUN" went on and on. But when the Battle of the Bulge started, Hitler decided that the forces of "FALL BRAUN" had to go to the area of the Bulge for support. At the end there was a very little amount of German forces left in the building up area of "FALL BRAUN".
On 22 Dec. at very short notice, the Commando moved to BREDA to come under command Brig. E.T. BOYLAN CCRA, and to form part of "PADDY FORCE", the 1 Corps Mobile Reserve.
Two days later the Commando moved again, to OOSTERHOUT where they took on patrol and defensive duties on the MAAS and came under command 1 Pol Armd Div. Under command or in support were (C) Sqdn 18 Cdn Armd Regt, two Coys 1 Belg Fus, one troop 247 A/Tk Bty R.A.., one det Polish Engineers, one Pl Pol R.A.S.C. and 90 Field Regt R.A.
Then ensued a period of intensive preparation. The Commando was on the main approach from NORTH HOLLAND to ANTWERP, and the Intelligence was very certain that some attack was coming, to coincide with the ARDENNES offensive. (It is worth noting that this intelligence proved correct from documents captured later). The Commando were the only troops between the enemy and HQ. 1 Corps, and troops everywhere were thin on the ground.
Three troops of 48 Commando came under command 28 Dec. for a fortnight. On 30 Dec. Lt. Col. C.F. PHILIPS D.S.O. RM, relinquished command to form 116 Inf Bde RM., and Maj. DONNELL was promoted Lt. Col. to assume command. Maj. MARTIN PRICE D.S.O. joined on the 7 Jan. as 2 i/c.
There was continuous patrol activity on the South side of the MAAS, and on the 1 and 2 Jan. patrols crossed to the North side, contacting the enemy on the latter day.
Four days later an enemy patrol crossed to the South side of the MAAS, and ambushed our patrol killing 2nd Lt. GARDENER, and two days later, a little to the East they ambushed a patrol of 'Y' troop, 48 Commando (u/c) wounding Capt. HOSKIN.
Capt. N.S.Y. DOBSON rejoined on the 9 Jan. and was involved four days later in an accident when a Jeep skidded off a road into a dyke. Capt. JAMES and Capt. O'CONNELL were partially drowned and evacuated to hospital.
On 9 Jan. the Commando relinquished its patrol duties to return to training at BERGEN OP ZOOM, but were kept on long enough to attack the German positions at KAPELSCHE VEER.
This was a position of great natural strength which the enemy had crossed the MAAS to occupy on Christmas Eve. It was a small island between the MAAS and the OUDE MAAS. On the North was a broad dyke 25 feet high which broadened out, at the defended point, to form quite a reasonable plateau. Here the enemy were well dug in. There was only one small cottage in the area, and all supplies etc. had to be brought across the river.
The defending troops came mostly from Para Divs and were young and fanatical. They possessed a few LMGs but nothing larger, but there were a few batteries on the North side to support them.
Most of the low ground was flooded and, following snow, it had been freezing hard for some days.
Forces of 1 Pol Armd Div. had twice attempted to move the enemy, first by a platoon recce, and then with a whole company, but in vain. The Commando attacked on the night of 13/14th Jan.
On the night of 13th January 1945, 'Q' troop of 47 Royal Marine Commando, together with attached No. 5 Troop (Norwegian) 10 Inter Allied Commando under 2 i/c, launched an assault on the island of KAPELSCHE VEER attacking the right flank supported by armour and artillery from the mainland, while a main force of 'A' 'B' 'X' 'Y' troops of the Royal Marine Commandos attacked on the left flank.
The only possible means of approach to the enemy position was along the base of the dyke from the East or West. A Polish company was to secure the bridgehead, while 47 Commando and No. 5 Troop 10 IA Commando provided a diversionary attack.
The first phase - crossing the OUDE MAAS, was accomplished with difficulty. The heavy ice flow made it very difficult to get boats across, but eventually the Polish Engrs got the bridge fixed.
On the way to the forming up position 'A' troop who were leading ran into a small enemy outpost which was wiped out. By 0047 hrs both parties were in position and the code-word was given for the barrage which fired from 0055 - 0100 hrs - all the 1 Corps artillery.
Attacks went in simultaneously from both flanks, and 'Q' troop got onto the defended plateau to the neighborhood of one house.
However, the enemy were determined to hold out and brought down a withering fire. Confident that their troops were safe underground, they brought extremely heavy mortar fire down on their own positions causing heavy casualties among the Royal Marines. By 0530 hrs, after 8-10 hours of bitter fighting, it was obvious that the place could not be taken by a lightly armed elite force so small in a night attack, and so all were withdrawn.
47 Royal Marine Commando casualties numbered 49 including Capt. B.L. STICKINGS who was killed in the enemy position to which he had most gallantly advanced. The place was eventually taken by 10 Cdo Inf. Bde with support from tanks and 'wasps' and after they had sustained approx 350 casualties.
This is what was left of the trees on the dyke at KAPELSCHE VEER, after the fearce fighting in January 1945
Only one of these trees survived the battle, and is still there at the memorial site. It is hard to determine which tree in the picture is the one that is still standing there, but the image does show the exact spot of the memorial.
Read in browser »
    



Dec 13, 2019 09:38 am



The Battle of the River Plate took place on December 13th 1939. The battle in the South Atlantic was the first major naval battle of World War Two. Ships from the Royal Navy's South American Division took on the might of Germany's Graf Spee which was successfully attacking merchant shipping in the South Atlantic.
The Graf Spee
The crew of the Graf Spee watch as another victim sinks Great Britain's South American Naval Division was made up of four cruisers. On Saturday, December 2nd,1939, HMS Ajax, commanded by Captain Woodhouse, was harboured at Port Stanley in the Falkland Islands. Also at Port Stanley was HMS Exeter, commanded by Captain Bell. Two other ships made up the South American Division – HMS Cumberland, commanded by Captain Fallowfield, and HMNZS Achilles, commanded by Captain Parry. The commander of the South American Division was Commodore Harwood.
Harwood knew that the Graf Spee was in the South Atlantic somewhere but he had received no intelligence since November 15th as to her exact position. Harwood came to two conclusions:
The Graf Spee would be tempted to attack the shipping using the route from Argentina/Brazil to BritainThe 25th anniversary of the German defeat at the Battle of the Falkland Islands would be an appropriate date for the Graf Spee to seek revenge by attacking the British South American Division.
There were three neutral countries in South America that allowed ships to use their harbour facilities – Argentina, Brazil and Uruguay. Under international law, a naval ship could only use a harbour once every three months. However, Harwood had built up a number of contacts in each country and this 'law' was given a liberal interpretation by both parties.
On December 2nd, 1939, Harwood received a message that a merchant ship, the 'Doric Star' had been attacked by a large German naval vessel just off St. Helena. The next day, Harwood was informed that another ship, the 'Tairoa', had also been attacked 170 miles to the south-west of where the 'Doric Star' had been attacked. Harwood assumed that it was the 'Graf Spee'. By using the distance covered over 24 hours, Harwood estimated where this German naval ship could be. He worked off of an average speed of 15 knots an hour – in fact, the Graf Spee cruised at 22 knots; 50% faster than that estimated by the British. However, luck also assisted Harwood's skill. The Graf Spee's average speed was 22 knots – but it had been reduced as a result of the Graf Spee's attacks on merchant shipping……to 15 knots, exactly what Harwood had calculated.
HMS Achilles seen from Ajax
Harwood could not split his force of four cruisers so he decided that out of his two obvious choices, the River Plate in Argentina and Rio de Janeiro in Brazil, he would place his force at the mouth of the River Plate and wait. Even so, Harwood had to assume that the Graf Spee would go to South America – what if it turned to the West Indies?
HMS Ajax
On paper, four British cruisers against one German pocket-battleship would have been no contest. In fact, the Graf Spee was potentially an awesome opponent. The Treaty of Versailles had forbidden Germany from making what would have been considered to be classic battleships. To get round the restrictions of Versailles, Germany produced pocket battleships. The Graf Spee was commissioned in 1936. The Graf Spee was fast enough to outrun any battleship but was also armed with sufficient weapons to be a potent enemy. The Graf Spee had six 11 inch guns, numerous anti-aircraft guns and six 21 inch torpedo tubes at her stern. Her broadside range was 30,000 yards. She carried two Arado aircraft that could be launched by catapult. Her weaponry was superior to any carried by a British heavy cruiser and her armour, at 5.5 inches, was sufficient to resist shells up to 8 inches. Her eight diesel engines gave the ship 56,000 horsepower and a top speed of 26 knots. The engines also allowed the Graf Spee to travel 12,500 miles without refueling – near enough halfway round the world.
In the Battle of the River Plate, the Graf Spee was to be pitted against British cruisers. Though faster than the Graf Spee, they were all outgunned. The Exeter had six 8 inch guns, a top speed of 31 knots but her broadside range was 27,000 yards. Ajax, seen below, and Achilles had a smaller broadside range of 25,000 yards and were equipped with eight 6 inch guns.
The commander of the Graf Spee, Langsdorff, knew that he had range on his side and he could effectively engage the enemy while they could not engage him – as long as the Graf Spee kept its distance. The only threat in terms of distance was the Exeter – if the Graf Spee took the Exeter out of any battle, Langsdorff knew that he was relatively free of trouble. For Harwood, he knew that he had speed on his side and that he could keep out of the range of the Graf Spee but keep up with her, trailing her, until bigger reinforcements arrived.
On December 13th, 1939, the Graf Spee was targeting the route used by merchant ships near the River Plate in Argentina. Harwood had given the Ajax, Achilles and Exeter orders to engage the Graf Spee "at once by night or day" if the ships came across her.
At 05.52, look outs on the Graf Spee saw two tall masts on the horizon. By 06.00, Langsdorff had identified one of the ships seen as being the Exeter. He decided that the ships trailing the Graf Spee were protecting an important merchant convoy and he decided to attack. The engines of the Graf Spee were put onto a battle footing – their power was greatly increased. This gave out a plume of highly visible black smoke from the funnels of the Graf Spee and the following British cruisers could clearly see her position. The Graf Spee turned to attack and at 06.17 opened fire on the Exeter. The Exeter was hit amidships and the ship sustained damage. A salvo from the Graf Spee did a great deal of damage to the wheelhouse and killed all but three of the officers in it. The captain, Bell, survived and he ordered that the remaining turrets should fire on the Graf Spee. One salvo hit the Graf Spee near its turrets.
The Achilles and Ajax were also involved in this battle but they had stayed away from the Exeter in an attempt to split the Graf Spee's fire power. It proved to be a successful ploy. More shells from the Graf Spee's 11 inch guns hit the Exeter that continued to take massive damage. However, some of the Exeter's torpedo tubes were undamaged and at 06.31, three torpedoes were fired at the Graf Spee from the Exeter. At that moment, Langsdorff had decided to turn and the three torpedoes missed. His attack on the Exeter continued and 11 inch shells hit the cruiser. However, the engine room was not damaged but electricity in the ship was lost and it was this that forced the Exeter out of the battle. Bell planned to ram the Graf Spee but he was ordered out of the battle by Harwood.
Now the Achilles and Ajax took up the battle. They were against a ship that had been hit but had suffered minimal damage at this stage even though Langsdorff had been knocked unconscious in one attack. Both ships were ordered by Harwood to approach the Graf Spee "at the utmost speed".
Langsdorff, a torpedo specialist, kept both ships astern to give them the smallest possible target with regards to a torpedo attack.
"My own feelings were that the enemy could do anything he wanted to. He showed no sign of being damaged; his main armament was firing accurately; the Exeter evidently was out of it, and so he had only two small cruisers to prevent him attacking the very valuable River Plate trade."Captain Parry – commander of the Achilles
What happened next is open to interpretation. Langsdorff went around the Graf Spee to assess the damage. He then told his navigator:
"We must run into port, the ship is not now seaworthy for the North Atlantic."
This decision, according to the Graf Spee's gunnery officer was not well received. The ship had been hit by seventeen shells but junior officers of the Graf Spee later stated that the damage done to the ship was insufficient to cause it to run to a port. At this stage in the battle, the Graf Spee had suffered 37 dead and 57 wounded out of a total complement of 1,100. In comparison, the Exeter was three feet down in the waterline and had lost 61 men killed and could only use a ship's compass for navigation with shouted orders to ensure that those orders were carried out. Harwood ordered her to return to the Falkland Islands.
All the indications pointed to the Graf Spee heading towards the River Plate and Montevideo. In fact the ship's action report states clearly that it was the navigating officer that recommended Montevideo. Langsdorff sent a telegram to Berlin that stated:
"Inspection of direct hits reveals that all galleys except for the Admiral's galley have been badly damaged. Water entering flour store endangers bread supply while a direct hit on the forecastle makes the ship unseaworthy for the North Atlantic in the winter…………as the ship cannot be made seaworthy for the breakthrough to the homeland with means on board, decided to go into the River Plate at risk of being shut in there."
Whether the Graf Spee was so badly damaged is open to question. The ship had been hit by seventeen shells but one gunnery officer recorded that three of these hits had simply bounced off of the armour and that the others had hit the ship "without causing damage". The authorities in Uruguay, on inspecting the Graf Spee when it reached the River Plate, commented that the largest hit was six feet by six feet but was well above the waterline – as was all of the damage to the ship.
The Graf Spee made for the River Plate – the Plate estuary is a huge bay 120 miles across. The two remaining cruisers, Ajax and Achilles, patrolled the estuary to ensure that the Graf Spee could not slip out back into the Atlantic under the cover of dark. The crews later called this the 'death watch'.
Citation: C N Trueman "The Battle Of The River Plate"
historylearningsite.co.uk
The History Learning Site, 18 May 2015. 13 Dec 2017.
Read the full Despatch submitted to the Lords Commissioners of the Admiralty on the 30th December, 1939, by Rear Admiral H. H. Harwood, K.C.B., O.B.E., Rear Admiral Commanding South American Division:
Navy History Net
Royal Marines at the Battle of the River Plate
During the Battle of the River Plate 15 Marines lost their lives mostly manning turrets, HMS Exeter 10 Marines killed, HMS Ajax 5 Marines killed.
Conspicuous Gallantry Medal
Samuel John Trimble, Sergeant, Royal Marines, H.M.S. Achilles; who, early in the action, when several splinters struck the Gun Director, at once killing three men and wounding two others inside the tower, was severely wounded; but stood fast without flinching or complaint throughout the hour of action that followed, bearing his wounds with great fortitude. When the medical party came he helped them to move the wounded and then made his own way to the Sick Bay with little aid. Wilfred A. Russell, Royal Marines, H.M.S. Exeter; who, having his left forearm blown away and his right arm shattered when a Turret was put out of action by a direct hit from an 11-inch shell, refused all but first aid, remained on deck and went about cheering on his shipmates and putting courage into them by his great fortitude; and did not give in until the heat of the battle was over. He has since died of wounds.
Distinguished Service Cross
Lieutenant Aidan E. Toase, Royal Marines, HMS Exeter; who was very active and resourceful in assisting to render the turret safe after it had been hit by an 11-inch shell.
Distinguished Service Medal
Raymond G. Cook, Sergeant, Royal Marines, HMS Exeter; who showed great presence of mind and initiative in carrying out orders when a Turret was severely hit and fires and casualties occurred. Thomas S. Reginald Norman Buckley, Marine, HMS Exeter; who when a Turret was hit showed great presence of mind and efficiency in ensuring the safety of the ammunition.
Frank T. Saunders, Sergeant, R.M. HMS Achilles; who acted with courage and initiative throughout the engagement, overcoming each difficulty and breakdown as it occurred, and by his fine example and leadership urged his quarters to still further efforts.
Arthur B. Wilde, Sergeant, Plymouth, HMS Exeter; who, ordering the evacuation of a Turret after the Gun House had been hit by an eleven-inch shell, calmly put a tourniquet of rope round the stump of a Marine's arm. He then returned to the Gun House where he found a fire over the rammer of the left gun. This rammer contained a charge of cordite. He organised a chain system of buckets to the turret, put out the fire, removed the cordite, and threw the charge over the side.
Mentions in Dispatches.
Marine Albert J. Hester, R.M, H.M.S. Ajax
Marine Ray O. Osment, H.M.S. Achilles
Sergeant George W. Puddifoot, H.M.S. Exeter
Bandmaster (Second Class) Leonard C. Bagley, H.M.S. Exeter
Read in browser »
    



Dec 12, 2019 09:37 am



'I assess the most important factor in the success of the operation was first class leadership by junior NCOs. Their section battle craft was a joy to watch and the credit for this belongs to the troop and Section commanders.'

Captain JJ Moore RM (Later Major General Sir John Jeremy Moore KCB, OBE, MC & Bar)

The Limbang raid was a military engagement between British Royal Marine commandos and insurgents of the North Kalimantan National Army (TNKU), on 12 December 1962.

After an amphibious assault on the town of Limbang in Sarawak, Borneo, the commandos managed to rescue the hostages being held there by the TNKU.

Prelude
On 9 December 1962, as the Brunei Revolt broke out, TNKU militants led by Salleh bin Sambas seized the small town of Limbang. From the police station, they captured several rifles, Sterling submachine guns and one Bren light machine gun. This greatly enhanced their weaponry, as they had only been armed with shotguns. They imprisoned the British resident and his wife, along with 12 others, and announced their intention of hanging them on 12 December.
The Raid
The task of freeing the hostages was given to L Company, 42 Commando, commanded by Captain Jeremy Moore, who were deployed from the commando carrier HMS Albion. To bring the commandos to their target, two cargo lighters were commandeered and crewed by Royal Navy personnel. One of them carried a Vickers machine gun. Moore planned to sail his force up the Limbang river, and then to assault the town directly, so as to avoid giving the rebels time to execute the hostages.
The lighters approached Limbang at dawn on the morning of 12 December. The sound of their engines warned the rebels, and the commandos lost the element of surprise. As they moved into their landing area, they were met by heavy fire from the police station, where Salleh himself was manning the Bren gun. The deck of the lighters offered little protection, and two marines were killed before landing. One craft provided covering fire with the Vickers gun, while the first disembarked its men.
The commandos charged the police station, where they killed ten rebels and captured the Bren gun. Salleh Bin Sambas was injured, but made good his escape. The hostages were discovered in the hospital, where the resident was singing loudly, to avoid being mistaken for a rebel. After all the commandos had landed, they spent the rest of the day clearing Limbang house by house, during which three more marines and two more rebels were killed.
Aftermath
British forces operations continued in the area in the following days, and captured 11 more prisoners. The intelligence they gathered suggested that the TNKU force had been undone by the Limbang battle: the more committed fighters had escaped into the surrounding jungle, while the local conscripts had thrown away their weapons and uniforms.
Their leader, Salleh was subsequently captured by the British Forces six months after the raid. He was found guilty for bearing the arms against the Crown, and was sentenced to 15 years of imprisonment at Kuching Central Prison. During the trial, he pleaded guilty on all charges, and requested the judges to release the other prisoner, citing that he was willing to take the fall himself and would head to the gallows. However, none of his requests were granted and his sentence proceeded as planned. He was later released in the 1970s, and now resides in Limbang as a Penghulu (Village Headman) at Kampung Pahlawan.
For their role in the battle, Corporals Lester and Rawlinson were awarded Military Medals, while Captain Moore was awarded a bar for his Military Cross. He later went on to command the British forces during the Falklands War.
Jeremy Black, the RN officer who commanded one of the lighters, later became Captain of HMS Invincible, during the same conflict. After this action L Company became known as "Limbang Company".
The lighters were piloted in by Erskine Muton of the Brunei State Marine who was awarded the MBE for his civilian gallantry. Citation in The London Gazette.
A memorial stands alone opposite the Limbang Police Station.
It commemorates the death of five Royal Marines and four Royal Malaysian Police Constables who was killed in action during the Limbang Rebellion/Limbang Raid.
Built close to the spot where where the first Z craft landed, the unveiling of the monument in 1963 was attended by many of the Royal Marines who took part in the raid.
Read in browser »
    



Dec 11, 2019 05:55 am



Maurice Pink, Royal Marines Bandsman, 13th May 1922 - 27th October 2019

He cheated death twice during the war, when his ships were sunk in enemy attacks
Maurice Pink, of the Royal Marines Band Picture: Pink family archive
Teenager Maurice Pink should never have survived. He was in the communication room of HMS Repulse - three decks down and hatches bolted shut - when the battlecruiser was sunk.
No-one held out much hope for the unfortunates on his deck, and most did perish. But, somehow, the 19-year-old lived - although he had been thrown against the bulkhead and suffered ruptured eardrums in the explosion.
Good fortune meant a midshipman, acting as cabin boy for the captain, knew about a ladder to the captain's day-cabin. It was dark, and they must have been terrified beyond belief, but they found their way up and out.
HMS Repulse band. Maurice is fourth from the left in the top row Picture: Pink family archive
After two hours in the sea, naked and swallowing oil while Repulse and HMS Prince of Wales sank in the Gulf of Thailand, Maurice was picked up by HMS Electra and taken to Singapore.
HMS Repulse and HMS Prince of Wales had been defending British territories in the Far East - part of the deterrent against potential Japanese aggression.
But they'd been left without air cover and were sunk by the Japanese on December 10, 1941 - three days after Japan bombed US ships at Pearl Harbor, Hawaii.
Repulse avoided as many as 19 aerial torpedoes before being struck by four or five. She sank quickly, in eight or nine minutes. More than 500 members of its crew (out of 1,300 personnel) were lost.
The monument to the memory of those on HMS Repulse and HMS Prince of Wales Picture: Pink family archive
Singapore was captured by the Japanese in early 1942 and most of the HMS Repulse survivors spent four years in Japanese war camps. But Maurice's luck held. He got away on a cattle boat to Ceylon, and on to South Africa on The Empress of Russia.
His war had been eventful long before his ship was downed. At 18 he helped with the evacuation of troops from Dunkirk, France; and in June, 1941, Repulse had for a short time chased the German battleship Bismarck.
In 1943 he joined HMS Spartan, a light cruiser. It was sent to the Mediterranean and on January 29, 1944, supported troop landings at Anzio, Italy, by bombarding the shore and providing anti-aircraft protection.
But Spartan was bombed and sunk. Again, Maurice survived. Within weeks he joined another ship, HMS Aurora, but his nerves were shattered and he was suffering from constant, severe headaches, panic attacks and tinnitus, which led to three months in hospital.
"For many years he would not discuss the war or anything of his naval history, and he suffered from headaches, panic attacks and nightmares," says son Stephen.
"Nowadays, this is recognised as PTSD (post-traumatic stress disorder) but there was little help after the Second World War."
Maurice later became life president of the HMS Prince of Wales and HMS Repulse Survivors Association, having served for many years as chairman and relinquishing that role only two years ago.
In 2011 the association raised money to build a memorial to the lost ships and men at the National Memorial Arboretum in Staffordshire.
Two years ago, Maurice represented the survivors' association at the naming ceremony of the new aircraft carrier HMS Prince of Wales at Rosyth, Scotland, and he was immensely proud to meet the Prince of Wales and Duchess of Cornwall.
Read in browser »
    



Dec 10, 2019 08:45 am



Sinking of HMS Repulse and HMS Prince of Wales
Royal Marines on HMS Repulse (http://www.nicholasbest.co.uk/tag/royal-marines/)
Force Z comprised the battleships HMS Repulse and HMS Prince of Wales. The only two capital ships in the region had left the port of Singapore to steam up the coast of the Malaysian peninsula to confront Japanese forces invading from Thailand. The Naval force lacked an Aircraft carrier, HMS Indomitable had been due to join them but had been damaged. Despite the fact that the Royal Navy's own Fleet Air Arm had been pioneers in the use of airborne weapons against war ships the threat from the Japanese was underestimated.
Photograph taken from a Japanese aircraft during the initial high-level bombing attack. Repulse, near the bottom of the view, has just been hit by one bomb and near-missed by several more. Prince of Wales is near the top of the image, generating a considerable amount of smoke. Japanese writing in the lower right states that the photograph was reproduced by authorization of the Navy Ministry.
Force Z went to sea without air cover and when the two ships were discovered by Japanese bombers and torpedo planes they came under a relentless attack. "I thought they were heroes," an able seaman later commented, "because they fought non-stop and there were shell cartridges lying all over. They were kicking these over the side into the sea… they never stopped firing right up to the end."
A heavily retouched Japanese photograph of HMS PRINCE OF WALES (upper) and REPULSE (lower) after being hit by Japanese torpedoes on 10 December 1941, off Malaya. A British destroyer can also be seen in the foreground
When the end came, aboard HMS Prince of Wales, turret captain Sgt Terry Brooks, the youngest sergeant in the Corps, ordered his men to remove their boots, inflate their rubber life jackets and jump into the sea.
After going below to the ship's magazine to bring out three more of his men, Sgt Brooks too plunged overboard. The escorting destroyers picked up survivors and returned them to Singapore. Cecil Brown was a journalist on board HMS Repulse:
The torpedo strikes the ship about twenty yards astern of my position. It feels as though the ship has crashed into dock. I am thrown four feet across the deck but I keep my feet. Almost immediately, it seems, the ship lists. The command roars out of the loudspeaker: "Blow up your lifebelts!" I take down mine from the shelf. It is a blue-serge affair with a rubber bladder inside. I tie one of the cords around my waist and start to bring another cord up around the neck.
Just as I start to tie it the command comes: "All possible men to starboard." But a Japanese plane invalidates that command. Instantly there's another crash to starboard. Incredibly quickly, the Repulse is listing to port, and I haven't started to blow up my lifebelt. I finish tying the cord around my neck. My camera I hang outside the airless lifebelt. Gallagher already has his belt on and is puffing into the rubber tube to inflate it. The effort makes his strong, fair face redder than usual. . . .
Captain Tennant's voice is coming over the ship's loudspeaker, a cool voice: "All hands on deck. Prepare to abandon ship." There is a pause for just an instant, then: "God be with you."
There is no alarm, no confusion, no panic. We on the flag deck move toward a companionway leading to the quarterdeck. Abrahams, the Admiralty photographer, Gallagher and I are together. The coolness of everyone is incredible. There is no pushing, but no pausing either.
One youngster seems in a great hurry. He tries to edge his way into the line at the top of the companionway to get down faster to the quarterdeck. A young sub-lieutenant taps him on the shoulder and says quietly, "Now, now, we are all going the same way, too. "The youngster immediately gets hold of himself. . . .
The crew of the sinking Prince of Wales abandoning ship to the destroyer Express. Moments later the list on Prince of Wales suddenly increased and Express had to withdraw. Observe the barrels of the 5.25 in guns, which were unable to depress low enough to engage attackers due to the list.
All hands on deck. Prepare to abandon ship." There is a pause for just an instant, then: "God be with you.
Captain Tennant, HMS Repulse
A few days after the sinkings, the 210 Royal Marines who were rescued, were formed into a Naval Battalion under Captain R.G.S. (Bob) Lang RM. They were deployed to guard the Naval Base, Royal Navy Wireless Transmission Station at Kranji and the Royal Navy Armaments Depot.
Five other rescued officers were included, Captain Claude Derek Aylwin, Lts Charles Verdon, Jim Davis, Tom Sherdan and Geoffrey Hulton.
On December 24th 1941, forty of the force were sent up-country into Malaya to join Major Angus Rose 2A and SH of Roseforce. They were to be involved in special operations behind the Japanese lines but the speed of the Japanese advance saw them employed in demolition work.
The forty marines fought a gallant delaying action in the North of Malaya before action at Slim River on January 7th 1942 saw them out maneuvered by the Japanese, leaving the allied troops to find their own way back in the long retreat to Singapore Island where they acted as a rearguard during the crossing of the Causeway.
In the mean time the remainder of the marines had been moved to Tyersall Park Camp to be amalgamated into a battalion known as the Plymouth Argylls.
On the night of February 8th 1942 the Japanese successfully crossed the Straits of Johore and gained a foothold on Singapore's north western shore, held by the Australians who were forced back.
On February 9th the Plymouth Argylls were ordered to advance northwards up the Bukit Timah Road then westward along the Choa Chu Kang Road towards Tengah airfield where they came under air attack and suffered casualties.
On February 11th the Plymouth Argylls engaged the Japanese between Tengah and the Dairy Farm that lay east of the Upper Bukit Timah Road and were cut off by enemy tanks who demolished two Plymouth Argyll roadblocks. The main body of the marines escaped carrying an officer, through the dairy farm using a pipeline to the golf course back to Tyersall Park. Soon after the camp and the neighbouring Indian Military Hospital were destroyed in an air attack. The marines stayed in their trenches until the surrender on February 15th 1942. Some marines escaped captivity on board HMS Tapah but were later captured, HMS Grasshopper which was sunk and Mata Hari which was captured, others escaped using small craft. Most of those who survived entered captivity in Sumatra at Palembang and Padang. 22 Plymouth Marines made it to Ceylon with 52 Argylls.
31 Royal Marines were killed-in-action, died of wounds at Singapore or were lost at sea assisting in the evacuation of civilians to Sumatra. On February 17th those Argylls and Marines at Tyersall Park, with Charles Stuart playing the pipes marched out of the camp to Changi.
Read in browser »
    



Dec 09, 2019 09:31 am



The Royal Navy's spectacular retribution on 8th December 1914 in the First World War, for the sinking of Admiral Cradock's two ships, HMS Good Hope and Monmouth at the Battle of Coronel, with the destruction of Admiral Graf von Spee's protected cruisers SMS Scharnhorst and Gneisenau and light cruisers, Leipzig and Nürnberg

On 1 November von Spee's squadron of five modern cruisers had defeated a small British squadron under Admiral 215 Christopher Cradock, at the Battle of Coronel, sinking two British cruisers with the loss of all hands. Von Spee approached the Falklands and discovered the British squadron comprising the battle cruisers HMS Inflexible & HMS Invincible along with the old HMS Canopus plus 3 armoured cruisers & 2 light cruisers.
Crew of HMS Kent on deck before the Battle of the Falkland Islands
A prolonged pursuit ensued, but in the early afternoon Sturdee's battle-cruisers had caught up with von Spee's squadron.
HMS Kent, Glasgow and Inflexible leaving Port Stanley in pursuit of the German squadron: photograph taken by Paymaster Sub-Lieutenant Duckworth RN from HMS Invincible at the beginning of the Battle of the Falkland Islands on 8th December 1914 in the First World War
To win time for the rest of his ships to escape, von Spee decided to fight with his two biggest ships, the Scharnhorst and the Gneisenau. Inevitably the two German cruisers were sunk, with heavy losses.
German Armoured Cruiser SMS Scharnhorst sinking at the Battle of the Falkland Islands 8th December 1914 in the First World War: picture by Claus Bergen
Of his remaining three ships, the Nürnberg and Leipzig were caught and sunk by the British cruisers.
Only the Dresden escaped until she was caught in March 1915. HMS Kent, cruiser, damaged.
Shell hole in a casemate on HMS Kent made during the Battle of the Falkland Islands. Sergeant Mayes RMA stands to the left of the hole
Sergeant Mayes, Royal Marine Artillery, on HMS Kent received the Conspicuous Gallantry Medal. The citation stated: 'A shell burst and ignited some cordite charges in the casemate; a flash of flame went down the hoist into the ammunition passage.
Sergeant Mayes picked up a charge of cordite and threw it away. He then got hold of a fire hose and flooded the compartment, extinguishing the fire in some empty shell bags which were burning. The extinction of this fire saved a disaster which might have led to the loss of the ship.'
7 Royal Marines were killed: -
KELLEY, Samuel, Private, RMLI (RFR A 566), 3793 (Po):
KIND, Walter J, Private, RMLI, 15049 (Po):
TITHERIDGE, Arthur C, Private, RMLI, 11220 (Po):
WOOD, Walter, Private, RMLI, 16920 (Po) were all killed With
SNOW, George, Private, RMLI, 16958 (Po),
DOW 20 December and
SPENCE, Tom, Sergeant, RMLI (RFR), 5674 (Po), DOW 24 December
Read in browser »
    



Dec 07, 2019 02:04 pm



Combined Operations commander Admiral Louis Mountbatten regarded it as "the most courageous and imaginative of all the raids ever carried out by the men of Combined Operations"
Of the six two man canoes that had been brought to the French coast by HMS Tuna on the 7th December, only five had been launched because one canoe was damaged getting off the submarine. Two canoes were lost during the first phase when making their way to the river mouth – they encountered unexpectedly heavy seas and a strong tidal race. The three remaining canoes made their way up the Gironde estuary to the harbour basin of Bordeaux. As they lay up in hiding during the first day one pair of crew were discovered and captured by the Germans.
The remaining two crews continued in their journey upstream for the following four nights, making slower progress than expected because of a strong ebb tide. Each day they hid up in the undergrowth beside the river as the Germans mounted a search for them. The attack was postponed until the night of 11th/12th December. On that night Major Hasler and Marine Bill Sparks in canoe 'Catfish' and Corporal A. F. Laver and Marine W. H. Mills in canoe 'Crayfish' made the attack they had been planning for the past few months. Bill Sparks later described the events:
We approached the basin of Bordeaux. Lights shone from the jetties; so much illumination alarmed us. We paddled up the middle of the stream, inspecting the targets as we passed silently by. There were several ships moored in a row, which was very thoughtful of the Germans, making our targets so readily accessible.
The first was a tanker. Next we found a cargo-liner. Then another cargo ship but with a tanker moored alongside. Then another cargo ship, just beyond that we saw another ship which was impossible to identify because, lying alongside and obscuring our view, was a sperrbrecher, a smaller craft, no bigger than a frigate.
We were lucky. We could have arrived to discover that the harbour was empty; there had been no way to knowing how many ships we would find until this moment, and we were satisfied. We chose four targets.
We turned back towards the cargo ship and pulled up alongside. Her hull shrouded us in darkness. We could hear the crew singing. I wondered what they'd be singing in a few hours' time. It proved an easy target. I attached my magnet-holder to the hull to prevent the tide from carrying us away.
The Major placed the first mine on the six-foot rod and lowered it into the water, placing the mine on her stern. He detached the rod, having felt the limpet mine clamp itself to the hull. I released my magnetic holder and the tide slowly swept us along, so we could place another mine amidships and a third on her bows.
Then we came to the ship with the sperrbrecher moored to it. I clamped the holder to the hull and Blondie planted a mine.
Suddenly we were bathed in light. I looked up and saw the silhouette of a German sentry leaning over the side, shining his torch on us. We froze, hardly daring to breathe. A succession of split-second thoughts raced through my mind; what do we do if he challenges us? Do we answer? Just ignore him? If we ignore him, will he sound the alarm?
I quickly realized the best course of action was to hang onto the side of the ship. We were still well camouflaged, but the cockpit cover was open so I could hand Blondie the limpets.
I cautiously leant forward, bending right across the cockpit so that my camouflaged back would conceal it. It may have been only seconds – it seemed like minutes – that we waited, but I began to think that we could sit there no longer. I gently eased the magnetic holder off, allowing the tide to carry us along the side of the ship.
The Germans appeared to be taken in by their camouflage and they went on to attach their limpet mines. Six ships were badly damaged as consequence of their attack. The four men then made their some way down river before sinking their canoes. They then set off on foot across occupied France in separate pairs. Laver and Mills were caught by the Germans two days later.
Hasler and Sparks eventually met up with the French Resistance whose members helped them to escape to Spain, where they arrived after walking over the Pyrenees in February 1943. They arrived back in Britain in April.
The Frankton Memorial at Point de Grave near Bordeaux
All the surviving members of the crews who had been captured by the Germans were executed by them under the Commando Order.
Read in browser »
    



Dec 07, 2019 07:56 am



On December 7, 1941 the Japanese launched a surprise attack on the US Naval Base Pearl Harbor in Hawaii, using bombers, torpedo bombers and midget submarines. On December 8, President Franklin D. Roosevelt delivered a speech, also known as the "Infamy Speech" to the American citizens, informing them that this happened while the US was in the midst of talks to keep peace. That same day, America entered into World War II.
On the southern end of Oahu, Pearl Harbor held a 22,000 acre naval base. Admiral Husband E. Kimmel of the Navy and Lt. General Walter C. Short of the Army were in command of the fleet and troops on the ground, respectively. The majority of the Pacific area's military commands were headquartered there because of growing apprehensions regarding an aggressive Japanese presence.
Since Emperor Hirohito's Japan wanted to expand in territory and power like some European countries, it needed natural resources, like the oil, aluminum, etc. found in The Netherlands East Indies. Standing in opposition to Japanese conquest of what Japan's leaders termed "the Southern Resource Area" was the United States of America. Already, in retaliation for Japan forcing the Vichy French government in French Indochina (Vietnam) to all Japanese warplanes to base there, the US, Great Britain and The Netherlands had initiated a total embargo of oil and scrap metal to Japan. Unless a new source of oil was opened, the Imperial Japanese Navy would be in drydock within a year and Japanese industries would grind to a halt in 12–18 months.
A plan was developed to cripple the US Pacific Fleet at Pearl Harbor to allow time for Japan to seize the resource areas it needed and fortify them to the point that retaking them would cost more lives than the Imperial High Command thought Americans would be willing to pay. The Pearl Harbor attack plan was conceived by Admiral Isoroku Yamamoto, commander in chief of the IJN. Yamamoto had studied in the United States. He knew his nation lacked the ability to defeat the much larger, resource- and industry-rich country and he did not share the opinion of many officers that Americans were too weak-willed to fight, but his vociferous arguments against going to war with America were overruled by the High Command.
The attack on Pearl Harbor, which was influenced by a successful British attack that used carrier aircraft against an Italian fleet at Taranto, Italy, the previous year, was essentially a last best-hope for Japanese success in the Pacific.
Early in the morning on December 7, more than 350 Japanese planes attacked about 33 American ships on orders of Vice-Admiral Chuichi Nagumo. America sustained a loss of nearly 170 aircraft destroyed and 160 damaged that morning, as well as three ships destroyed and 16 damaged. Three thousand seven hundred Americans lost their lives, including 68 civilians. The cost to the Japanese was 29 aircraft, five midget submarines, and 130 service personnel, all but one of whom was killed in action.
Read in browser »
    



Dec 07, 2019 07:53 am


Jim Mariner was on board the gunboat HMS Peterel when he secured his place in history at about 4am on December 7, 1941.
I walked along and up the ladder on to the gun deck, which was now all action stations.
'Then red lights went into the sky and all hell broke loose. We thought it was going to be a mass invasion but it wasn't.
'They wanted to blow us to pieces. I just opened fire with my gun.'
He recalled how he and several colleagues tried to escape in a small motor boat tied alongside, but ultimately swam for safety.
He said: 'We always had trouble starting the engine on this blasted thing.
'One of our fellows got down there trying to start the engine and he said: "I'll get this thing going if it's the last thing I do".
'And it was, he took a direct shot. He said: "I've had it now" as he died. He was a very brave man.
'It was dreadful. The noise was shocking. They were at point blank range and they blew us to smithereens.
'I never thought I would get out of it alive.'
After swimming to a Panamanian ship which he thought was safe, he was taken prisoner by Japanese troops that boarded her. The Japanese declared war on Britain the next day.
HMS Petrel in Shanghai
At the outbreak of war in Europe in 1939 many ships and personnel from the Royal Navy's China Squadron were recalled to home waters, or sent to the Mediterranean. A number of river gunboats were considered of limited value and these were laid up locally.
One river gunboat, HMS Peterel, was retained in Shanghai to provide a token British military presence that it was hoped would dissuade the Japanese (who had already occupied most of the city) from moving against the International Settlement there. Her crew was reduced to 21 and 19 locally recruited Chinese; she was moored in the pool of Shanghai (off the French Concession).
With her reduced complement, she was capable of steaming for only a limited period of time and her main armament had been disabled to lessen her value to the Japanese in the event of capture. Her captain (62-year-old Temporary Lieutenant Stephen Polkinghorn (RNR)) was under orders to scuttle the vessel should the Japanese attack.
Sinking
By December 1941 Shanghai (aside from the International Settlement and French Concession), had been occupied by Japan's land forces and there was a large buildup of Japanese naval forces in the area. At around 4:20am local time on 8 December 1941 news of the attack on Pearl Harbor, a few hours earlier, began filtering through to Shanghai. HMS Peterel was notified of the attack by Commander Kennedy from the British Consulate and the ship was called to battle stations.
Soon after the news of the attack on Pearl Harbor reached Shanghai, Japanese marines boarded the US Navy river gunboat, USS Wake. She surrendered without a shot being fired (the only US Navy ship to surrender during World War II). The Japanese later commissioned her into their navy as the Tatara and subsequently gave her to its puppet Reorganized National Government of China based in Nanjing.
Although Japan had not declared war on Great Britain, Japanese marines also boarded the Peterel to demand her surrender. Polkinghorn attempted to stall for time, in order for the demolition fuses to be lit and the code books to be passed down a special chute in order to be burned in the boiler room. When his attempts failed, Polkinghorn told them to "Get off my bloody ship!" The Japanese disembarked and almost immediately the Japanese cruiser Izumo, the accompanying gunboat Toba and Japanese shore batteries in the French Concession opened fire at almost point-blank range.
Despite being outnumbered and hopelessly outgunned, the Royal Navy crew of HMS Peterelreturned fire, using small arms and the deck-mounted Lewis machine guns (the breechblocks from her 3-inch guns having been removed and taken to the Royal Navy dockyard in Hong Kong).
The Royal Navy crew inflicted several casualties on the Japanese before Peterel capsized and drifted from its mooring under heavy fire. The Japanese machine gunned both the surviving Royal Navy and locally recruited Chinese crewmen in the water.
Of the British crew of 22, 18 were on board Peterel at the time of the attack. Six of them were killed by the Japanese; they have no known graves and it is unclear whether their bodies were recovered from the water. 12 Royal Navy crew survived: some sought refuge on a neutral Panamanian-registered merchant vessel, the SS Marizion. In violation of international law, the Japanese boarded the ship and took the survivors prisoner. The number of casualties suffered by the locally recruited non-combatant Chinese crew and the fate of any survivors at the hands of the Japanese is unknown (under a directive ratified on 5 August 1937 by Emperor Hirohito, the Japanese removed the constraints of international law on the treatment of Chinese prisoners by its military).
The Royal Navy survivors from HMS Peterel (including Polkinghorn) were moved amongst the Hongchew, Kiang Wang and Woosung internment camps in China. Ongoing supplies received from the British Residents Association (Shanghai) and the International Red Cross were critical to the survival of those interned. On 9 May 1945 the inmates at Kiang Wang were moved to camps in Japan itself.
Three of the crew of HMS Peterel were onshore during the Japanese attack; two were captured but the third (PO Telegraphist James Cuming) remained at large in Shanghai for the duration of the war, working for a Sino-American spy ring. The Lonely Battle, an account of Cuming's tale, was written by Desmond Wettern in 1960.
Aftermath
Polkinghorn survived his three years and nine months in captivity. He was awarded a gallantry medal, the Distinguished Service Cross (DSC), for his actions in Shanghai. The citation (published in The London Gazette on 23 October 1945) reads: "For great courage, determination and tenacity in fighting his ship, HMS Peterel, when attacked by overwhelming Japanese forces at Shanghai on 8th December 1941".
A small collection of photographs displayed at the Bund Historical Museum in Shanghai records the scene in the pool of Shanghai in the days both before and after 8 December 1941. Included in the collection are images of the badly damaged, capsized hulk of HMS Peterel.
Read in browser »
    



Dec 04, 2019 02:20 am



Marching at the side of the road in full uniform were 52 members of the Chatham Royal Marine Cadet Corps, aged between 9 and 13 a bus came upon the cadets and did not see them. The driver crashed into them and continued to drive over the bodies; as a result 24 of them died and 18 were injured.
The company was marching from Melville Barracks to the Royal Naval Barracks, Chatham, to attend a boxing tournament. It was divided into three platoons; the rear platoon consisted of new recruits who had not yet received uniforms. The only adult present was the contingent adjutant, a regular Royal Marines officer.
The column was about fifteen yards long and was marching three abreast on the left-hand side of the road. It was showing no lights, there being no official requirement to do so, and the boys in uniform were wearing Royal Marines standard-issue dark blue battledress and berets, although they had white belts and white lanyards on their shoulders.
Seventeen boys died immediately and another seven died later in hospital, all but one on the same night. Those who were uninjured were all in the front ranks. The military funeral of twenty of the boys who died was held at Rochester Cathedral on 12 December 1951 and conducted by the Bishop of Rochester.
The Last Parade - Play Video (You Tube)
Thousands of local people stood outside the cathedral and lined the route of the funeral procession to Gillingham Cemetery. Royal Marines guarded the coffins and acted as pall bearers and the ceremony was attended by, among others, the Commandant-General Royal Marines. Three of the boys who were Roman Catholics had a separate funeral at the Church of Our Lady, Gillingham, conducted by the Bishop of Southwark Cyril Cowderoy.
'Their names do not appear on the National Roll of Honour and they were very young but they wore their uniforms with pride. To us they also were "Royals".' [Unknown]
The boys who died were:
JOHN BURDETT - 10 DAVID TICKNER - 11 JOHN THORNDYCROFT - 11 WILLIAM STONE - 12 JAMES SHEPHERD - 11 JAMES SCOTT - 9 ALBERT ROSE - 11 RICHARD ONGLEY - 11 GARTH MOSSOP - 11 RODNEY McBRIDE - 11 JOHN LEE - 10 PETER EYRE - 11 ALLAN EVANS - 11 RAYMOND CROSS - 10 DAVID CHARLES - 13 ARTHUR CALVERT - 11 BRIAN BUTLER - 11 JAMES BLOMELEY - 9 COLIN BATTY - 12 JAMES CUNNINGHAM - 12 LAURENCE MURPHY - 12 KEITH WALKER - 12 ANTHONY AINDOW - 13 JAMES TRIGG - 13
Every year on the Sunday closest to the event, the Chatham Marine Cadet Unit still holds a memorial parade at the cemetery in which the cadets were laid to rest.
Image: Chatham Marine Cadet's Plaque and graves in the Naval section of the cemetery, Woodlands Road
Search Memorials here; www.RoyalMarinesHistory.com
Read in browser »
    



Dec 01, 2019 09:44 am



The Long Range Desert Group were formed in the autumn of 1940, successors to the much smaller Long Range Patrol. They were intended as a covert reconnaissance unit operating deep into the desert to observe enemy movements, a role that they had considerable success with. They also undertook a number of offensive operations, commando type raids that took the enemy by surprise. This role was
later largely taken over by the SAS but in 1940 the LRDG were pioneering this type of operation.
'W' Patrol of the LRDG had left their base in Cairo on 23rd November and made slow progress across the sand dunes of the desert. They had been spotted by Italian aircraft in the open desert and bombed for over an hour on the 29th. By dispersing and then driving at speed at right angles to the attacking aircraft they had avoided any casualties. By the night of the 30th they were in position outside a remote Italian landing strip at Ain Dua where they they lay up before attacking at dawn with the sun behind them. 'There appeared at first to be no sign of life there; but when within 800 yards the patrol halted and fired one round from a Bofors gun. This aroused intermittent M.G. and rifle fire from behind walls and rocks. Major Mitford then attacked. 'D' Troop under Lieut. Sutherland was sent round the enemy's left to make a flank attack on foot, while the rest of the patrol gave covering fire from the front. 'D' Troop's attack was successful and the garrison, believed to consist of about 30 men with 3 M.G's, abandoned their strong position and retired up the hill after losing three men, of whom one at least was killed. As a reconnaissance aircraft was expected to make its appearance the action was broken off, and the patrol took cover in the rocks about a mile and a quarter east of Ain Dua. At 1015 hrs two S.79's arrived and at 1045 a Ghibli aircraft. They disappeared in due course, but as it was not certain whether the patrol had been discovered or not, it lay up until 1500 hrs. Major Mitford then decided to make a second attack in spite of the strength of the enemy's position. He hoped to inflict further damage to men and material, and he also wished to show the enemy that one patrol could remain in their immediate vicinity without being spotted by aircraft. This might well create a feeling of uncertainty, and lead them to use up valuable petrol in increased and fruitless patrolling. The second attack was made from both flanks. 'D' Troop with one Bofors gun attacked the enemy's left over the ground that it knew. Covering fire was given by the H.Q. truck and one Bofors gun. The remainder of the patrol worked round the enemy's right. Orders were issued that the risk of heavy losses must not be taken. 'D' Troop got close enough to inflict further casualties, and silenced two of the three machine guns, but the enemy defended himself stoutly, and the position could not be captured. Lieut. Sutherland and one man got close enough to cause damage with Mills grenades. Trooper Willcox, who was pinned down by M.G. fire, distinguished himself by getting his Lewis gun into a position from which he killed the machine gunner and silenced the gun. The rest of the patrol were unable owing to the difficulties of the ground, to get near enough to engage the enemy. At 1700 hrs when it was beginning to get dark the patrol was withdrawn.' http://ww2today.com/1st-december-1940-first-attack-by-long-range-desert-group
Read in browser »